CASTLES & COASTS OF WALES 7 DAYS / 6 NIGHTS SELF DRIVE ITINERARY
Explore the beautiful Welsh coastline, featuring breathtaking scenery and ancient castles, on this 7 day tour, from North to South.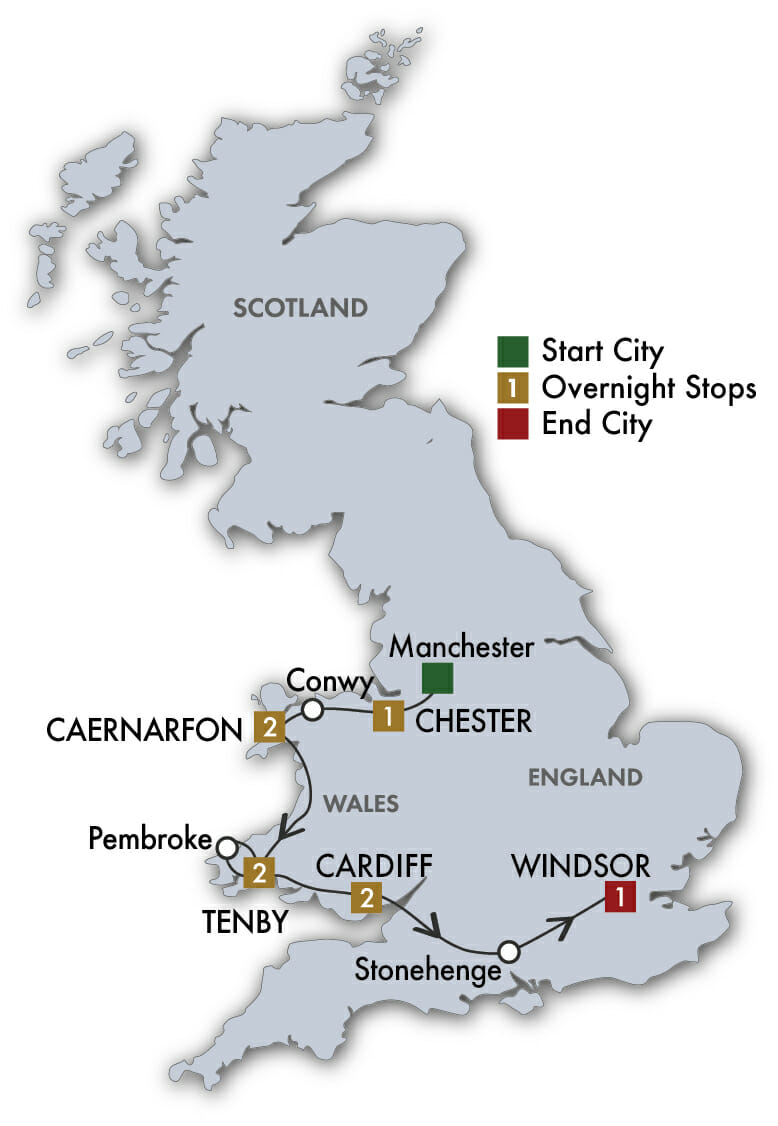 2 nights - North Wales
 1 night - Aberystwyth
  2 nights - Pembrokeshire
  1 night - Cardiff
DAY 1 – NORTH WALES CASTLES
Arrive into Manchester Airport, and pick up your car.  Drive the short distance across the border into Wales and continue to your  overnight  location.  Time  allowing,  use your  Explorer  Pass  to  visit  one  of  the  amazing  13th  century castles in the area - Caernarfon, Beaumaris or Conwy Castle, all built by Edward I as part of his ring of fortresses around Wales. Overnight:  North Wales area (Llandudno, Bangor,  Caernarfon  or Conwy area)  Mileage: 97 miles
DAY 2 – SNOWDONIA NATIONAL PARK
Today,  you  explore  North  Wales.  Explore  the  Snowdonia  National  Park  for amazing  mountain  views  and  scenic  drives.  Visit the National Slate Museum (free admission) to learn about the local slate industry and see a demonstration on slate splitting. Visit Portmeirion an Italian village built in a beautiful coastal Welsh setting.  Snowdonia is  full  of  pretty  villages and towns such as Betws-y-Coed and Beddgelert. And we would  recommend  spending  some  time  in  Conwy,  a  historic walled  town  on  the  coast,  to  see  the  smallest  house  in Britain and the town walls.   Overnight:  North Wales area (Llandudno,  Bangor,  Caernarfon  or Conwy area) Mileage: 93 miles
DAY  3  –  HARLECH  CASTLE  AND  MACHYNLLETH
Today you  travel south  along  the coastal route to drive via Harlech, where you  can visit  the beautiful  Harlech  Castle situated  up  on  a  cliff  and  surrounded  by  a pretty  village.  Continue  along  the  coast to  stop  for  photos of  the  wooden  railway bridge  in  Barmouth.  Explore Machynlleth, another lively village  with  interesting  shops  and cafés. This  was  the  location  of  the  Welsh  Parliament in  the  early 1400s,  so  the  town  is  full  of  history.  Arrive into  the  seaside resort  of Aberystwyth in the afternoon to explore this university town  with  the colorful  houses along the Victorian promenade, as well as the oldest pier in Wales.    Overnight: Aberystwyth area Mileage: 83 miles
DAY 4 – STANDING STONES, WOOL AND TENBY
Continue on your coastal drive today, as you depart Aberystwyth and head to Pembrokeshire. Along the way, stop in the charming Georgian port town of Aberaeron, to admire the rows of colorful houses lining the streets and the quayside. If you would like to take a short hike, head to the Pentre Ifan Burial Chamber (free of charge) car park and take the short walk to the Neolithic standing stones and burial chamber. Or perhaps, you may decide to visit the National Wool Museum (free of charge) to learn about the wool industry, which was so important in Wales. Continue on to Tenby, to explore this historic town surrounded by an imposing medieval stone wall. Check out the beaches in the colorful town, one of which has been named "the best beach in Europe", before checking in to your overnight accommodation. Overnight: Pembrokeshire area (Tenby or Pembroke area) Mileage: 71 miles

DAY 5 – PEMBROKESHIRE NATIONAL PARK AND ST DAVIDS
Enjoy a day tour of Pembrokeshire today, Britain's only coastal national park. Near Tenby you find the Lovespoon Workshop (free admission), where you can learn more about the Welsh tradition of lovespoon making. The 17th century Welsh tradition of carving lovespoons as tokens of affection and love continues in Wales today at The Lovespoon Workshop. Lovespoons can be used to celebrate many special occasions, including engagements, anniversaries, weddings and births. Lovespoons are also used as a token of friendship. The perfect gift to bring home (for yourself or someone you love) as  a reminder of a special time spent visiting Wales.
Continue on to St David's, the smallest city in Britain with only 1,800 population, to view the impressive cathedral, the final resting place of the Welsh patron saint St David. Visit the Bishop's Palace before departing St David's and taking the coastal route towards Pembroke. Along the route, you can stop to view Stack Rock and the Green Bridge of Wales, two natural rock formations on the coast (please check access online, as the road is closed at certain times). Explore the bustling town of Pembroke, and take photos of the stunning castle, located at the top of a hill in the town centre, before returning to your overnight location.  Overnight: Pembrokeshire area (Tenby or Pembroke area) Mileage: 81 miles

DAY 6 – WHISKY AND SANDY BEACHES
Today you will head east and drive from Pembrokeshire to Cardiff, the capital city of Wales. You have several options for things to see and do along the way. You could visit Carreg Cennen Castle, dramatically situated at the top of a steep cliff, or enjoy a tour of Penderyn Distillery to learn more about whisky production in Wales.  You could head down to the Gower Peninsula instead to discover this scenic area just south of Swansea, famous for its sandy beaches, limestone cliffs and wild moors. We would recommend stopping at Rhossili Bay or Three Cliffs Bay for amazing scenery and beaches. For a fairy-tale castle experience, stop at Castell Coch just north of Cardiff, before heading to your overnight accommodation.
Hopefully you have left some time to explore Wales' capital city – easily walkable with an amazing castle at the heart of the city. In the evening, we would recommend heading down to Cardiff Bay for a choice of restaurants and bars with sea views.    Overnight: Cardiff area Mileage: 93 miles
DAY 7 – CARDIFF
You have several options today, you can fly out of Cardiff or Bristol Airport, or you may choose to drive to London to fly out this afternoon / evening, return to Manchester.  
Call 1-800-221-2474   9AM - 5PM or Please Email Us For Information