Highlights of Britain - London to Edinburgh via Wales
England - Wales - Scotland
From London to Edinburgh via Wales
Cotswolds, York, Lake District

11 DAYS/10 NIGHTS /UP TO 18 GUESTS
This adventure delves deep into Britain's history and culture. In England, we celebrate the differences and trace the footsteps of Bronte, Beatrix Potter, and even Dan Brown. We visit Snowdonia in North Wales and the borders of Scotland. Our journey takes in spectacular scenery and dramatic castles.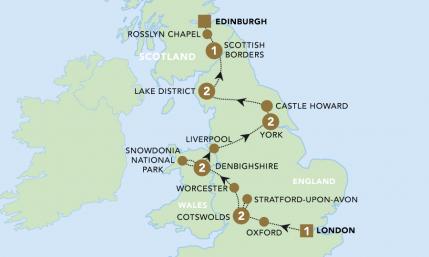 Little tour of England, Scotland
BOOK THIS TODAY! CALL LYNOTT TOURS 9AM-5PM MONDAY-FRIDAY AT 1-800-221-2474
The Lynott Tours Difference -Just 18 passengers
Explore some of Britain's most spectacular regions including the Cotswolds, Snowdonia National Park, the Yorkshire Dales and the Lake District
 Discover the medieval Shambles and Snickelways of York
 Immerse yourself in the grandeur and opulence of Castle Howard
 Get better acquainted with the Fab Four at The Beatles Story museum
DAY 1 LONDON
An epicenter of rich history and innovation, London is where we'll meet for the start of our incredible journey. Tonight, we'll get to know one another over a delicious welcome dinner. Accommodation: Wellington Hotel by Blue Orchid (or similar)
Day 2 LONDON – OXFORD – COTSWOLDS 
After breakfast, we'll leave the capital behind us and set a course for the 'dreaming spires' of Oxford – where we'll discover the highlights of this medieval university city on an orientation walk with our expert Tour Leader. Then: it's off to the Cotswolds, where we'll spend some time exploring charming villages full of honey-coloured cottages. Accommodation: Three Ways House Hotel (or similar) (D)

DAY 3 COTSWOLDS – STRATFORD-UPON-AVON – COTSWOLDS
There will be plenty of time to enjoy this morning at your leisure before we board the mini-coach and make tracks to Stratford-upon-Avon – the picturesque Tudor market town where William Shakespeare was born. We'll have some time to follow in the Bard's footsteps on an orientation tour before pressing on to the rolling hills and panoramic views of the Cotswolds. Accommodation: Three Ways House Hotel (or similar)
BOOK THIS TODAY! CALL LYNOTT TOURS 9AM-5PM MONDAY-FRIDAY AT 1-800-221-2474
DAY 4 COTSWOLDS – WORCESTER – IRONBRIDGE – DENBIGHSHIRE
We'll discover more about the crusades of saints and kings on a visit of Worcester Cathedral before our road turns towards the rugged ancient landscapes of Wales this afternoon. This evening, we'll dine together in Denbighshire. Accommodation: The Mulberry Inn (or similar) (B, D)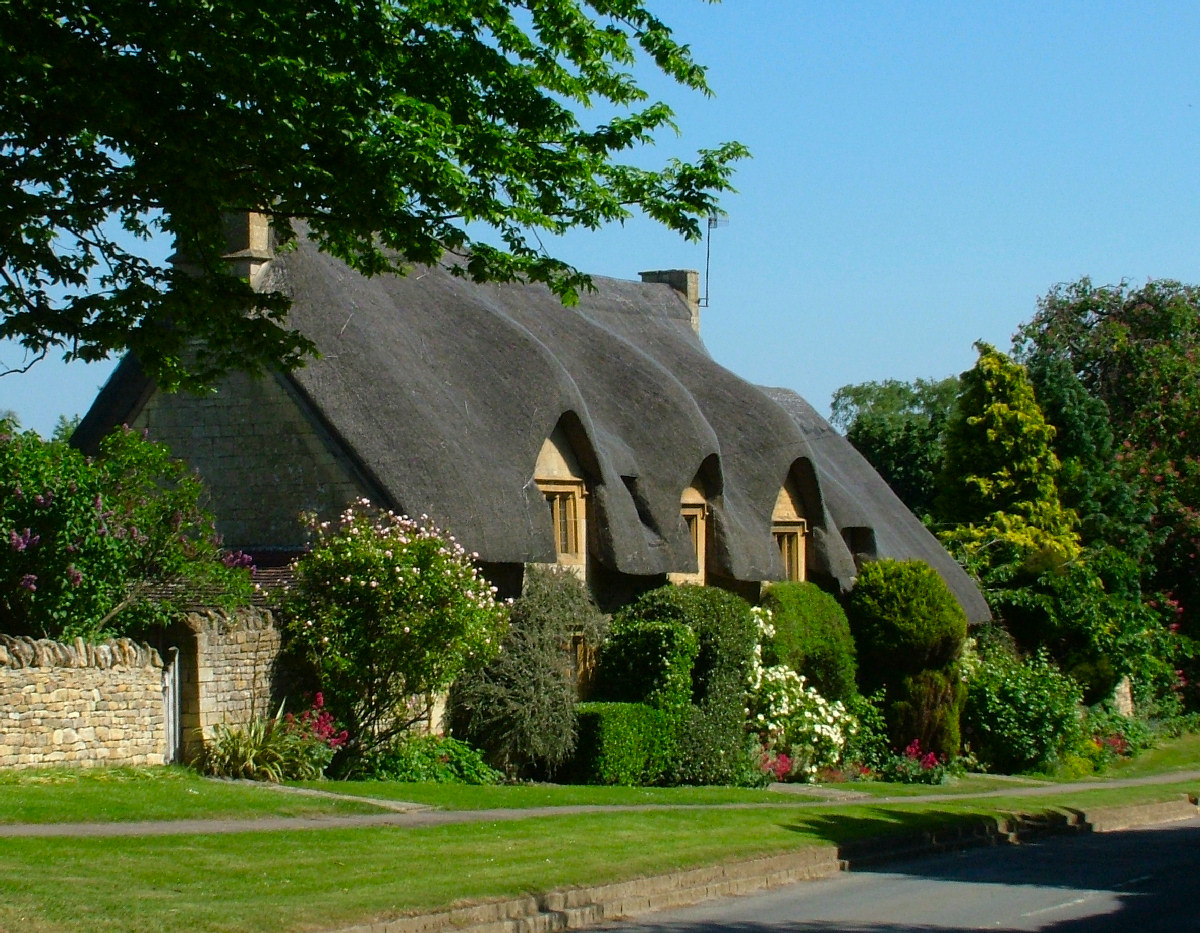 DAY 5 DENBIGHSHIRE – SNOWDONIA NATIONAL PARK – DENBIGHSHIRE
Prepare for a soul-stirring sight this morning – the magnificent Snowdonia National Park (an Area of Outstanding Natural Beauty) is our next stop. Boasting 823 square miles of captivatingly diverse landscapes, Snowdonia National Park is an area steeped in culture and local history. We'll spend the day exploring the park together before returning to the hotel for a sumptuous dinner. Accommodation: The Mulberry Inn (or similar).(B,D)
DAY 6 DENBIGHSHIRE – LIVERPOOL – YORK
Today's itinerary has a distinctly musical theme. After breakfast, we'll leave Wales behind us and move on to Liverpool – the welcoming (and fiercely proud) city that gave birth to The Beatles. What better way to get into the 'Beatlemania' spirit than with a bus tour and visit to The Beatles Story museum? Toes still tapping, we'll round off the day in York. (B)
Accommodation: The Churchill Hotel (or similar)
DAY 7 YORK
We've a full day to spend getting to grips with York, starting with an orientation tour of the Old Town. There are centuries of history to uncover along the medieval Shambles and Snickelways – and plenty of photo opportunities to be claimed! This evening is ours to spend at leisure in town or back at the hotel. (B)
Accommodation: The Churchill Hotel (or similar)
DAY 8 YORK – CASTLE HOWARD – LAKE DISTRICT
Today we'll rewind to the glory days of the English country estate with a self-guided tour of the magnificent Castle Howard. Our path will then take us through Yorkshire Dales National Park, passing by rivers, tiny villages and centuries-old stone walls. The invigorating Lake District will be the spectacular conclusion to the day's journey. Tonight, we'll come together to share a delicious meal at the hotel. Accommodation: Low Wood Bay Resort & Spa (or similar)
DAY 9 LAKE DISTRICT
What better way to spend the day than discovering the Lake District's highlights? Our first stop will be charming Rydal Mount and Gardens, the historic family home of William Wordsworth. With its flower-filled gardens and glorious views of Lake Windermere, it's easy to see why Wordsworth was inspired by this tranquil spot. Later, a scenic lake cruise awaits. We'll take to the water to soak up the awe-inspiring scenery of this spectacular region before returning to our accommodation for the evening. Accommodation: Low Wood Bay Resort & Spa (or similar)
DAY 10 LAKE DISTRICT – SCOTTISH BORDERS
Today we'll visit Birdoswald Roman Fort in Cumbria. Located on the longest continuous stretch of Hadrian's Wall, here we'll take some time to uncover centuries-old history and admire the awe-inspiring vistas before pressing on to the Scottish Borders. This evening we have a cultural treat in store! A traditional haggis dinner and bagpipe demonstration will provide us with a grand ending to our final night. (B,D)
Accommodation: Woodland House Hotel (or similar)l (or similar)
DAY 11 SCOTTISH BORDERS – ABBOTSFORD HOUSE – ROSSLYN CHAPEL – EDINBURGH
Before we say our goodbyes, there's still plenty of time to round things off with a visit to the grand Abbotsford House and beautiful Rosslyn Chapel. Our tour will conclude upon arrival in Edinburgh.. (B)
INCLUSIONS
10 nights in boutique accommodation
Experienced Lynott Tour Leader and Driver
Premium mini-coach transportation
Daily full English breakfasts (B), 5 dinners (D)
Bagpipe demonstration during farewell dinner
Entrance included to all attractions in the itinerary
Tour returns 530PM Bonham Hotel
Where will be stay? Elegant, comfortable hotels, inns and castles which give you always reflect character and charm, A true feeling of the country that you are in. Not purpose built cookie-cutter hotels, each is unique and exudes its own charm.


| | |
| --- | --- |
| COTSWOLDS | Three Ways House Hotel |
| LLWYNMAWR | The Mulbery Inn |
| YORK | Churchill Hotel |
| LAKE DISTRICT | Low Wood Hotel |
| SCOTTISH BORDERS | Woodland House |
2024 departures
Sun 24 Mar
Wed 3 Apr
US$3,479
Sun 31 Mar
Wed 10 Apr

Guaranteed

US$3,479

Apr-24

Sun 7 Apr
Wed 17 Apr
US$3,479
Sun 14 Apr
Wed 24 Apr

Guaranteed

2PLACES LEFT
US$3,479
Sun 21 Apr
Wed 1 May
US$3,479
Sun 28 Apr
Wed 8 May

Guaranteed

US$3,559
Tue 30 Apr
Fri 10 May
US$3,559

May-24

Sun 5 May
Wed 15 May

Guaranteed

US$3,769
Tue 7 May
Fri 17 May

Guaranteed

US$3,769
Sun 12 May
Wed 22 May

Guaranteed

US$3,769
Tue 14 May
Fri 24 May
US$3,769
Sun 19 May
Wed 29 May

Guaranteed

US$3,839
Tue 21 May
Fri 31 May
US$3,839
Sun 26 May
Wed 5 Jun
US$3,839
Tue 28 May
Fri 7 Jun

Guaranteed

US$3,839

Jun-24

Sun 2 Jun
Wed 12 Jun
US$3,769
Tue 4 Jun
Fri 14 Jun
US$3,769
Sun 9 Jun
Wed 19 Jun

Guaranteed

US$3,769
Tue 11 Jun
Fri 21 Jun
US$3,769
Sun 16 Jun
Wed 26 Jun
US$3,769
Tue 18 Jun
Fri 28 Jun
US$3,769
Sun 23 Jun
Wed 3 Jul

Guaranteed

2PLACES LEFT
US$3,769
Sun 30 Jun
Wed 10 Jul

Guaranteed

US$3,769

Jul-24

Sun 7 Jul
Wed 17 Jul
US$3,769
Tue 9 Jul
Fri 19 Jul

Guaranteed

US$3,769
Sun 14 Jul
Wed 24 Jul
US$3,769
Sun 21 Jul
Wed 31 Jul

Guaranteed

US$3,769
Tue 23 Jul
Fri 2 Aug
US$3,769
Sun 28 Jul
Wed 7 Aug

Guaranteed

US$3,769

Aug-24

Sun 4 Aug
Wed 14 Aug
US$3,769
Tue 6 Aug
Fri 16 Aug
US$3,769
Sun 11 Aug
Wed 21 Aug

Guaranteed

US$3,769
Sun 18 Aug
Wed 28 Aug
US$3,769
Sun 25 Aug
Wed 4 Sep
US$3,769
Tue 27 Aug
Fri 6 Sep

Guaranteed

US$3,769

Sep-24

Sun 1 Sep
Wed 11 Sep
US$3,769
Tue 3 Sep
Fri 13 Sep
US$3,769
Sun 8 Sep
Wed 18 Sep

Guaranteed

US$3,769
Tue 10 Sep
Fri 20 Sep
US$3,769
Sun 15 Sep
Wed 25 Sep
US$3,769
Tue 17 Sep
Fri 27 Sep

Guaranteed

US$3,769
Sun 22 Sep
Wed 2 Oct
US$3,529
Tue 24 Sep
Fri 4 Oct
US$3,529
Sun 29 Sep
Wed 9 Oct

Guaranteed

US$3,529

Oct-24

Tue 1 Oct
Fri 11 Oct
US$3,479
Sun 6 Oct
Wed 16 Oct
US$3,479
Sun 13 Oct
Wed 23 Oct

Guaranteed

US$3,479
Sun 20 Oct
Wed 30 Oct
US$3,479

Single suookement $700
Guaranteed=Guaranteed to go, and there are still a few seats available. Book now.
Private Departure=Departure booked by a group. No individual space available.
BOOK THIS TODAY! CALL LYNOTT TOURS 9AM-5PM MONDAY-FRIDAY AT 1-800-221-2474 OR Please Email Us For Information