7 Day Chelsea Garden Show & the London Area Gardens 2023
Chelsea Garden Show and London Tunbridge Wells Windsor
Stop and smell the roses on this leisurely tour of England's greatest gardens and stunning stately homes. And the bet part? A trip to the#1 garden event of the year, the Royal Horticultural Society Chelsea Flower Show in London, May 2023. GUARANTEED SMALL TOUR - THIS TOUR IS LIMITED TO 18 PERSONS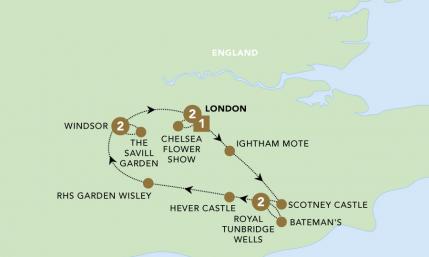 The Lynott Tours Difference
Get access to fabulous show gardens at the Royal Horticultural Society (RHS) Chelsea Flower Show
Pick up tips for your own garden as we tour the historic manor houses and beautiful grounds of Southeast England
Enjoy overnight stays in historic royal towns such as Tunbridge Wells and Windsor
DAY 1 London
Our tour of England's green and pleasant land will begin in the country's iconic capital. After meeting the group at our London hotel, we'll get to know one another better over a delicious welcome meal. Accommodation: Tower Suites by Blue Orchid (or similar)(or similar) (D)

Day 2 - London – Ightham Mote and Scotney Castle – Royal Tunbridge Wells We'll begin our journey with a visit to one of the most unique manor houses in Kent: Ightham Mote. This medieval house dates back over 700 years and can only be reached via an ancient stone bridge that stretches over its very own moat. This afternoon we'll visit the charming Scotney Castle, where we'll take some time to wander the house and gardens – before we end our delightful day in Tunbridge Wells. Tonight, there's another sumptuous group dinner on the agenda. Accommodation: Royal Wells Hotel (or similar) Meals Breakfast Dinner
Day 3 - Royal Tunbridge Wells – Sissinghurst Castle and Great Dixter – Royal Tunbridge Wells This morning our road will turn east to Sissinghurst Castle Garden, an iconic retreat that's renowned for its romantic design and colourful rose arrangements. Then, we'll swap sculpted layouts for the quaint, rustic charm of Great Dixter: the family home of famed English gardener Christopher Lloyd. Here we'll discover how the sublime arts-and-crafts-style gardens inspired Lloyd throughout his career – with time to admire the estate's vibrant grounds and historic buildings. Upon returning to Tunbridge Wells, we'll have the evening to spend at our leisure. Accommodation: Royal Wells Hotel (or similar) Meals Breakfast
Day 4 - Royal Tunbridge Wells – Hever Castle and RHS Garden Wisley – Windsor After breakfast in Tunbridge Wells, we'll make tracks to the award-winning gardens of Hever Castle – the childhood home of Henry VIII's second queen, Anne Boleyn. This afternoon will see us wandering the tranquil RHS Garden Wisley, taking in the sounds of the water flowing through the rock garden and enjoying the serene Alpine Meadow. Rich in history and royal tradition, Windsor will be our final stop of the day. This evening, we'll clink glasses over an included dinner and share plans for the free day awaiting us tomorrow. Accommodation: Castle Hotel (or similar) Meals Breakfast Dinner
Day 5 Windsor What better way to spend the day than discovering Windsor's regal highlights at our own pace? We'll have plenty of time to visit the Castle, wander the picturesque riverside and sample a delicious afternoon tea at one of the tearooms around town. After a full day of exploring, choose from one of the many cosy pubs and eateries – and enjoy an evening spent at your leisure. Accommodation: Castle Hotel (or similar)Meals Breakfast

Day 6 - Windsor – The Savill Garden and Eltham Palace – London This morning, we'll pay a visit to the Savill Garden in Windsor Great Park. As we walk through the themed gardens, be sure to keep an eye out for an array of rare plants from around the world. Next, we'll turn our attention to the eccentric charm of Eltham Palace. Featuring a grand medieval hall and a chic Art Deco extension, this is eclectic English architecture at its finest! Spending the evening exploring the capital's array of gastronomic options or relaxing at our hotel – we will look forward to tomorrow's exciting agenda. Accommodation: Tower Suites by Blue Orchid (or similar) Meals Breakfast
Day 7 - London – RHS Chelsea Flower Show – London Today the RHS Chelsea Flower Show will be yours to enjoy. From the world-famous show gardens to the astounding floral displays on offer in Chelsea's Great Pavilion – this truly spectacular event showcases the very best of garden design and is sure to be a highlight of our trip. Accommodation: Tower Suites by Blue Orchid (or similar) Meals Breakfast

Day 8 - London – Kew Gardens – London It may be the last day of the tour, but there's still time to enjoy some more English treasures before we say goodbye. This morning we'll take a stroll around the splendid Kew Gardens. The palm house, a jaw-dropping example of Victorian engineering, is sure to add a final flourish to that holiday photo album. We will say our farewells upon returning to the hotel.

Call 1-800-221-2474   9AM - 5PM or Please Email Us For Information
INCLUSIONS
7 nights' accommodation in boutique hotels
Experienced tour leader
Luxury mini-coach transportation with a driver/guide
Daily full English breakfasts (B), 3 dinners (D)
Guided tour of Kew Royal Botanic Gardens
Entrance included to all attractions in the itinerary
Please note: There are a number of dates where more than one departure will be running at the same time but each group stays in different hotels and visits the Chelsea Flower Show on different days. There are also departures where the itinerary is reversed.

Not Available - No individual space available.
Guaranteed=Guaranteed to go, and there are still a few seats available. Book now.
Private Departure=Departure booked by a group. No individual space available.
Chelsea Flower Show 2023
USD per person
Starts
Ends
Wed 17 May
Wed 24 May
$3119
Thu 18 May
Thu 25 May
$3119
Sat 20 May
Sat 27 May
$3119
Tue 23 May*
Tue 30 May
$3119
Thu 25 May*
Thu 1 Jun
$3119
Single rate own room
3909
* reverse itinerary


BOOK THIS TODAY! CALL LYNOTT TOURS 9AM-5PM MONDAY-FRIDAY AT 1-800-221-2474 OR Please Email Us For Information Triple rooms are available on some tours at the same price per person as a twin room. This September not be comfortable for three adults.