Scotland Golf Vacations - golf & whisky
No country is more closely associated with golf than Scotland. In fact, the game was invented here! Scotland has over 550 golf courses to choose from including world famous championship golf courses such as The Old Course St Andrews, Royal Troon, Carnoustie, Muirfield, Turnberry and Gleneagles (two Scotland golf resorts). We will be happy to plan any other itinerary for you to complete your golf package in Scotland. Here is what we recommend.
What's Included:

Self-drive car or minibus with unlimited mileage and tax for 7 days.
Accommodations with private bath at first class hotels:
Scores Hotel, St. Andrews 3 nights
Marine Hotel, Troon 3 nights
Full Scottish breakfast each day.
Green fees and pre-arranged tee times for one round of golf at each of four courses: St. Andrews Kingsbarns, St. Andrews New, Troon, Old Prestwick.
Value-Added Tax (V.A.T.). and service charges.
Travel pack including guidebook, spouse touring suggestions and more.
This tour may be taken with a minibus with driver/guide at additional cost.
Scotland Golf
Price per person sharing a twin or triple room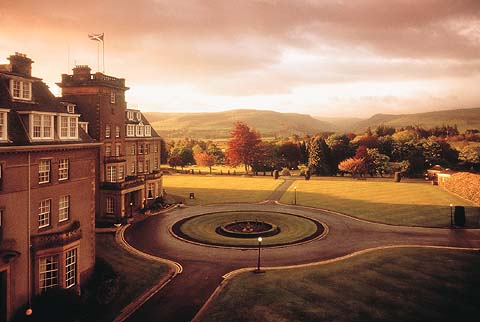 Scotland Golf

| | |
| --- | --- |
| Rate per person sharing a room | USD |
| Twin | $2381 |
Price per person sharing a twin or triple room Non-golfer reduction: $530; Single room supplement to be added to the twin price, based on sharing a car $2131. If you would like your own car, please ask for rates.
Future Venues for 'The Open'

2022 - July 10-17 St Andrews
2023 - July 16-23 Royal Liverpool
2024 - July 14-21Royal Troon
2025 - July 13-20 Royal Portrush

Please Email Us For Information
Recommendation:
When golfing at resort owned golf courses, such as Turnberry, Gleneagles, or St Andrews Dukes (Old Course Hotel), we recommend staying at the hotel. Despite the extra expense of staying at a 5 star hotel, you will save substantially by paying resident green fees.
Scotland Golf Options
To customize your golf vacation, you may add these courses to any gold or red hotel on our Self Drive Britain program. Rates are per person per round. Minimum 2 players and 2 rounds. Your handicap certificate is required with booking.
The town of St. Andrews Scotland has seven public golf courses:
| | | |
| --- | --- | --- |
| St Andrews | has 99 holes of links golf | Strathtyrum |
| Old Course | Castle Course | New |
| Jubilee | Kingsbarns | Dukes |
ST. ANDREWS OLD COURSE
St. Andrews (Fife) It is the Home of Golf where golf was first played 600 years ago and yet it remains a real test of golf for today's champions. Despite its reputation and status, it is a public course and is one of six public courses on St Andrews Links. Traditionally to play a round on the Old Course, golfers enter a daily ballot for the highly coveted tee times. This course is confirmed by ballot the night before play. (exception: Saturday for Monday play). Single players and those who did not make the ballot can wait at the Starters Box in an attempt to join 2 / 3 balls. Get down there as early as possible. At its busiest golfers will start to gather as early as 4am. At quieter times of the year there are spaces late in the day for anyone showing up. We also can
arrange guaranteed tee times
at St. Andrews
Call 1-800-221-2474   9AM - 5PM or Please Email Us For Information
St. Andrews - the town where a century old golf course is called "new". The links never belonged to a golf club, but were and are still public courses, administered today by St Andrews Links Trust. The Old Course (600 years old) was known simply as St Andrews Links until 1895 when the opening of the New Course meant that its predecessor became known as the Old Course. Until 1764 a round on the Old Course consisted of 22 holes with eleven holes out and eleven holes in with only the 11th and 22nd not played twice. In that year the first four holes were reduced to two, which meant that a round was reduced to eighteen holes. As the prestige of St Andrews grew this came to be recognized as the standard for courses the world over.

ST. ANDREWS CASTLE COURSE 7200 yards par 72 The newest addition to St Andrews Links, The Castle Course opened in 2008 becoming the seventh course at the Home of Golf and part of the largest public golfing complex in Europe. Set on a rugged cliff-top with spectacular views over St Andrews, The Castle Course offers a memorable golfing experience.

ST ANDREWS NEW COURSE New Course 6625 yards par 71 Opened in April 1895. The New Course at St. Andrews is truly not a new golf course at all, and has in fact been open for over 100 years. Opened in April 1895, the New Course was designed by Tom Morris and sits in the shadows of the Old Course at St. Andrews.

ST ANDREWS JUBILEE Jubilee Course 6742 yards par 72 (more than 100 years old) The Jubilee Course at St. Andrews was the third championship course built in the town. Opened for play in 1897 the course received its name in honor of Queen Victoria's Diamond Jubilee, which celebrated her 60 year reign as the British Monarch. The Jubilee Course began as a twelve hole course, but it was lengthened to an 18 hole layout eight years later in 1905.

ST ANDREWS KINGSBARNS Kingsbarns 7133 yards par 72 Kingsbarns Golf Course is the most recent addition to Fife's golf coast, and has quickly developed a reputation as one of the finest links courses in Scotland. Kingsbarns was chosen as a venue for the Dunhill Links Championship, joining with its more established neighbors, legendary Carnoustie and the Old Course at St. Andrews. Mens 28/Ladies 36
ST ANDREWS EDEN 6250 yards, par 70 Only slightly more forgiving than its contemporaries on the seaward side of the Links, the Eden Course was built in 1914 by Harry S. Colt whose use of natural boundaries and severe bunkers provides a course full of character.
ST ANDREWS Strathtyrum 5620 yards, par 69 Designed to complement the tougher championship layouts at the Home of Golf, the Strathtyrum was opened in 1993. Although few in number (15), the bunkers are cunningly placed and there is considerable emphasis on iron play accuracy. The greens themselves are large and have slopes and borrows which can test even the most confident putters.

ST ANDREWS DUKES The Duke's 7512 yards par 71 The Duke's, owned and managed by the Old Course Hotel, is a lush, heathland course perched on the hillside just a few minutes from the hotel near Craigtoun Park. Noted in Golf World's Top 100 Courses in the UK, this championship 18-hole course has magnificent greens, beautiful fairways, a fleet of electric golf buggies and five tees on every hole, making it most appealing to golfers of all abilities.


WEST COAST:
Trump Turnberry: The Ailsa 6976 yards par 70 A golfing jewel of the West Coast, Turnberry is the Pebble Beach of the British Isles. Named after the third Marquess of Ailsa, who owned the land on which it was built, this par-71, 6, 7489-yard Championship course is one of golf's storied places. Home to four Open Championships, Ailsa has shaped some of the most remarkable moments in the tournament's history. Set alongside the glorious Ayrshire coastline, with Arran and Ailsa Craig as a stunning backdrop, it is one of the finest golfing destinations in the world.

Trump Turnberry: King Robert the Bruce Trump Turnberry's newest golf course, the magnificent King Robert the Bruce, e thrills golfers of all abilities. Distinctive bunkering, visually attractive wetland areas and swathes of gorse all adds to the exciting challenges of this great links course. This 18 hole course has a par of 72, and, has 5 par 3 holes

Troon: Old Course 6641 yards par 71 south of Glasgow TOne of the great links courses in Scotland, the Old Course is a challenging test of golfing ability. With the wind to contend with, and deep rough interspersed with gorse and broom, accurate shot making is essential. Players should make their scores on the outward nine, as the prevailing north-westerly wind can make the back nine extremely difficult. Visitor tee-times only available on Monday, Wednesday and Fridays. Handicap certificate showing a handicap of 20 for men and 30 for leadies is required. Must be 16 years old or older to play the Old Course.

Troon: Portland Course 6289 yards par 71 Although a links course, the Portland is a little more sheltered than the Old Course and, of course, shorter. The holes meander through terrain filled with gorse and broom and there is a generous helping of par 3's, five in all. This is tempered however, with four par 5's, all of which are on the back nine.

Western Gailes 6639 yards par 71 A Championship links course, Western Gailes is recognised as one of the finest Links courses in Scotland. A trial of skill and strength, the course is something of an endurance test. Positioned between the railway lines and the sea, accurate tee shots are necessary to hit the narrow fairways. The course is frequently used for Open Championship Qualifying.

Prestwick 6544 yards par 71 Birth place of the British Open Championship, Prestwick hosted the first twelve Opens and 24 in all, the last in 1926. Designed by Old Tom Morris, the course with its narrow fairways, small and undulating greens follows the natural contours of the terrain and features some odd twists and turns and even some interesting blind shots.

Other:


GLENEAGLES Three courses, the King's, Queen's and the PGA Centenary. The King's Course, opened in 1919, is a masterpiece of design, which has tested the aristocracy of golf, both professional and amateur. James Braid's plan for the King's Course was to test even the best players' shot-making skills over the eighteen holes. When they play the King's the world's greatest golfers admire the cunning and craft with which he achieved that goal.

Queen's 5965 yards par 68 Threading through high ridges on the north and west sides of the estate, the Queen's offers lovely woodland settings, lochans and ditches as water hazards, as well as many moorland characteristics. The challenge of the first nine can be deceptive, with even some of the best players finding it a test to make par into a fresh southwesterly breeze.

PGA Centenary 6558 yards par 72 Designed by Jack Nicklaus this course is scheduled to host the Ryder Cup in 2014. A challenging test of golf for the best. From the back tees, the PGA Centenary Course measures 7,088 yards, the longest inland course in Scotland. However, the tees are graded at each hole in five stages, including a challenging 6,558 yards from the white markers down to 5,072 from the red. Fittingly, the PGA Centenary Course begins by playing southeast towards the famed glen of the eagles sweeping up the Ochil Hills to the summit of the pass below Ben Shee which joins it to Glendevon.
Some suggestions:
BLAIRGOWRIE Tayside region
NAIRN (near Inverness)
ROYAL DORNOCH north of Inverness (Highlands)

Call 1-800-221-2474   9AM - 5PM or Please Email Us For Information

No golf on Sundays. No visitors on weekends.
A small number of rides on buggies (electric carts) may be reserved through the office although a medical certificate and driving licence is required for their use.
When is St. Andrew's Day? St. Andrew is the patron saint of Scotland and this is celebrated on 30 November. In St Andrews there are a number of events during St Andrew's Week including an 'Open Doors' day, usually on 30 November, when a number of local institutions including the Royal and Ancient Golf Club allow the public free access.
Pre-arranged tee times at St. Andrews
Questions? Contact 
Lynott Tours, your Scotland travel agents at 1 (800) 221-2474USA & Canada 
Please Email Us For Information