Downton Abbey Filming Locations and Highclere Castle - 1 day tour
A day trip to sites from Downton Abbey tv series, with departures from central London.


This day trip includes entry to Highclere Castle plus a visit to Downton Village and Downton Church. Visit the filming sites associated with Downton Abbey in the morning, and enjoy an afternoon in Highclere Castle, the Grantham family home in the series.
Depart London and drive away from the city to the delightful Oxfordshire Cotswolds to see key filming sites of Downton Abbey.


Call 1-800-221-2474   9AM - 6PM or Please Email Us For Information

After the tour we drive to 'Downton Village', real name Bampton, a beautiful village in the Oxfordshire Cotswolds. The village of Bampton has been used extensively in all series of Downton Abbey for Downton Village filming. Bampton Library was used for Downton Cottage Hospital and Doctors surgery; St.Mary's Church became Downton Church and Church Square; Churchgate House was used for exterior shots for the Crawley family home; and we will have time to walk along the street which has been used for shops, the Post Office and the Grantham Arms.
In the early afternoon we make our way to the Grantham Family home, Highclere Castle. On arrival at Highclere Castle there will be time to enjoy the beautiful gardens; The Monk's Garden, White Border, Secret Garden and Wood of Goodwill. There will be time for lunch, or a snack in the Tearooms where you can enjoy light lunches or afternoon teas made in the Castle kitchens, before we enter Highclere Castle for an afternoon visit. Our tickets are valid to enter the Castle from 13:30pm-15:30pm (Castle closes at 16:30pm), and we plan to arrive at the Castle by 13:00. There is plenty of time to have lunch, enjoy the grounds and enter the Castle.

The Carnarvon family has lived at Highclere since 1679. Major rebuilding work was carried out in the 18th and 19th centuries, and in 1838, the 3rd Earl of Carnarvon brought in Sir Charles Barry to transform his home into a truly stunning mansion. During the First World War the Castle was transformed into a hospital, returning to a private home in 1922.

To this day the current (8th) Earl and Countess of Carnarvon live partly in the Castle and partly nearby, but remain closely involved in the Castle's day to day life and future.

On entry to Highclere Castle visitors follow a route through the Castle through with guides in each State room. The State rooms include the Saloon, Library, Dining room, Music room, Drawing room and Smoking room. Visitors can then go up the Red Stairs to view some of the Bedrooms and the Gallery, before walking down the oak staircase back to the saloon in the heart of the house.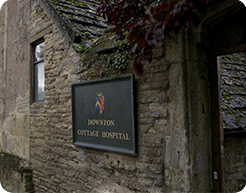 Tour Inclusions
- Travel by executive coach
- Expert, friendly guide
- Visit to Yew Tree Farm (Cogges) and Downton Village (Bampton)
- Entry and tour of Highclere Castle and Gardens
Tour Exclusions
- Food
- Gratuities
2020 Daily between these dates Small Group Downton Day Tour
2020
Small group Downton Abbey locations & Highclere Castle
$331
Large group Downton Abbey locations & Highclere Castle
$269
Sunday 12th April to Sunday 26th April
Sunday 3rd May to Tuesday 5th May
Saturday 9th May to Saturday 16th May
Sunday 24th May to Sunday 26th May
Sunday 12th July to Thursday 16th July
Sunday 19th July to Thursday 23rd July
Sunday 26th July to Thursday 30th July
Sunday 2nd August to Thursday 6th August
Sunday 9th August to Thursday 13th August
Sunday 16th August to Thursday 20th August
Sunday 23rd August to Thursday 27th August
Sunday 30th August to Thursday 3rd September
Sunday 7th September to Wedesday 9th September
Important note about cancellations - Due to the very limited availability of Highclere Castle tickets all bookings for this day trip are 100% non refundable.
Departure point – London

07:15am         Outside The British Museum main entrance, Great Russell Street Nearest tube stations are Holborn or Tottenham Court Road 
07:30am         Outside Cumberland Hotel, Marble Arch. Please note that from Spring 2019, the                                            Cumberland Hotel will be changing its name to to the 'Hard Rock Hotel'. Nearest tube station is Marble Arch
07:45am         Outside Holiday Inn Kensington Forum, 97 Cromwell Road (wait on Cromwell road by bus stop, not outside hotel entrance). Nearest tube station is Gloucester Road 

Return to London
The coach will drop off at Victoria coach and train station, which has excellent links for forward travel throughout London and beyond. We usually arrive back in central London by 6.30pm, depending on traffic conditions.
Disclaimer: These Downton Abbey day trips and tours are not endorsed, sanctioned or in any other way supported, directly or indirectly, by Carnival Films, NBC Universal or Julian Fellowes and his representatives.
Call 1-800-221-2474  9AM - 5PM or Please Email Us For Information