Ireland - Vacations to Ireland
IRELAND LUXURY TRAVEL INCLUDING A DUBLIN & BELFAST VACATIONS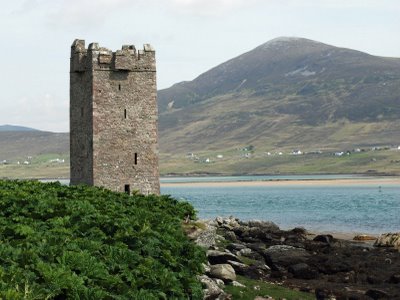 When only the best in Irish manors and Irish castles will do, try our luxury travel packages and castle vacations in Ireland. Featuring outstanding, luxurious hotels, castles and manors at special prices. Enjoy a well-earned stay in a charming manor, delightful country house or luxury Irish castle. All of our hand-picked Irish castle hotel accommodations and manors are selected for their warm and friendly staff, wonderful locations and superb cuisine. As our guest you can be confident that we will custom-design your itinerary with very special locations. Choose from our private list of Irish castle favorites as well as "hidden off-the-beaten-path" treasures, recommended by guidebooks. All of the following itineraries are also available with a car and driver, at additional cost. Seamless travel experiences are made easy for you by our team of creative tour planners. The best of our vacations to Ireland.
Irish Manors and Castles 1 week luxury vacation
. Enjoy misty mornings and romantic evenings in front of a majestic fireplace, indulging in Ireland's candlelight dinners and afternoon teas. Ireland Travel at its best.
Self-drive car with unlimited mileage and tax for 7 days. See car information
7 nights accommodations at your choice of Gold Hotels, Castles and Manors (list)
We have a wide selection - a choice of over 100 hotels, castles and manors, all with private bath in every corner of the Emerald Isle. We give you a chance to savor the special charms of smaller villages as well as larger cities. Capture the mood in a stately Georgian Manor, Victorian Country House, Shooting Lodge, Castle or inn, each one graced with ornate architectural and period features, antiques and fine paintings. The choices include hotels, manors and castles, from 4 to 5 star. These include hidden and off-the-beaten-path inns and hotels. Manors can be old-world style inns with a comfortable charm. Castles range from simple centuries-old fortresses to deluxe resorts.
Full hearty Irish breakfast is served each day. This may include home-baked breads, farm-fresh eggs, cereal, sausage and bacon.
Value-Added Tax (V.A.T.) and service charges.
Passport Case with "What You Need To Know Before You Go"
Add a medieval banquet near Shannon - the perfect finale to your trip.
Enjoy misty mornings and romantic evenings in front of a majestic fireplace, indulging in Ireland's candlelight dinners and afternoon teas.
BOOK THIS TODAY! CALL LYNOTT TOURS 9AM-5PM MONDAY-FRIDAY AT (800) 221-2474 OR Please Email Us For Information



Two outstanding choices:

Lough Rynn Castle
One of Leitrim's most luxurious Castle Hotels, the ancestral home of the Clements family and the legendary Lord Leitrim. The entire estate comprises over 300 acres of an Ireland that is idyllic, rich in history and charmed with natural beauty. Our commitment at Lough Rynn Castle is to provide the highest level of comfort and service. You will enjoy old world elegance with modern day comforts. One step inside Lough Rynn Castle and you are at home. With our warm and friendly atmosphere we will see to your every need, everything has been designed with your desires in mind.


Kilronan Castle
One of Ireland's most luxurious deluxe castle Hotels, located in Roscommon Ireland, the ancestral home of the Tennison family and the legendary Colonel King Tennison. It is one of a few Irish castle estates that can trace its history back to royal families. This secluded, luxury, Roscommon Castle hotel is majestically set on the shores of Lough Meelagh, surrounded by over forty acres of breathtaking Irish scenery, lush green pastures, ancient forests and historical points of interest. Approached by a meandering drive that passes acres of magnificent lawns, the luxury Castle hotel will overlook the site for a proposed Nick Faldo Designed 9 Hole Par Three Golf Course and a glistening lake which commands the panoramic beauty of the surrounds. Our World Class Spa & Leisure Centre is now open. Relax and unwind in our Pool or let us pamper you with one of our luxurious treatments.


Suggestion: If you are arriving into Dublin, stay in Howth, a quaint fishing village just outside the city, or in Malahide. Afternoon shopping, or visit Malahide Castle, the home of the National Portrait Gallery. Later, you might decide to take a stroll along the shore to gaze at the boats at sea.
Suggested itineraries:
7 Day Itinerary Dublin to Shannon

Day 1 Dublin
Day 2 Dublin
Day 3 Horsebreeding/Medieval Kilkenny
Day 4 Cork/Kenmare Kinsale is one of the most picturesque villages of the southwest coast and is known as the "Gourmet Capital of Ireland". Walk the colorful narrow streets down to the harbor and enjoy the scenic views. Visit the star shaped Charles Fort with its spectacular views and learn about Ireland's history. Highlights: Narrow town streets, quaint shopfronts, scenic coastal views, Charles Fort, coastal walks
Day 5 Kenmare - Ring of Kerry
Day 6 Cliffs of Moher/Galway Highlights: Spa Wells Center, Cliffs of Moher, Traditional Irish Music, The Burren, Poulnabrone Dolmen, O'Briens Castle
Day 7 Home

CASTLE TOUR OF IRELAND
Day 1 Arrive Dublin -Cabra Castle
Visit Knowth, the ancient Boyne Valley burial site, older than the Egyptian Pyramids. See Monasterboice, known for its intricate high Celtic crosses. Visit Trim Castle, too, where Braveheart was filmed. Its halls and courtyards once echoed to the footsteps of Oliver Cromwell and James II. Today the former Corney Castle offers a tranquil sanctuary to the busy wayfarers of modern times. Set in 100 acres of parkland, Cabra Castle's rooms offer unique antiques and paintings.Leisure facilities include a 9 hole golf course, enclosed gardens and Lady's Lake and walks through the forest park. Situated in Kingscourt, Co. Cavan, just 1½ hours from Dublin.

Day 2 Midlands/Shannon Travel along the majestic Cliffs of Moher, soaring an awe-inspiring 700 feet above the breaking sea.
DROMOLAND CASTLE

Dromoland Castle is spectacular. Before it became a luxury hotel in 1963, Dromoland Castle saw almost 400 years as the ancestral home of the O'Brien clan. Now it is the luxurious sister hotel of the prestigious Ashford Castle. Jacket and tie for gentlemen are required after 7 PM in the elegant, formal dining room and the book lined bar where guest often settle after dinner to join in the singing of popular Irish ballads. The sumptuous, ornate drawing room is an ideal haven for morning coffee and afternoon tea. Up the grand staircase are found the hotel's premier rooms and luxurious suites and a portrait gallery of past incumbents of the estate. Smaller cozy room are located round a courtyard in the castle's oldest part (1736) and have the same lavish amenities: robes, slippers, masses of toiletries, fruit bowl, and a decanter of Irish Mist. Fishing, horse riding, and bird shooting can be arranged nearby, and tennis court and Dromoland's golf course are here for you to use.

Day 3 Bunratty Castle/Adare/Co. Kerry Ballyseede Castle was the chief garrison of the legendary Fitzgerald, Earls of Desmond. Following the defeat of the Fitzgeralds in 1584, the house and land was deeded for the some of one red rose per year to be presented on Mid-summers Day. Ballyseede Castle has two curved bows on either side and a battlemented parapet. The relaxed and low-key castle stands at the end of its own winding carriage drive or avenue.

Day 4 Dingle Peninsula The greens of the hills contrast with the wildness of the scenes to make Dingle an enchanted place, the setting for Ryan's Daughter. Today's adventure is a boat trip to discover Fungie, the bottle-nosed dolphin, or take a lesson in baking brown bread for yourself. Optional bike ride this afternoon. At Dingle's pubs spontaneous music sessions often erupt. The most amazing musicians will treat you to a storm of Irish music.
Day 5 Cork/Waterford Visit Blarney, with a chance to kiss the Stone. Kinsale, one of the most historic towns in Cork, has quaint cobbled streets, gourmet restaurants and yachts moored in the harbor.
WATERFORD CASTLE
Take the private ferry to a secluded island with a luxury castle hotel and golf course on the outskirts of Waterford city. Built by the Fitzgerald family in 1160, around the time of the Norman Invasion, the Castle was also the home of an Italian Princess. The driveway was a rough track carved out a thousand years ago by medieval monks. This is a cloud-grey stonework fantasy place, with granite arches and stout, studded oak doors. Spend your time at the tennis courts, swimming pool, or the par 72 golf course measuring 6,790 yards.

Day 6 KILKENNY/KILDARE Tour the Waterford Exhibition Center, known for its distinctive crystal. Then, you are off to medieval Kilkenny, whose castle is both Tudor and Gothic. Travel through Kildare, the horse-breeding center of Ireland, where you visit the National Stud Farm. Barberstown Castle, built in the 13th Century, is the only Castle which boasts close proximity to Dublin City Centre and Dublin Airport (both 30 minutes away). Every room is unique; no two are identical and evokes a feeling of individuality which is not experienced in most modern hotels. Elegantly and luxuriously appointed, laden with antique furniture, each room provides the highest standard in comfort and relaxation.Call 1-800-221-2474 9AM - 5PM Mon-Fri Eastern Time
Please Email Us For Information

Day 7 Home from Dublin
Day 1 Arrive Dublin, Ireland's capital, which has retained its Georgian elegance. Our afternoon tour of Dublin takes you to Trinity College to see the illuminated Book of Kells, written by long-ago Irish monks, and St. Patrick's, Ireland's national cathedral. Visit the Guinness Storehouse in the heart of old Dublin, where you sample Ireland's most famous creamy stout. Storytelling, dinner and traditional music in a candelit pub. The seanachi entertains with tales of fairies, and legendary deed-doing. With turf fire glowing, history comes alive tonight!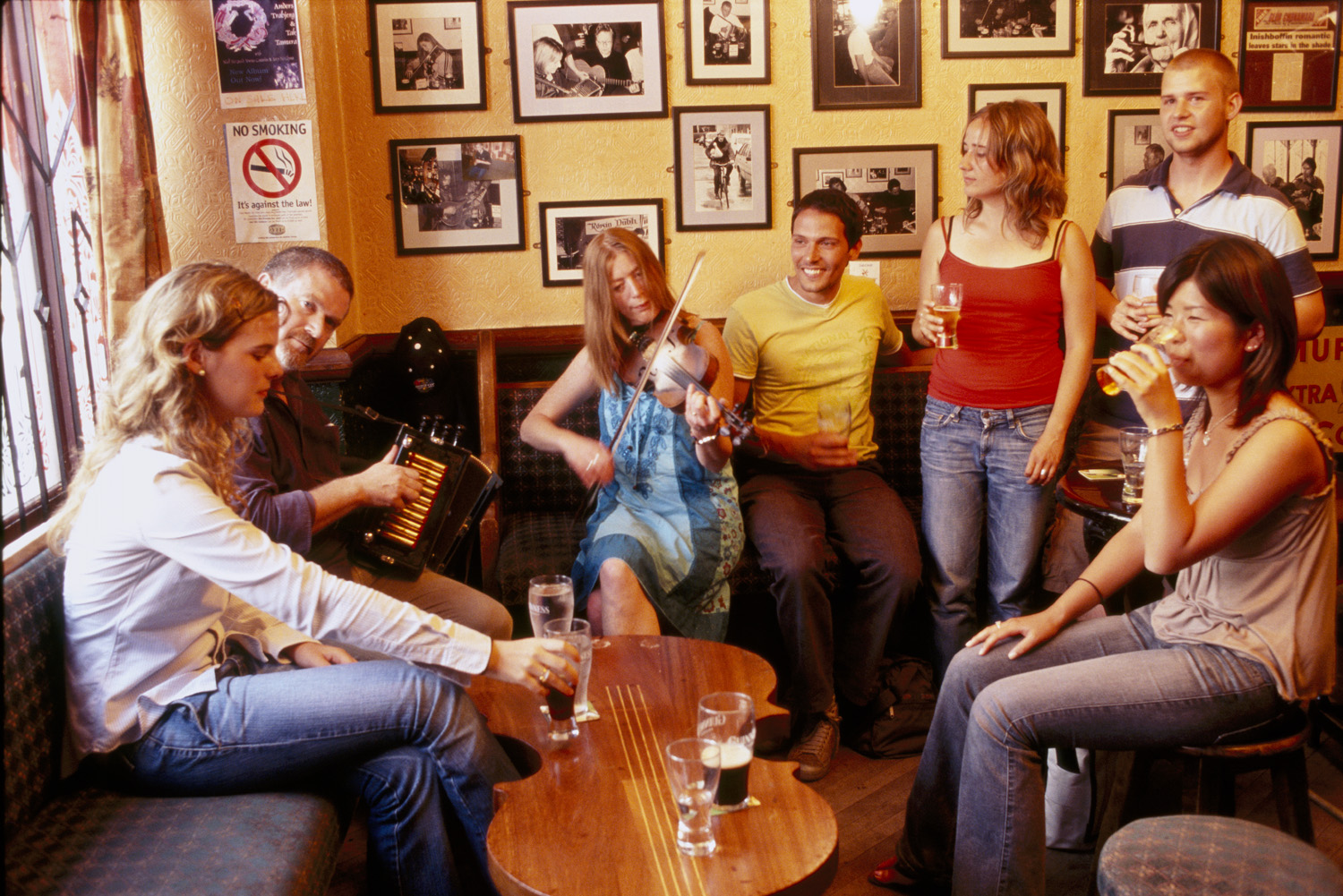 Day 2- DUBLIN/WICKLOW DAY TRIP This is a day dedicated to touring one of the most beautiful areas, the "Garden of Ireland". Visit Powerscourt Estate, with its impressive Italianate garden. Then, we are off to Glendalough, snuggled in a wooded and lush countryside setting. Its noteworthy round tower is one of the best preserved in Europe. Return to Dublin, where your evening is free.(B)
Day 3 - KILKENNY Enjoy the relaxed pace of Ireland, known for its bogs and turf fires, rich farmlands and scenic countryside. Travel through the Curragh, the horse breeding center of Ireland. You visit Kilkenny Castle. Stay in Kilkenny, somewhere very special with its cobbled streets and castle, one of the finest examples of an Irish medieval town. Tonight, "Meet the Irish" by staying as a welcome guest in a local home, not only wonderfully located, but also fully equipped, comfortably homey, and clean. Enjoy a pub lunch. (B,L)
Day 4 - BLARNEY/COBH/KILLARNEY This morning you take the scenic route to Cobh, originally a small fishing village. Cobh was the departure point for many Irish immigrants in the 19th century, and is associated with the loss of the Titanic. Visit Blarney, with a chance to kiss "The Stone". Travel through landscapes of the rarest green, where herds of black and white cows peek from every hill on the way to Killarney. (B)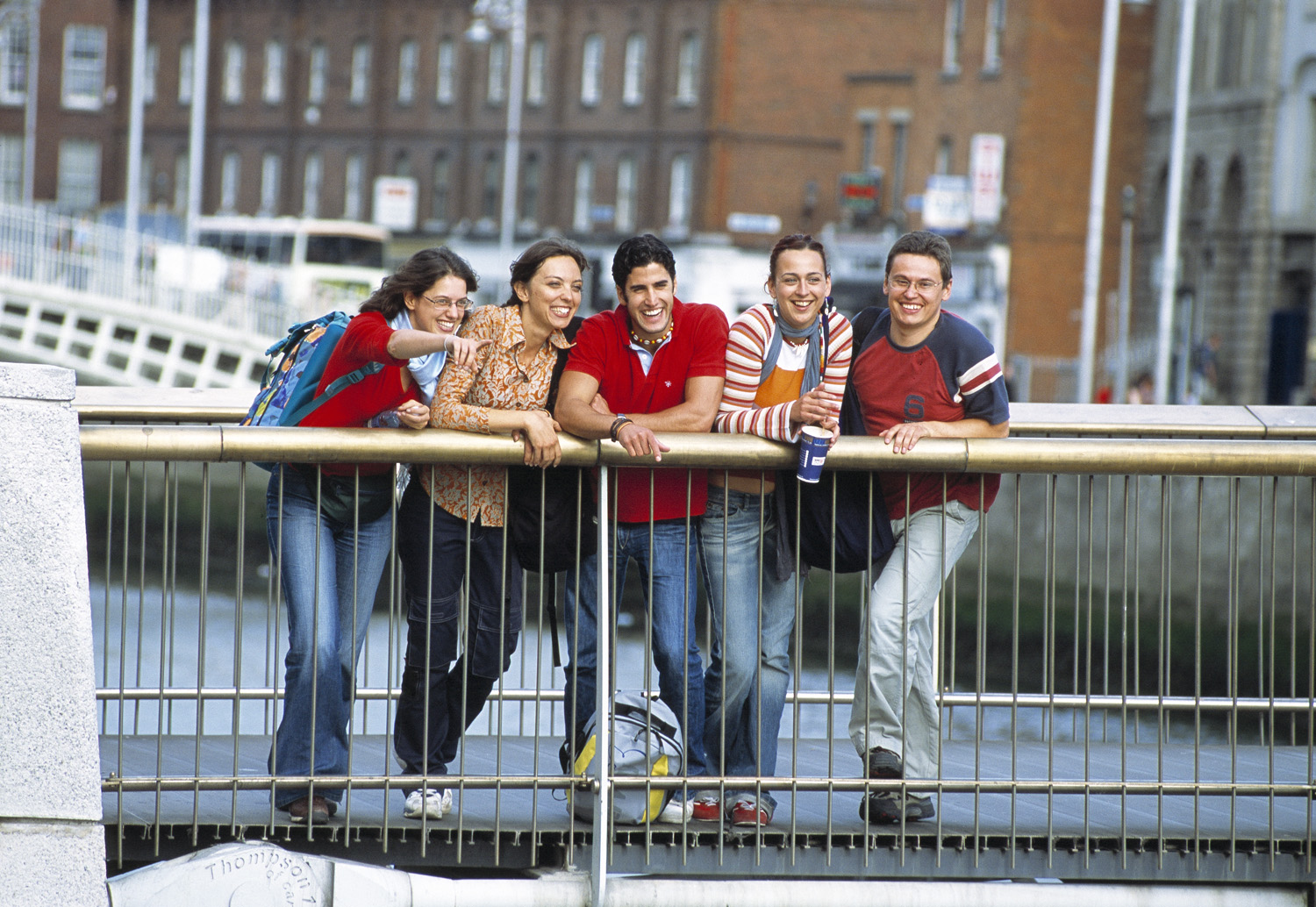 Day 5- DINGLE BAY OR RING OF KERRY An incredible day awaits! We drive along the Kerry Coast to the Dingle Peninsula, one of the natural wonders of Ireland and introduced to the world in "Ryan's Daughter". We'll see the mysterious beehive huts (or stone igloos) en route to Slea Head for a view of the Blasket Islands and Dunmore Head, the westernmost point in Europe. (B)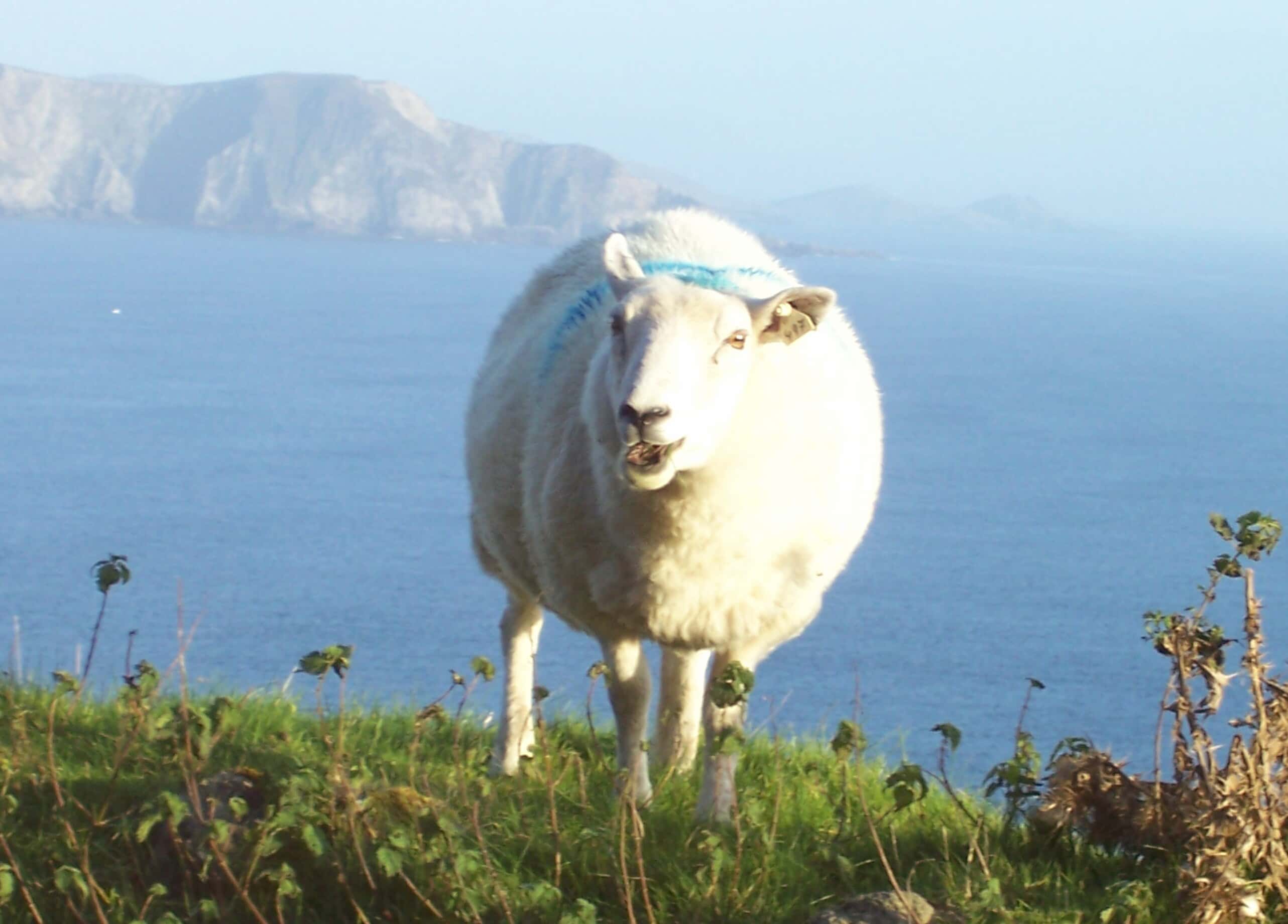 Day 6 - ADARE/LIMERICK Travel by pony and cart through the famed four mile Gap of Dunloe, which was carved by glaciers, and enhanced by the purple mountains. Sail through the lakes of Killarney to Ross Castle. We'll travel to the quaint thatched village of Adare. Tonight, we've planned a special farewell castle medieval dinner. We'll be transformed back in time as we sip the traditional mead and don bibs to eat with our fingers at a fun-filled medieval dinner at Bunratty Castle. You stay at a wonderful 5 star castle hotel - Dromoland Castle. (B)
Day 7 - CLIFFS OF MOHER/BURREN/GALWAY
The rugged Cliffs of Moher, looming above the pounding surf of the Atlantic Ocean far below, offer spectacular scenic vistas on our morning visit. Marvel at the limestone Burren, which features the neolithic Paulnabrone Dolmen or tomb. Travel to Galway, a vibrant, cobblestoned city full of music, art and pubs. (B)
Day 8- GALWAY/ SLIGO/DONEGAL -WILD ATLANTIC WAY - YEATS
Explore "The Wild Atlantic Way", the Longest Defined Coastal Route in the World, as we head towards Donegal. Be inspired at Our Lady's Shrine at Knock and then continue to Sligo, the setting for the moving poetry of William Butler Yeats. Settle in to our home village of Donegal. (B)
Day 9 - DONEGAL HIGHLANDS EXCURSION - WEAVING AND TWEEDS
The rugged coastline of Donegal is yours to explore. Narrow roads twist and turn around the wild Atlantic, and Irish is often the language on signposts. Pass Killybegs, with its colorful fishing boats and net menders as we head towards the Glencolumkille , a rural village offering a glimpse into daily life as it was during past centuries. Next, Ardara, where locals weave their tweeds, and spin the wool. Stop at Belleek China for a factory shop visit. (B)
Day 10 - DONEGALCAVAN- THE HEART OF IRELAND Travel by way of Lough Erne,to Cavan. Stay overnight at Cabra Castle.
Day 11 - Drop off your car at Dublin Airport.
Two week itinerary
Day 1 Shannon/Galway Arrive in Shannon, Ireland. This land was once the land of the great Gaelic chieftains of Munster, such as the O'Brien's, and the Norman Irish warlords like the Fitzgeralds and Butlers.You board your deluxe motorcoach for the drive through the lush countryside along the Clare coast via the inspiring craggy Cliffs of Moher into Galway's medieval port.
Day 2 Sligo/Donegal Sligo is truly a special corner of Ireland, known for the romantic poet, William Butler Yeats. Here are cloud capped mountains and nomadic sheep. Known as 'Yeats' Country, the poet is buried in Drumcliffe Churchyard under the watchful eye of Benbulben, a source of much inspiration to him.His tombstone reads:
Cast a cold Eye
On Life, on Death,
Day 3 Donegal You begin your tour of Donegal via Killybegs, a Victorian village built around a good harbor. It is here that the world famous carpets are made, some of which grace the White House and the Vatican. You follow the coast road to Glencolumbkille, part of the Gaeltacht or Irish speaking area. This area of Donegal has magnificent scenery, with its blend of sea and hills. The valley is called after St. Colmcille, who established a monastery here. This area of Donegal is noted for its hand crafts and the production of tweed. The Glencolumbkille Folk Village captures the domestic life-style of western Donegal over the last 300 years and is situated in the midst of scenery of the most rugged grandeur. One cottage is over 300 years old and is furnished accordingly. In addition there is a 'Shebeen', an illegal drinking house of times gone by, complete with poteen still.
Day 4 Derry Set on a hill above the Foyne estuary, strategically close to the open sea, Derry came under siege and attack for over a thousand years. You see the stout stone walls that encircle the city, and the magnificent Guild Hall, with its dozens of stained glass windows illustrating almost every episode of note in the city's compelling history.
Day 5 Giant's Causeway Travel to Giant's Causeway, the 8th wonder of the world - where giant Finn McCool set off to do battle with his Scottish counterpart. Your stop at Bushmill's Distillery is complete with samples of the famous brew.
Day 6 Belfast Belfast stands on deep beds of blue mud ringed by high hills, sea and river valleys. The world's biggest dry dock is here. Among memorable great liners built in Belfast shipyards is the ill-fated Titanic. Ulster Museum is nearby, with 9,000 years of history and the gold treasure of the Spanish Armada.
Call 1-800-221-2474 9AM - 5PM Mon-Fri Eastern Time
Please Email Us For Information
Day 7 Newgrange/Cavan/Howth You visit Newgrange, the Stone-Age burial site and Monasterboice, with its 9th century high crosses. Suggestion: Stay in Howth, a quaint fishing village just outside the city, or in Malahide. Afternoon shopping, or visit Malahide Castle, the home of the National Portrait Gallery. Later, you might decide to take a stroll along the shore to gaze at the boats at sea.
Day 8 Dublin You'll see the curved Bank of Ireland Building which was once the Parliament House. Visit the Guinness Storehouse in the heart of old Dublin at St. James Gate. This your introduction to the world's most famous creamy stout, an exploration of the ingredients, brewing process, cooperage, the time and the passion that goes into brewing Guinness. Here, you sample some of the famous brews in the Gravity Bar. See Kilmainham Jail, where generations of Irish patriots were imprisoned and the leaders of the Rising of 1916 executed.
Day 9 Dublin HOP ON HOP OFF CITY TOURTake advantage of the continuous bus tour around Dublin, perfect for first timers to acquaint visitors with the top attractions. Get off anywhere you like, and rejoin anywhere during the day. Valid for 24 hours.
Day 10 Kildare is located in the foothills of the Wicklow mountains and is home to the Irish National Stud and three racecourses. Next to the National Stud are the impressive Japanese Gardens. There are a number of castles to visit in the area as well as the 13th century St. Brigid's Cathedral.Highlights: Irish National Stud, Japanese Gardens, St Brigid's Cathedral, Numerous Castles, Connoly's Folly
Day 11 Cork/Kenmare Highlights: Blarney Stone & Castle, Kinsale, Cobh, Traditional Irish music, Midleton Distillery
Day 12 Kenmare - Ring of Kerry Highlights: Ring of Kerry, Skellig Islands, Derrynane Beach, coastal walks
Day 13 Shannon - Medieval Banquet Today you will travel to the medieval village of Bunratty. Bunratty's main attraction is the 13th century Bunratty Castle and Folk Park. The Folk Park recreates rural and urban life in 19th century Victorian Ireland. Here you can watch demonstrations of how life was carried out in these times. You have the option of being served a medieval banquet dinner at the castle complete with musical maidens and court jesters!
Day 14 Home from Shannon
Call 1-800-221-2474 9AM - 5PM or Please Email Us For Information