Christmas in England
Guided tour staying at a country house hotel
Celebrate an old English Christmas in a quaint manor house. The countryside south of London unveils a series of ancient villages and picture perfect scenes, especially in December. Scores of narrow country lanes twist and turn among the gentle slopes. Enjoy excellent food, great company, plus daily excursions to little villages in the area, Hever Castle, and a train ride, too.  Spend holiday time with like-minded people in a relaxed and friendly environment.

Visit charming local villages, lovely landscapes of white chalk
See a  local pantomime performance
Visit Anne Boelyn's Hever Castle
Ride the Bluebell Steam Railway
Return to the warmth of Abingworth Hall at the end of each day for wonderful festive food and excellent company
Nestled at the foot of the South Downs, Abingworth Hall is ideally located for a holiday trip. A peaceful ambiance and excellent facilities make it a relaxing place to stay. It offers great viewing for short or long strolls in the beautiful surrounding meadows.
Saturday: Arrival day
Please join us for a welcoming afternoon tea at 4pm. All guests are invited – we'll introduce your leader and welcome you to your holiday.  We offer you the chance to enjoy spectacular winter scenery and festive celebrations at this special time of year. Just relax, soak up the house party atmosphere for which we are famous and leave all the organizing to us.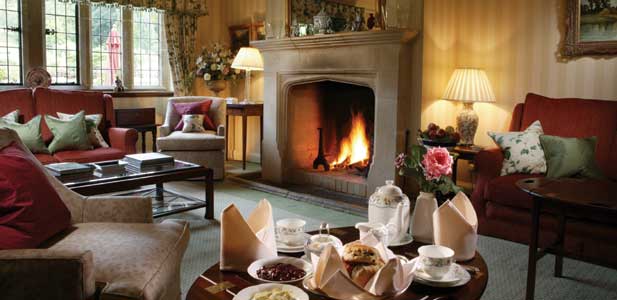 Sunday: Christmas Eve
We'll explore the small town of Steyning, one the prettiest Sussex towns. It has more or less everything - a fine high street, historic buildings, including Tudor style half timbered houses and some smart Georgian town houses too, good shops and lovely countryside nearby. Discover its association with St. Cuthman, an Anglo-Saxon hermit. Then it's on to Brighton to visit the Royal Pavilion. This exotic palace was built as a seaside pleasure house for George IV and mixes Regency grandeur with the visual styles of India and China. After lunch, enjoy a little free time before we visit the attractive market town of Arundel, which has both  a medieval castle and Roman Catholic cathedral.


Monday: Christmas Day
Take a leisurely stroll after breakfast to the village of Thakeham.  It takes its name from the old meaning of 'Thatched Homestead' and was mentioned in the Domesday Book.  Enjoy a traditional Christmas lunch where guests will dress to impress. The afternoon is planned around Christmas entertainment, watching the Queen's speech (a British tradition), and enjoying a favorite film. After a buffet supper enjoy some more festive fun. Evening activities include dancing, quizzes, carol evenings and  other celebrations.

Tuesday: Boxing Day
The crunch of boots on frosty ground.  The infectious laughter of a group of new found friends. The spicy warmth of traditional foods. We'll visit the Roman city of Chichester and see the wonderful late 11th century cathedral. Enjoy a local pantomime (music, singing and dancing stage performance) in the afternoon.



Wednesday: After a gentle stroll around Sheffield Park & Garden, we'll take a ride on the famous Bluebell Steam Railway. Then we'll visit Hever Castle, set in the beautiful Kent countryside. The castle was the childhood home of Anne Boleyn and offers more than 700 years of history and romantic intrigue.  Tonight, enjoy irresistible rhythm of a ceilidh band.

Thursday The Jane Austen's House Museum is a listed building which was her home for the last 8 years of her life. We'll explore this and learn about her life. After lunch, it's a short journey to Selborne to visit the charming Gilbert White House and Oates Museum. The museum tells the fascinating story of Antarctic hero Captain Lawrence Oates, and the pioneering 18th century naturalist Gilbert White.

Friday Depart after a leisurely breakfast, with fond memories of the people you have met along the way.

We wish we could, but we can't manage the weather, traffic jams or other venue's operations, so if this holiday needs to change for those, or any other reasons, your leader will help smooth the way.
YOUR ENGLISH CHRISTMAS TOUR PRICE INCLUDES
*  Deluxe minicoach/motorcoach transportation for day tours where needed.   
*  Services of a driver/guide (1 person).
*  Hotel accommodation with private bath.
*  Full breakfast daily,  afternoon tea, light lunch  and dinners during our Christmas program.
*  All admission costs on this Christmas holiday are included, as is a light lunch every day while out touring.
* All service charges and taxes

English Christmas

Dec 23-29

2017

Rate per person in USD

Twin

$2074

Single Supplement

375
Airfare is available at added cost