INTERNATIONAL SCOCCER TRAVEL TOURS
Traveling to Europe to play soccer against teams from another country is any player's dream. It gives them the experience of playing against a higher standard of play and an overall cultural experience. Our international travel tour programs will encompass all of those desires. We have the connections to play soccer in Europe against high caliber competition, as well as to learn about the history of the land you are traveling to.  We plan soccer tours for teams of all ages and ability levels.

YOUTH SOCCER TOURS IN IRELAND AND ENGLAND
Our youth soccer tours would include friendly games, stadium tours and clinics. We will design your soccer travel itinerary to include 3 to 4 star hotel accommodations with double or triple occupancy. For every 20 players COACH TRAVELS FREE.


Soccer is the most played sport around the world; soccer knows no boundaries whether it be cultural, linguistic, or geographical. Our tours in Ireland and England will provide your team the once in a life time opportunity of playing against teams from another land. Traveling as a team overseas gives the players a chance to bond and create life-long memories.

On your tour not only will you get to play but as long as it is in season you can see some of the most competitive leagues in the world play and tour their stadiums.  International sports tours can give you everything you need to excite and energize your players. Have the opportunity to see live games in an atmosphere like no other and shop in the team stores along the way. Tour Europe with a chance to play against foreign players that share your passion. Parents come along to travel Europe as a family.
WHY LYNOTT TOURS?
50 years experience in planning travel to Ireland and Great Britain. We at Lynott Tours have the expertise, and more importantly, the contacts to plan your trip of a lifetime, with the right mix of accommodation, sightseeing, soccer games, practice, training and whatever else you require. Our team includes expert travel professionals, as well as soccer players and trainers on both sides of the Atlantic.

VALUE FOR MONEY
Because we specialize in travel to the British Isles and Ireland, we have un-matched pricing opportunities in our favorite part of the world.
OUR SOCCER PACKAGES START AT $1995

Custom designed packages for travel soccer teams
Each school sports tour team is different and no set of players is the same, so Lynott will customize the tour just for you and your youth soccer players. Our trips can be customized to meet academic requirements. With our connections to the European Football world we will set your team up against equal competition. Since we have been traveling for over 45 we make it our goal to give you the cultural knowledge and further your love of the game. Your players will experience the game at a speed and with a passion that you can only find overseas. Our European football tours are top notch. We arrange sports tours in the UK and Ireland only.


Prices range from $1995-$2300, depending on the time of year.
Your overseas youth soccer program can include:

Accommodations
Meal plans
Friendly games
Hotel stays
Historic stops
Transportation coach bus
Experienced Soccer Tour Directors
7-10 nights
Additional separate sightseeing for player's parents and family
If you like, we can provide
Airfare
See foreign soccer professionals at work
Go to watch a game with the electric atmosphere that surrounds European Football, get to see the faster paced game
Our most popular Ireland itinerary
Day 1 Departure from the USA or Canada
Day 2 Arrival Dublin airport, transfer to accommodation. Sightseeing orientation tour. Dublin  - A tourist in Dublin will never be stuck for things to do. St. Patrick's Cathedral, Christ Church Cathedral, Kilmainham Gaol and Dublin Castle are all must-sees. Culture vultures, as well as history buffs, will also delight in Ireland's capital as there are plenty of galleries and museums to choose from, including the National Gallery of Ireland. And there is simply no better way of getting to know Dublin than getting lost on its meandering, haphazard streets.
Day 3 Practice and evening game.  Parents and family sightseeing nor non-players. See medieval castles and rugged countryside
Day 4 Morning optional training. Friendly game.
Day 5 Travel cross country to Cork. Blarney Castle tour. Visitor Attractions in Cork City and Visitor Attractions in Cork County can range from a visit to kiss the Blarney Stone in Blarney Castle and shopping in Blarney Woollen Mills to a visit to ring the Bells of Shannon in the Church of St Annes in Cork City. Enjoy the many historical castles and cathedrals in the Cork area from Barryscourt Castle in Carrigtwohill and Fota House and Cobh Cathedral to the wonderful Abbey in Timoleague and the Bridgetown Priory and mills in Castletownroche.

Day 6 Instruction, practice and game. Group dinner with foreign players' families.
Day 7 Transfer to Shannon Airport. Return flight.
Participating teams and their families stay at a 3 or 4 star hotel. Then, teams venture out by private coach bus, playing a minimum of three (3) "friendly" matches against local teams. These are organized official friendly matches, with referees on quality soccer pitches, locker rooms, etc.
The group will also participate in scheduled social and cultural activities, with at least two full-day sightseeing excursions on a one week tour; more on longer stays.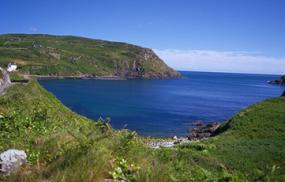 Please Email Us For Information

Questions? Call Lynott Tours at 1 (800) 221-2474 USA Canada; 01 516 248 2042 ELSEWHERE
Coming soon: Our soccer travel tours in England.....