London to Paris via the Channel Islands 11 Days
LONDON TO PARIS VIA THE CHANNEL ISLANDS
Dorset | Guernsey | Sark | Jersey |Saint-Malo
11 DAYS / 10 NIGHTS / UP TO 18 GUESTS
Go from Great British culture to Gallic charm on this trip from London to Paris, immersing yourself in the Channel Islands' natural beauty and fascinating history along the way. Hear about Guernsey's wartime occupation first-hand from the locals, enter a bygone world on Sark and admire Jersey's exquisite landscapes.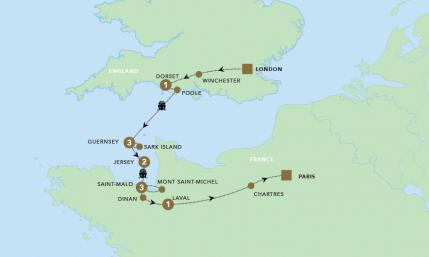 THE LYNOTT DIFFERENCE 
Spend a day on beautiful Sark, the iconic 'Dark Sky Island'
Explore the only part of the British Isles to be occupied during WWII
Enjoy an oyster tasting experience in Cancale, the 'oyster capital' of Brittany
DAY 1 LONDON – WINCHESTER – DORSET
After meeting the group in London we'll travel to our first stop: Winchester, where we'll take some time to tour the magnificent cathedral. Perhaps you have geard the song,
Oooh, Winchester Cathedral, you're bringin' me down 
You stood and you watched as my baby left town 
You coulda done somethin', hey, you didn't try 
You didn't do nothin', you just let her walk by
Within this spectacular landmark are the final resting places of luminaries from King Cnut to Jane Austen.
Then, we'll travel past the sublime Corfe Castle en route to our hotel – where a welcome dinner awaits us. (D)
Accommodation: Morton's House Hotel (or similar)
DAY 2 DORSET – GUERNSEY
This morning it's all aboard the ferry for the journey to Guernsey. In St Peter Port, you'll be free to spend some time wandering the cobbled streets, marina and shops at your leisure before we reconvene for a fascinating tour of the grand Sausmarez Manor and its charming gardens. (B)
Accommodation: Duke of Richmond Hotel (or similar)
DAY 3 GUERNSEY – SARK – GUERNSEY
The famous 'Dark Sky Island', Sark, will be our next stop – and here the day will be yours to spend as you please. No cars are allowed on the island, giving it a unique 'olde worlde' charm. After returning to Guernsey on the ferry, we'll tuck into an included dinner together. (B,D)
Accommodation: Duke of Richmond Hotel (or similar)
DAY 4 GUERNSEY
First on the agenda today: a stop at the enchanting Little Chapel, a work of art built entirely from sea shells. Afterwards, we'll visit the fascinating German Occupation Museum before meeting Molly Bihet, who was just nine years old when the Nazis arrived in Guernsey in 1940. After hearing her stories of life under the German occupation, there will be some free time to explore at your own pace. (B)
Accommodation: Duke of Richmond Hotel (or similar)
DAY 5 GUERNSEY – JERSEY
Our morning in Guernsey will be a relaxed one as we ready ourselves to depart for our next stop: Jersey. When we get there, we'll familiarise ourselves with the beautiful harbour village of St Aubin – exploring the Bulwarks, steep streets and pubs before returning to the hotel for dinner. (B,D)
Accommodation: Hotel Cristina (or similar)
DAY 6 JERSEY
Today we'll discover one of Western Europe's best-preserved Neolithic sites, La Hougue Bie, before pressing onwards to the imposing Mont Orgueil Castle. This afternoon you'll be free to relax before we move on again. Saint-Malo is coming up tomorrow! (B)
Accommodation: Hotel Cristina (or similar)
DAY 7 JERSEY – SAINT-MALO
Elizabeth Castle has played a huge role in Jersey's history. Today we'll see its wartime bunkers – and the causeway that permits entrance at low tide. After some free time in Saint Helier,  we'll swap Britain for France. Tonight, be tempted by an array of restaurants in Saint-Malo. (B)
Accommodation: Le Grand Hotel de Courtoisville (or similar)
DAY 8 SAINT-MALO
Saint-Malo's labyrinthine streets are best explored on foot – and that's how we'll begin today. Later on, we'll visit the impressive Château de Saint-Malo before coming together for a taste of classic French cuisine. (B,D)
Accommodation: Grand Hotel de Courtoisville (or similar)
DAY 9 SAINT-MALO – MONT SAINT-MICHEL – CANCALE – SAINT-MALO
Today we'll wind our way along the coast of Normandy to the magical Mont Saint-Michel, a rocky islet topped with a medieval monastery. An oyster tasting experience awaits us in Cancale (the 'oyster capital' of Brittany) before we return to Saint-Malo for an evening of leisure time. (B)
Accommodation: Le Grand Hotel de Courtoisville (or similar)
DAY 10 SAINT-MALO – DINAN – FOUGÈRES – SAINTE-SUZANNE – LAVAL
After spending some time exploring the medieval ramparts of Dinan this morning, we'll move on to Fougères – where we'll visit the castle. We've one more stop (at picturesque Sainte-Suzanne, one of the most beautiful villages in France) before we arrive in Laval, where we'll enjoy one final group dinner together. (B,D)
Accommodation: Hotel Perier du Bignon (or similar)
DAY 11 LAVAL – CHARTRES – PARIS
We'll end our tour with a trip to the Cathedral of Chartres – a UNESCO World Heritage Site and beautifully preserved example of Gothic architecture. Our final stop will be Paris, where we'll say 'au revoir'. (B)
INCLUSIONS
10 nights in boutique accommodation
Experienced Lynott Tour Leader and Driver
Premium mini-coach transportation
Daily European-style breakfasts (B), 5 dinners (D)
Ferries to Guernsey, Sark, Jersey and Saint-Malo
Oyster tasting experience in Cancale
Entrance included to all attractions in the itinerary, including: Sausmarez Manor, the German Occupation Museum, La Hougue Bie, Mont Orgueil Castle, Elizabeth Castle, Mont-Saint-Michel and Chartres Cathedral
This tour begins at The Wellington by Blue Orchid , and ends at Bourdonnais Hotel or Tourville Hotel . Pre and post stays are available.
Please note: Due to ferry timings, this tour may involve some early starts and late arrivals.
| | | | |
| --- | --- | --- | --- |
| START DATE | END DATE | | 2020 |
| LONDON | PARIS | STATUS | USD |
| 7/Sep | 17-Sep | | 4,529 |
| 14/Sep | 24-Sep | | 4,529 |
| 21Sep | 1-Oct | G | 4,309 |
| 5/Oct | 15-Oct | | 4,309 |
| SINGLE | SUPPLEMENT | | 1,360 |
What kind of hotels will we stay in? Elegant, comfortable hotels, inns and castles which give you always reflect character and charm, A true feeling of the country that you are in. Not purpose built cookie-cutter hotels, each is unique and exudes its own charm.

Mortons House Hotel is a historic sixteenth century Elizabethan Manor House situated in the beautiful village of Corfe Castle in the Isle of Purbeck.  The Manor is one of the earliest in Corfe and without doubt, the finest. Built in 1590 in the shape of an 'E' to honour Queen Elizabeth I, it has in more recent times been sympathetically converted into a 21 bedroom hotel.  The individual character rooms have their own unique charm and appeal with some having views of the Castle and others look towards the Steam Railway and Purbeck Hills. The location of the hotel provides the perfect centre from which to enjoy this Area of Outstanding Natural Beauty in this idyllic corner of England.

BOOK THIS TODAY! CALL LYNOTT TOURS 9AM-5PM MONDAY-FRIDAY AT 1-800-221-2474 OR Please Email Us For Information