Travel Programs for Presbyterians
At Lynott Tours, we have create a faith-based travel program where you will travel with members from other congregations. Custom travel programs for Presbyterians, religious tours of Scotland, follow our John Knox Presbyterian tour of Scotland. You do not have to have your own group to travel with us. Gather with other like-minded travelers and discover the sources of inspiration in Scotland. In the 16th century John Knox introduced the Scottish reformation, and the Presbyterian Church replaced Catholicism as the official religion. 47% of the population in Scotland are followers of the Presbyterian Church of Scotland
If this tour is not exactly what you want, we can custom design a departure just for your congregation.
Irish Tours for Catholics
Episcopal Cathedrals of England
English Tours for Methodists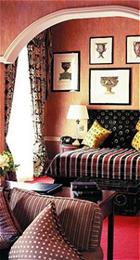 Presbyterian Tour of Scotland
Emphasis is made on the Presbyterian heritage in Scotland a well as on Scottish history, the magnificent landscapes, and the welcoming, friendly people. On this trip you'll experience the many wonders of this magical land - the large cities and towns and villages alike, all steeped with a rich culture and history; spectacular scenic drives in the highlands; plus some of the fascinating islands to the west and north! Learn about Scotland's role in the Protestant Reformation and key Reformer John Knox, its turbulent history of kings and queens, and gain insight into the politics of this proud land.
Day 1 - DEPART FROM HOME
Your vacation begins the moment you board your flight to Scotland, the land of tartans and heather. Destination: GLASGOW.
Day 2 - ARRIVE GLASGOW
Welcome to Scotland, the land of Rob Roy, and the setting for the film, Braveheart. Visions of highland games, golf, haggis, remote islands, and tartans come to life. You arrive in Glasgow. Enjoy your panoramic tour including the Museum of Transport and Glasgow Cathedral. See the St Mungo's Museum of Religious Life and Art. Welcome dinner to meet your fellow travelers (D)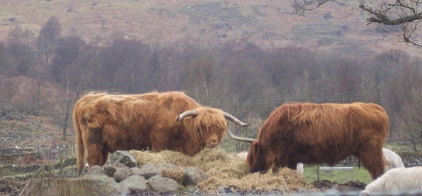 Day 3 - STIRLING & GLEN COE Castles, wildlife, mountains
Stirling Castle, once the home of Scottish kings, is perched high on a sheer cliff above Bannockburn, where the Scots turned the English back in their attempt to subdue the Highland clans. Castles mark the strongholds of ancient clans, villages hug the banks of coal-black lochs, and tiny cottages in stone-walled fields line your way to Glen Coe. Your hotel overlooks Loch Linnhe. (B,D)
Day 4 - ISLE OF MULL/IONA DAY TRIP
The Sacred Isle After breakfast we join the ferry for the 40 minute crossing to the Island of Mull. As we sail into the Sound of Mull look out for wonderful views of the stronghold of the Maclean clan. On arrival at Craignure we re-board our coach for the scenic drive through Glen More en-route to Fionnphort where another ferry awaits us for the short crossing to the Island of Iona, a place of pilgrimage since St Columba came from Ireland in AD 563 to found a monastery and convert Scotland to Christianity. Many early Scottish Kings and chiefs were buried here including Macbeth. The sense of peace and history that pervades the island will remain us as we retrace our steps to Oban.(B,D)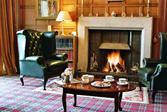 Day 5: SHEEPDOG TRAILS AND CULLODEN BATTLEFIELD/INVERNESS
Enjoy a leisurely day of discovery in the lovely countryside and majestic Highland scenery. Just south of Aviemore visit Leault Farm where dogs herd sheep and ducks through various obstacles. Learn how each dog responds to individual whistles and see seasonal activities with collie puppies, newborn lambs or sheep-shearing. Drive to Culloden Moor to tour the Visitor Centre. Walk around the battlefield where, on 16th April 1746, British Government forces defeated the army of Prince Charles Edward Stuart in just one hour and ended hopes of restoring the Jacobite Stuarts to the British throne. Return to Inverness to visit a kiltmaker and learn about the traditions of Scottish attire. After dinner enjoy a special ceilidh, traditional Scottish entertainment with singers, a piper and Highland dancers in your hotel. (B, D)
Day 6: GLENFIDDICH WHISKY DISTILLERY/ABERDEEN
Drive through pleasant farming country into the gentle rolling hills of the Speyside region, where many of Scotland's famous distilleries are located. Tour the Glenfiddich Distillery to see how barley and water are combined to create the "Water of Life" and enjoy a tasting. Travel through the lovely scenery of Aberdeenshire with gentle hills and farms into Royal Deeside, an area that came into favor with Queen Victoria during the 19th century. Near the village of Banchory stop at the Falls of Feugh, a charming tea shop, which is popular with local people. Sample afternoon tea with delicious freshly-baked scones and enjoy a talk on bagpipes, fishing or other aspects of Highland life. Continue to Blairs to your elegant 19th century mansion in time for dinner. (B, D)
Day 7 - ST. ANDREWS/EDINBURGH
Enjoy tea and scones at a local farmhouse. Head south to Glamis Castle, the legendary setting for Macbeth. Visit the cathedral in the charming university town of St. Andrews, known as the birthplace of golf. It was in St Andrews that the Scottish Protestant reformer George Wishart was executed for heresy in 1546, after John Knox preached in the castle and Parish church here. Travel over the Forth Road Bridge to exciting Edinburgh. Enjoy a banquet and sample Scottish specialties, while listening to the skirl of bagpipes. (B,D)

Day 8 - EDINBURGH
High above the city, atop the volcanic "crag where Edinburgh began", is the majestic Edinburgh Castle. Here, King James, son of Mary Queen of Scots, was born. James eventually became king of England and Scotland, and the two crowns have been united ever since. Scotland's religious history can be seen at St. Giles' Cathedral, regarded as the mother church of Presbyterianism. .After the Reformation, John Knox became St. Giles' first minister. This morning you will continue your tour of Edinburgh with a visit to the historic John Knox House. The afternoon is free for shopping along Princes St. or exploring the city on your own. (B)
Day 9 - HEADING HOME
You bid your fond farewell to Scotland as you travel to Edinburgh Airport for your flight to Ireland or your return flight home. (B)
Tour Includes:
Round trip airfare from USA may be added at extra cost.
Arrival airport transfers.
Deluxe motorcoach with driver and a specialist guide throughout (2 persons - when you have more than 16 passengers).
First-class accommodations for 7 nights; room with private bath.
7 breakfasts (B)
6 dinners including a Scottish banquet(D)
Tea and scones at a farmhouse.
Baggage handling
All taxes and service charges.
All sightseeing and entrance fees. Some highlights: Stirling Castle, Loch Ness, . Edinburgh Castle, St. Andrews, Scenic ferry to Isle of Mull & Iona, Glenfiddich Whisky Distillery, Glamis Castle, Military Tattoo (end July/mid-August at added cost)

Your 3* & 4* first-class hotels: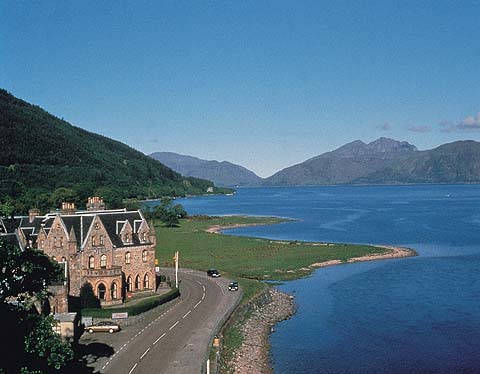 Menzies Hotel, Glasgow (1 night) Ballachulish or Isles of Glencoe, Ballachulish (2 nights) Columba Hotel, Inverness (1 night) Ardoe House Hotel, Blairs (1 night) Roxburghe Hotel, Edinburgh (2 nights)
Let us create a faith-based vacation package for your group. Our sample tour above can be modified to suit your congregation. Customized Travel Programs for Religious Institutions
At Lynott Tours, we create customized travel programs that will satisfy your congregation and fulfill your objectives. We individually design successful programs to your exact specifications. WE CAN OPERATE TOURS FOR AS FEW AS 6 PEOPLE.

Let us create a faith-based vacation package for your group.
Call 1-800-221-2474   9AM - 6PM or Please Email Us For Information