Scotland vacations - Glasgow Sightseeing Options-
Our minimum purchase is $200. Add these Glasgow tours to your Scotland vacations. Glasgow day tours, sightseeing tours from Glasgow and escorted coach tours in Scotland, Glasgow sightseeing.
Glasgow hop on hop off sightseeing tour:
75 minutes Glasgow's miles better - don't take our word for it, find out for yourself! This most vibrant and exciting of Scottish cities boasts excellent museums, art galleries, beautiful parks and buildings as well as having shopping which is second only to London. In addition our pubs, cafe bars and night clubs help to make Glasgow one of the new preferred destinations for short breaks. The visitor attractions and places of interest are spread throughout the city and the best way to visit attractions and to see the city is to step on one of our bright red open-top buses for a fully guided tour round all the main sights of Glasgow, including the Gothic Cathedral, the Riverside, the recently restored Kelvingrove Art Galleries, Glasgow University, which is the home of the Hunterian Museum and Art Gallery as well as the Mackintosh House.
Hop on hop off tour USD$
Adult
20
Child
10
Senior/Student
16

Call 1-800-221-2474 9AM - 6PM or Please Email Us For Information


Day tours from Glasgow and 2 and 3 day tours throughout Scotland

Small group tour limited to 16

If you happen to be in the Victorian city of Glasgow whos history dates back to the 6th century, with fashion filled streets and arcades and countless pubs..  The city has many thriving theaters, and is also home to the Scottish Opera, Scottish Ballet and Scottish National Orchestra. Why not enjoy take the opportunity and join one of our Scotland tours leaving From Glasgow. See Loch Ness, Stirling Castle, Oban, Glen Coe and the Scottish highlands on our Scotland tours one day or our longer 3 day Scotland tours from Glasgow.

1 Day Tours from Glasgow
Loch Ness, Glencoe & the Highlands
Stirling Castle, Loch Lomond & Whisky
Oban, Glencoe, Highland Lochs, Castles
Culzean Castle, Rabbie Burns, Ayrshire

2 - 4 Day Tours from Glasgow
Loch Ness, Inverness 2 Day Tour
Isle of Arran Adventure 3 Day Tour
The Isle of Skye 3 Day Tour


How many people will be on the tour? Normally we restrict the number of people travelling on any multi-day tour to 16 persons.


Our Coaches: your comfort is paramount as you travel in our eco-friendly, low emission, modern Mercedes mini-coaches, with big panoramic windows (3 out of 4 seats are window seats), stereo systems, full sized reclining seats (with seatbelts) and more leg room than your average coach.

What's included in our day and overnight tours from Glasgow:
INCLUDES:
Accommodation with full Scottish breakfast overnight tours
Services of a professional Scottish tourist driver/guide
Transportation by air-conditioned motorcoach, limited to 16 persons
Frequent stops will be made at places of interest that you can visit, should you wish. Admission fees are not included.
Glasgow Departure Point All Glasgow tours depart from outside Glasgow Parish Hall 266 George Street G1 1QX (next to City Chambers, between N. Frederick and John St).

Child rate applies ages 5-16. No children under 5, please.
Child discount on multi day tours 20%
Single supplement on multi day tours 20%
ALL RATES IN USD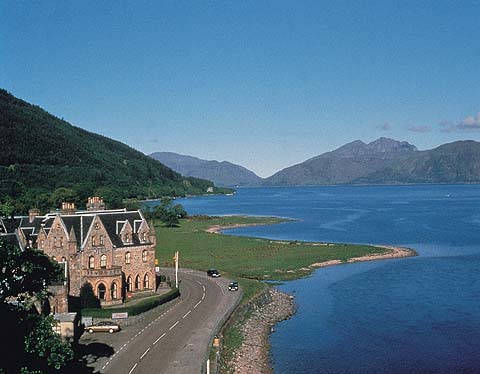 SELLING PRICES 2018
Low Season
Mid Season
High Season
½ Day Tours
Adult 
Child
Adult 
Child
Adult 
Child
Days of Operation
April, Nov-Mar
Easter, May, Oct, Chistmas
June-Sept.
The Kelpies & Falkirk Wheel 
$38
$33
$41
$36
$45
$40
Tues, Wed, Thurs, Fri, Sat, Sun
Loch Lomond & Whisky  
$38
$33
$43
$38
$46
$41
Tues, Wed, Thurs, Fri, Sat, Sun
Tours from Glasgow
Glasgow Departure Point Glasgow
Parish Hall 266 George Street
G1 1QX (next to City Chambers, between N. Frederick and John St).
Call 1-800-221-2474 9AM - 6PM or Please Email Us For Information
Scotland tours One Day from Glasgow
SELLING PRICES 2018
Low Season
Mid Season
High Season
1 Day Tours
Adult 
Child
Adult 
Child
Adult 
Child
Days of Operation
April, Nov-Mar
Easter, May, Oct, Chistmas
June-Sept.
Culzean Castle, Burns Country & the Ayrshire Coast
$56
$51
$59
$54
$64
$59
Mon, Tues, Thurs, Fri
Stirling Castle, Loch Lomond & Whisky 
$59
$54
$64
$59
$69
$64
Daily, MTWTFSS
Loch Ness, Glencoe & the Highlands
$73
$68
$81
$76
$91
$86
Daily, MTWTFSS
Oban, Glencoe, Highland Lochs & Castles
$66
$61
$69
$64
$74
$69
Daily, MTWTFSS

Loch Ness, Glencoe & the Highlands Day Tour

Your tour passes through the remote beauty of Rannoch Moor and magnificent Glencoe, scene of the clan massacre of the MacDonalds by the Campbells in 1692. Then through Fort William to the beginning of the "Great Glen" and the Caledonian Canal, which you follow up to Fort Augustus, nestling on the banks of Loch Ness. Here you can enjoy your lunch, before travelling the full length of Loch Ness to Inverness. Along the way you will have the opportunity to take a 5 star Jacobite boat cruise on Scotland's most famous loch, giving you a chance to search for the legendary monster, popularly known as "Nessie" and enjoy the views to the ancient stronghold of Urquhart Castle. From here you return south to Glasgow via "Monarch of the Glen" country and the Cairngorms National Park, stopping in Pitlochry and passing Stirling Castle on the way before your return journey to Glasgow.

STIRLING CASTLE & LOCH LOMOND NATIONAL PARK DAY TOUR Scotland tours One Day

You travel first to Stirling Castle where you can visit this imposing stronghold, the favourite residence of the Stuart kings, where Mary Queen of Scots was crowned. You then continue into the beautiful forestcovered mountains of the Trossachs and stop for lunch in heart of the National Park. This area, on the southern edge of the Highlands was home to Rob Roy Macgregor, the famous Scottish outlaw. From here a short drive takes you to the "bonny, bonny banks" of Loch Lomond. At Loch Lomond you can visit the National Park Centre or walk along part of the West Highland Way to a hilltop viewpoint with spectacular views of the loch. Afterwards visit the malt whisky distillery of Glengoyne for a tour and dram before returning to Glasgow.

Culzean Castle, Burns Country and the Ayrshire Coast

On this Scotland tours leaving From Glasgow you quickly climb into the Renfrewshire Hills where the first stop of the day will give you a glimpse into the future at Europe's largest windfarm – big enough to supply clean energy to over 180,000 homes. From here the road south into Ayrshire is quick and easy passing through rich farming country with many small towns and villages. On arrival at Culzean Country Park you will have the choice of visiting the castle and gardens or just the gardens and woodland walks. An entry fee is payable on arrival. (Please note there is no free option at this stop). The castle dates from the late 18th Century – a peaceful time in Scottish history so it is less a defensive castle and more like a great country house with fine furniture and beautiful Robert Adam architecture. Sitting right on the edge of the cliffs looking out over the Firth of Clyde the views are superb and the surrounding gardens are beautiful. For those who like walking there are miles of tracks and footpaths through the grounds – taking in the Swan Pond, deer park, and walled gardens as well as rocky coves and sandy beaches. This will also be your lunch stop. After lunch you will follow the coastline to the tiny fishing village of Dunure with its ancient ruined castle and dark history.
Continuing on, the road leads down into the outskirts of the market town of Ayr. This is the countryside of Robert Burn's, Scotland's national poet. You will see many places mentioned in his poems and songs –from Auld Kirk Alloway to the "Banks and Braes o' Bonnie Doon". The recently redeveloped visitor centre will tell you all you need to know about this remarkable man. Born a poor farmer's son but now famous as the writer of "Auld Lang Syne", a song known and sung in friendship throughout the world. There are also riverside walks and the Auld Brig (old bridge) to explore as well as the haunted ruins of the old church. From here we return to Glasgow for approx. 18.00

OBAN, GLEN COE HIGHLAND LOCHS & CASTLES DAY TOUR

You travel north into the Highlands, and over the "Rest and be Thankful" pass to the whitewashed 18th century town of Inveraray, home to the Duke of Argyll's castle. Following a visit to Inveraray, you continue to the iconic Kilchurn Castle*, magnificently situated at the head of Loch Awe and surrounded by towering mountains. After lunch in the fishing port of Oban, famous as the Gateway to the Isles, you will continue along the stunning west coast through Appin, passing the impregnable Castle Stalker, before spending the afternoon in the majestic beauty of Glencoe, one of the Scots' favourite mountain regions. Then its onwards across the wild Rannoch Moor and south to Glasgow, stopping at Loch Lomond on the way before your return journey to Glasgow.

Call 1-800-221-2474 9AM - 6PM or Please Email Us For Information
ACCOMMODATION ON TOURS BELOW We've spent a lot of time selecting quality accommodation for you. After all, having somewhere pleasant to stay after an exciting day of discovery is an important part of your holiday experience.
All of our accommodation is regularly inspected to ensure that they meet our high standards. All of our hotels are centrally located, just a short walk from the shops, bars and restaurants. Tastefully decorated with en-suite bathrooms, television, tea and coffee making facilities and other amenities make this type of accommodation a real home from home. All our hotels have comfortable lounges where you can enjoy morning coffee, restaurants offering a wide selection of Scottish and international dishes and relaxing bars – some with evening entertainment.
Friendly B&B/Guesthouses Our guesthouses are family run and conveniently located, just a short walk from the amenities of the city centre. You will find cosy accommodation in rooms with private bathrooms, tv and other facilities. Some of our guesthouses offer lounges where you can relax with other residents. The size of each house varies in size from two or three bedrooms to larger properties with ten rooms or more. If you are looking for the opportunity to meet local people then you will find selecting a guesthouse for your accommodation will add greatly to your vacation experience.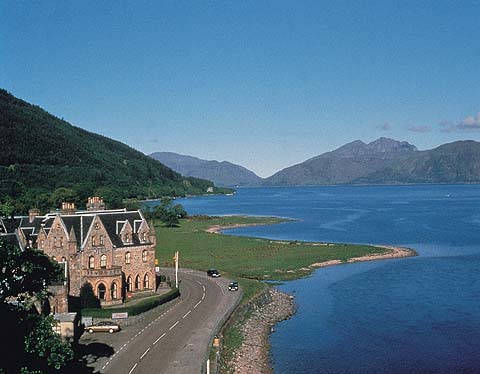 ISLE OF SKYE & THE HIGHLANDS - 3 Day Scotland tours from Glasgow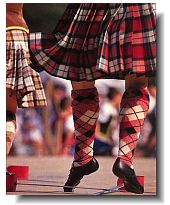 Day 1 Depart Glasgow at 09.00 - guests are requested to check in at least 15 minutes before departure. We travel north into the majestic Highlands where the scenery changes quickly and dramatically - the flat fertile plains of the Lowlands give way to shimmering lochs, rugged mountain tops and forest-filled glens. It's easy to forget that this was once thought of as a dangerous frontier fought over by the fiercely territorial Highland clans such as the MacGregors, made famous by the Highland folk hero, Rob Roy MacGregor. We continue north over the wild and remote Rannoch Moor into Glencoe. This haunting glen was the scene of a great massacre in 1692 where many of the Clan Macdonald were slaughtered. We stop in this imposing mountain pass so you can enjoy the spectacular views. From here we travel past Fort William and up to the Commando Memorial at Spean Bridge with great views over Ben Nevis. On the "Road to the Isles" now through the splendour of the Five Sisters of Kintail, the mountains guarding the pass on the way to the Isle of Skye. We stop to visit the famous Eilean Donan Castle, used in the film "Highlander", set at the junction of 3 lochs as protection against Viking raiders. Crossing over the bridge to Skye, we head north to Portree. You are then dropped off at your accommodation in the early evening where you are free to go out and explore the town. Overnight in Kyleakin

Day 2 A very flexible day on Skye. There are many possibilities depending on the weather and your driver/guide's knowledge will come to the fore in developing the best day out. You could travel north to the stunning Quiraing mountain pass and enjoy a spectacular walk through some of Skye's extraordinary geological scenery, including Kilt Rock. After lunch you can go over to Neist Point for a walk out to the lighthouse that is the furthest point west on Skye. Or go over to Dunvegan Castle, ancient ancestral seat of the Clan McLeod. Talisker Distillery is also on Skye, as are the famous Cuillin Hills. We return you to your accommodation in Portree in the early evening. Overnight Isle of Skye. Overnight in Kyleakin
Day 3 You will be collected from your accommodation and travel south through the Cuillin Hills and back over to the mainland for stunning views over Loch Duich and the 5 Sisters of Kintail. Onto Loch Ness for lunch and the possibility of spotting "Nessie"! Heading south now through the Grampian mountains along Loch Laggan, famous now as "Monarch of the Glen Country" before passing Dalwhinnie, home to Scotland's highest whisky Distillery, and onwards past Blair Castle stopping for refreshments. Take home amazing memories from this one of our more popular Scotland tours leaving From Glasgow!
April, Nov-Mar
Easter, May, Oct, Chistmas
June-Sept.
3 Day  Isle of Skye
$401
$321
$460
$368
$526
$421
Monday
$510
$0
$576
$0
$625
$0
and
Wednesday
$549
$440
$615
$492
$665
$532
and
Saturday
$625
$0
$691
$0
$741
$0
| | | |
| --- | --- | --- |
| Overnight Location | B&B/ Guest House  | Hotel  |
| Portree | Almondbank, Tarradale, Highfield, Woodpark | Rosedale, Bosville, Royal |
Isle of Arran- Scotland in Miniature 3 Day Tour Highlights: ~ Culzean Castle ~ Robert Burns Country ~ Brodick and Brodick Castle ~ Isle of Arran Distillery and Brewery ~ Machrie Moor stone circles ~ Kintyre Peninsula ~ Loch Lomond Three days to explore the West Coast of Scotland - the Isle of Arran, Argyll and the Ayrshire coast. A unique opportunity to visit the Island of Arran: often known as Scotland in Miniature. You will discover stunning scenery, beautiful beaches, ancient castles, standing stones, picturesque villages, and great local food and drink. Stay 2 nights in Brodick on the Island of Arran
Day 1. Departing Edinburgh you travel West and spend the day discovering rural Ayrshire. Enjoy the rolling hills and dramatic coastal scenery. You have the chance to visit the magnificent Culzean Castle. The afternoon will be spent in Robert Burns' country visiting places he wrote about in his famous songs and poems. Enjoy a stop in Alloway at the recently redeveloped visitor centre before taking the ferry across the Firth of Clyde to Arran - the largest of the Clyde Islands. You will spend two nights in the coastal village of Brodick.
Day 2. Today is spent exploring Arran. Travel around the island enjoying the rugged mountains to the North and the rolling hills and pretty villages to the South. The island has a strong heritage dating back as far as the Stone Age - evidence of this can been seen around the island with the many standing stones. The island is best known today for its local produce ranging from whisky, cheese and oatcakes, to Arran Aromatics.
Day 3. Leaving Arran in the morning you take the small ferry onto the Kintyre peninsula. Travelling North you will follow Loch Fyne towards the whitewashed town of Inveraray. From here continue over the dramatic 'Rest and be Thankful' pass before a stop on the "Bonnie Bonnie Banks" of Loch Lomond.
**This tour can also pick-up/drop off in Glasgow Inclusions Transportation by top of the range Mercedes minicoach for a more personal experience with a maximum of 16 passengers on tour. We believe a small group tour with a maximum of 16 passengers really does make a big difference to your trip. It allows us to give you a more personal service and remain the only 5 Star operator to offer this personal guarantee. Touring with a maximum of 16 passengers you get more for your money, more personal attention, more time with the locals, more time off the bus, more time on the back-roads and just more of an authentic, friendly experience. The smaller groups allow you to meet people from all over the world and make friends for life. Air Conditioning as standard. Services of a professional driver/guide.
Cancellation Penalties: Land: Penalties per person apply: 70 days or longer: Forfeiture of deposit 69 - 46 days: 35% per person 45 - 22 : 45% per person 21-1 days 100% per person Travel Insurance from $60
Questions? Contact Lynott Tours, your Scotland travel agents at 1 (800) 221-2474 USA & Canada
April, Nov-Mar
Easter, May, Oct, Chistmas
June-Sept.
 3 Day Isle of Arran
$426
$341
$460
$368
$493
$395
$495
$0
$530
$0
$563
$0
$502
$401
$536
$429
$569
$455
$558
$0
$592
$0
$625
$0
* There will be no Glasgow tour departures at all on the following dates:
01/01/18, 02/01/18, 08/03/18