Best of Scotland and Ireland
Combined tour of Scotland and Ireland
13 Day First Class Escorted Tour
- SMALL ESCORTED GROUP TOUR OF SCOTLAND & IRELAND. THIS SMALL TOUR TO IRELAND GOES WITH JUST 4 PEOPLE OR MORE
The best of Scotland travel combined with the best of Ireland travel. Here, there are no strangers - only friends you have not yet met. The lilting accents and wit of the locals will enchant you.
The Lynott Tours Advantage
Hunt for the Loch Ness Monster
Enter the wizarding world of Harry Potter and ride the Jacobite Steam Locomotive
Enjoy a storytelling evening in Dublin's oldest pub
Monday - DEPART FROM HOME
Your vacation begins the moment you board your flight. Destination: EDINBURGH.
Tuesday - EDINBURGH
Take a hop-on-hop-off panoramic sightseeing tour of Edinburgh. Tour highlights include Edinburgh Castle, St. Giles' Cathedral, Burns Monument, National Gallery, and the Palace of Holyrood House. Enjoy a traditional Scottish Music Show, with dinner. (D)
Call 1-800-221-2474 9AM - 6PM or
Please Email Us For Information
Wednesday - ST. ANDREWS & CASTLE STAY
Travel to the university town of St. Andrews, known not only as the home of golf, but where William and Kate met. The medieval center consists of a series of narrow alleys and cobbled streets a castle,and the now ruined cathedral. Tonight, we stay at the 480 year old Fernie Castle located on acres of woodlands, with its own lochan.(CB,D)

Thursday - PITLOCHRY/LOCH NESS MONSTER
Drive through the Victorian town of Pitlochry to the Edradour Distillery, Scotland's smallest, for an intimate tour and a tasting, including soft drinks. Later, in the highlands alongside Loch Ness, enjoy monster hunting. Our lovely hotel is near Ft. William.(B)
Friday - RIDE THE HARRY POTTER TRAIN/ISLE OF SKYE
Ride the Jacobite "Hogwarts Express" steam locomotives. We head by ferry to Skye, and up to Portree, where pastel houses line the harbor. Skye has ruined castles, awesome scenery, Viking fortresses and is home to legendary clans, immersed in Celtic myths & legends. We stop to visit the famous Eilean Donan Castle, used in the film "Highlander" and a James Bond movie. (B)
Call 1-800-221-2474 9AM - 6PM or Please Email Us For Information
Call 1-800-221-2474 9AM - 6PM or
Please Email Us For Information
Saturday - GLENCOE/GLASGOW
Enjoy the mystical mountains of Glencoe. In the 1692 battle here, 40 members of the MacDonald clan were massacred in cold blood by the Campbells for not forswearing the Jacobite cause. They say you can still hear their cries! Visit Stirling Castle to see the Great Hall and Tapestry Workshop. Nearby, the Battle of Bannockburn site rivets your attention. (B)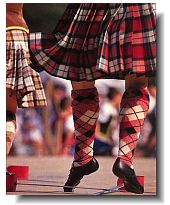 Sunday - GLASGOW/DUBLIN
Board your flight to Dublin (not included in tour only price). Arrive in Dublin, Ireland's capital, which has retained its Georgian elegance, and transfer to your hotel. Our afternoon tour of Dublin takes you to Trinity College to see the illuminated Book of Kells, and St. Patrick's, Ireland's national cathedral. Visit the Guinness Storehouse in the heart of old Dublin, where you sample Ireland's most famous creamy stout. Storytelling, dinner and traditional music in a candelit Dublin pub: The scene is set in one of Dublin's oldest pubs. As early as the 1600's, it was a popular haunt. The Seanachi, the Irish word for storyteller, entertains with oral tales of fairies, Celtic warriors and legendary deed-doing. (B,D)
Monday
-
DUBLIN/WICKLOW A full day in the "Garden of Ireland" including Powerscourt Estate and Gardens, and Glendalough. The charming walled garden at Powerscourt, the striking terraces, fine statuary and varied trees are linked by carefully designed walks and set in the magnificent surroundings of the Wicklow Mountains. The Glendalough monastery was founded by St. Kevin, a hermit monk who died about 618 AD. The extensive ruins of Glendalough include several early churches, and a graceful round tower in a spectacular, scenic setting. (B)
Tuesday
-
KILKENNY Enjoy the relaxed pace of Ireland, known for its bogs and turf fires, rich farmlands and scenic countryside. Travel through the Curragh, the horse breeding center of Ireland. You visit Kilkenny Castle. Stay in Kilkenny, somewhere very special with its cobbled streets and castle, one of the finest examples of an Irish medieval town. Tonight, "Meet the Irish" by staying as a welcome guest in a local home, not only wonderfully located, but also fully equipped, comfortably homey, and clean. Enjoy a pub lunch. (B,L)
Wednesday
-
BLARNEY/COBH/KILLARNEY This morning you take the scenic route to Cobh, originally a small fishing village. Cobh was the departure point for many Irish immigrants in the 19th century, and is associated with the loss of the Titanic. Visit Blarney, with a chance to kiss "The Stone". Travel through landscapes of the rarest green, where herds of black and white cows peek from every hill on the way to Killarney. (B)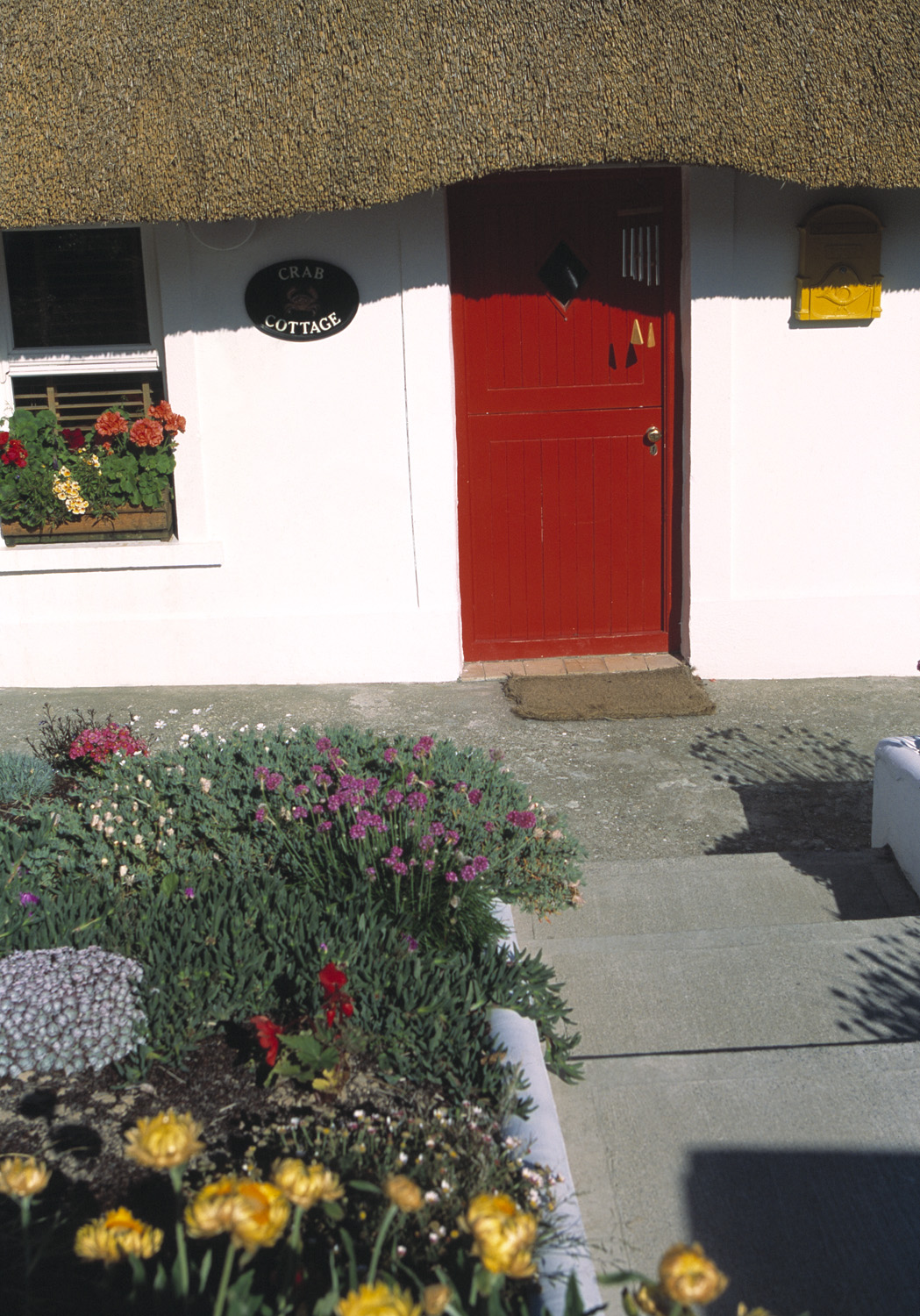 Thursday
-
RING OF KERRY EXCURSION An incredible day awaits! The scenic and spectacular Ring of Kerry offers unrivaled views of County Kerry's magnificent shoreline, one of nature's masterpieces. Traveling via Killorglin you see beautiful mountain vistas and rugged landscapes along the way. Travel through Killarney by pony and trap. Have your camera ready! A musical pub evening is in store for us tonight, complete with local entertainment. (B,D)
Friday
-
ADARE/SHANNON We'll travel to the quaint thatched village of Adare. Tonight, we've planned a special farewell castle medieval dinner. We'll be transformed back in time as we sip the traditional mead and don bibs to eat with our fingers at a fun-filled medieval dinner at Bunratty Castle. You have a choice, too, to stay at a wonderful 5 star castle hotel - Dromoland Castle. Dromoland Castle is a spectacular place to spend your last night's stay Dromoland was the ancestral home of the Lords Inchiquin, direct descendants of Brian Boru, high king of Ireland. It is one of the finest examples of a baronial residence..(B,D)
Saturday
-
HOMEWARD
The tour ends with a transfer to Shannon Airport. Return home with the memories of the friends you've met, and a lifetime of stories to relate. (B) Transfers and hotels available to Dublin available at added cost.
Includes:
Airport transfers according to our schedule
*Luxury minibus with driver/guide
*First-class accommodations for 11 nights; room with private bath.
*11 hearty breakfasts (B,CB), 1 pub lunch (L), 5 dinners (D)
*Baggage handling at hotels.
*All taxes and service charges.
*All sightseeing and entrance fees.
Some highlights: Edinburgh - hop on hop off tour, St Andrews - castle and cathedral, Highlands - Ride the Hogwarts Express, Eilean Donan Castle, Distillery visit, Stirling Castle. Skye - Ferry to the Isle of Skye,Book of Kells at Trinity College, Powerscourt Estate and Gardens, and Glendalough
Kilkenny Castle
Blarney Castle Killarney by pony and trap and Ring of Kerry tour
Scenic Drives – Royal Mile, Princes Street, magnificent Glen Coe, the road to Skye, searching for the Loch Ness Monster, Scottish Highlands
Your 3* & 4* hotels/castles:
Edinburgh-Jurys Inn (1 night)
Cupar-Fernie Castle (1 night)
Fort William-Glenspean (2 nights)
Glasgow-Holiday Inn Airport (1 night)
Dublin- Ashling Hotel (2 nights)
Kilkenny - B&B (1 night)
Killarney - Killarney Plaza Hotel (2 nights)
Shannon - Inn at Dromoland or Dromoland Castle (1 night)
Call 1-800-221-2474 9AM - 6PM or Please Email Us For Information
Not Available
=No individual space available, but available for groups of 6 or more
Guaranteed
=Guaranteed to go, and there are still a few seats available. Book now.
Private Departure
=Departure booked by a group. No individual space available.
If you have just 6 persons in your party, we can give you a similar PRIVATE DEPARTURE JUST FOR YOUR GROUP, on any day. A group of 8 or more - save 5%.

Scotland & Ireland
2017
Departs to Edinburgh Mondays
Returns From Shannon Saturdays
Est. Air/Land JFK* USD
Tour Only
14-Aug
26-Aug
6,797
5,657
Not Available
28-Aug
9-Sep
6,389
5,381
Not Available
11-Sep
23-Sep
6,389
5,381
Not Available
SINGLE SUPPLEMENT
1229
CHILD REDUCTION 5-11
556
FLIGHT GLASGOW/DUBLIN ADD
100
Scotland & Ireland
2018
Departs to Edinburgh Monday
Returns From Shannon Saturdays
Est. Air/Land JFK* USD
Tour Only
7-May
19-May
             6,185
               5,379
21-May
2-Jun
             6,185
               5,379
4-Jun
16-Jun
             6,185
               5,379
18-Jun
30-Jun
             6,185
               5,379
2-Jul
14-Jul
             6,519
               5,379
16-Jul
28-Jul
             6,519
               5,379
30-Jul
11-Aug
             6,795
               5,655
13-Aug
25-Aug
             6,795
               5,655
27-Aug
8-Sep
             6,387
               5,379
10-Sep
22-Sep
             6,387
               5,379
SINGLE SUPPLEMENT
1432
CHILD REDUCTION 5-11
638

*Airfares are estimates only, based on limited availability and are subject to change. The air inclusive prices above are for general information only and not a reflection of current seat availability. Prices are inclusive of air tax.
Transfers: We are offering transfers at a set time on our tour. Anyone not arriving in time for this transfer will need a PRIVATE transfer. Transfer schedule for coach tours: returns to SNN at 9AM. If you have an earlier flight, you must pay for a private transfer. Booking your own flights: Please book a flight from Glasgow to Dublin at 8AM on Sunday. The flight is not included in the land only price.
Tattoo tickets on August departures available at a cost of $148.
Questions? Contact
Lynott Tours, your Scotland travel agents at 1 (800) 221-2474USA & Canada
Please Email Us For Information