Ireland - Scotland Guided Tour
Scotland and Ireland Dream
13 or 14 day First Class Escorted Tour

Click for map
The best of Scotland travel combined with the best of Ireland travel. This is just one of our popular ways to visit Scotland and Ireland. We have many other Ireland Scotland travel options, including self-drive programs. Here, there are no strangers - only friends you have not yet met. The lilting self-doubting accents and wit of the people will enchant you.



Day 1: Glasgow City Tour
Your Scottish trip starts at 2:30 pm when you meet your tour director at your Glasgow hotel and set out on an introductory tour of central Glasgow. See the main attractions of Glasgow including parks and squares and view extensive art collections in Kelvingrove Art Gallery and Museum. Chat with your tour director and fellow travelers over a welcome drink before dinner in your hotel. (D)

Day 2: Loch Lomond & Inveraray Castle
Embark on a short cruise of Loch Lomond to appreciate views of Highland peaks. Drive to Inveraray and browse around the town before touring Inveraray Castle, home of the Campbells and used as a location for the Downton Abbey series. Drive through Glen Coe, a spectacular valley renowned for a skirmish between the Campbell and Macdonald Clans in 1692 and on to the coast to your hotel in Ballachulish. (B ,D)

Day 3: Isle of Skye & Clan Donald Centre
Travel on the scenic "Road to the Isles", stopping for photos at the Glenfinnan Monument. Take a ferry to the Isle of Skye and visit the Clan Donald Centre at Armadale Castle. Drive through the island and return to the mainland by bridge, stopping for photos at the famous Eilean Donan Castle. Then drive along the beautiful shores of Loch Ness, famous for its monster. Continue to your hotel in Nairn, a manor house property set in spacious grounds near the North Sea. (B, D)
Call +1-800-221-2474 9AM - 6PM Mon-Fri Eastern Time Please Email Us For Information

Day 4: Culloden Battlefield & Sheepdogs
A short distance from Nairn is the Culloden Battlefield Visitor Centre. Learn about the battle which took place on 16th April 1746 when British Government forces defeated the army of Prince Charles Edward Stuart. The Visitor Centre shows the background to this event and walk around the moorland to see monuments commemorating troops. Continue through majestic Highland scenery to Leault Farm where dogs herd sheep. Drive past the Grampian Mountains to your gracious manor-style hotel near Pitlochry. (B, D)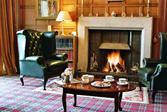 Day 5: Blair Castle & Whisky Tasting
A short drive will bring you to Blair Castle, home of the Dukes and Earls of Atholl. Dating back to 1269, the castle has been transformed through the ages, from a strong medieval fortress to a Victorian castle in the baronial style. You will learn about Mary, Queen of Scots, Bonnie Prince Charlie, Queen Victoria and the Atholl Highlanders. Visit Blair Athol Distillery to learn about whisky making and sample a "wee dram". Spend the afternoon at leisure to explore the hotel gardens, museum and facilities or browse around the town of Pitlochry. (B, D)


Day 6: Glamis Castle & St Andrews Golf
Visit Glamis Castle, legendary setting of Macbeth and childhood home of the late Queen Mother. Drive across the modern Tay Bridge to St Andrews, the "Home of Golf." See the famous Royal and Ancient Clubhouse and the Old Course and enjoy free time to look around specialty golf stores. If you prefer, browse through the medieval town with its ruined cathedral and castle. Drive south into Edinburgh, Scotland's capital and enjoy a Scottish Evening with dinner and entertainment. (B,D)


Day 7: Edinburgh Castle & City Tour
This morning explore Edinburgh on a sightseeing tour. Compare and contrast the wide streets and elegant mansions of the Georgian 200-year-old "New Town" with the narrow lanes and medieval townhouses along the Royal Mile, the oldest part of the city. Visit the imposing Edinburgh Castle and admire splendid views. Spend the afternoon and evening at leisure. On July 31 to August 21 departures enjoy the Royal Edinburgh Military Tattoo at Edinburgh Castle. (B)

Day 8: Titanic Belfast & Vibrant Dublin
Depart Edinburgh early this morning and drive south through Ayrshire and along the coast. At Cairnryan take a ferry ride to Belfast and enjoy lunch on the trip. Close to the Belfast ferry terminal in the heart of the docks, visit Titanic Belfast to learn about this famous liner through state-of-the-art displays. Drive south to Dublin and check in to your centrally-located hotel. You are free to dine independently. (B, L)
Day 9: Dublin Touring & Merry Ploughboy Pub
Spend the morning at leisure or use your included open-top bus tour voucher. At 2:00 pm meet a local guide and tour central Dublin to see Trinity College, public buildings, tranquil parks and rows of Georgian houses. Take a guided tour through historic Dublin Castle, seat of government for centuries. Dine at the Merry Ploughboy Pub and enjoy a great show. (B,D)
Day 10: Blarney Castle & Killarney
Depart Dublin and stop for photos at the stately Rock of Cashel. Visit Blarney Castle to kiss the famous "Stone of Eloquence" and shop at the Blarney Woollen Mills. Drive to Killarney, picturesquely set beside lakes and mountains. Check in to your hotel and relax before dinner. Afterwards you may like to head to a "singing pub".(B,D)
Day 11: Ring of Kerry & Skellig Experience
Today embark on the Ring of Kerry drive-a winding route with awesome mountain and coastline views. Watch a local farmer and his dogs herding flocks of sheep. Cross to Valentia Island by bridge to visit the Skellig Experience which describes nearby islands. Enjoy an informal lunch and pause at Moll's Gap for stunning views before returning to Killarney.(B,L)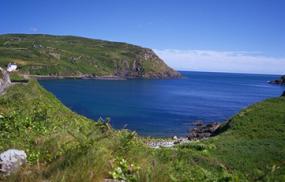 Day 12: Cliffs of Moher & Bunratty Castle Banquet
Take a ferry ride across the River Shannon Estuary and view the Cliffs of Moher, a spectacular wall of sandstone that reaches 700 feet above the Atlantic Ocean. Check in to Bunratty Castle Hotel and enjoy free time. Head to Bunratty Castle for a memorable medieval-style feast with a program of song and harp music, evocative of the Middle Ages. (B, D)

Day 13: Shannon Airport
Clients
Your tour ends after breakfast. (B)
Dublin Extension via Galway
Drive along the famous Galway Bay to the Connemara Marble Factory to see locally-quarried marble and enjoy tea and scones. Take a panoramic tour around Galway and travel to Dublin where you are free for independent activities and dining. (B)
Day 14: Tour Ends in Dublin Call
+1-800-221-2474
9AM - 6PM Mon-Fri Eastern Time
Please Email Us For Information
B=Breakfast, CB=Continental Breakfast, L=Lunch, D=Dinner
Scotland and Ireland Dream Includes:
GROUP AIRPORT TRANSFERS
When we book your flights together with a coach tour, we include complimentary group transfers on the starting and ending date of tours at times specified on each itinerary-a $30 per person fee applies to land only bookings.
Sightseeing by luxury coach
Professional tour director
13 nights in hotels listed
Full breakfast daily (B) except on day 1
9 dinners (D) including
Scottish Evening in Edinburgh
Merry Ploughboy Pub dinner and traditional show
Bunratty Castle Medieval Banquet
6 table d'hote dinners
2 lunches (L)
Welcome get-together drink
Tours of Glasgow, Edinburgh and Dublin
Loch Lomond scenic cruise
Ferries to Isle of Skye, from Scotland to Ireland and across the River Shannon
Blair Athol Distillery whisky tasting and tour
Reserved seats for Royal Edinburgh Military Tattoo on July 31 to August 21 departures
Sheepdog trials in Scotland and Ireland
Galway tour and Connemara Marble Factory tea with scones
Dublin open-top bus tour with a visit to Guinness Storehouse or General Post Office
Visits and admissions to Kelvingrove Art Gallery & Museum, Inveraray Castle, Clan Donald Centre at Armadale Castle, Culloden Battlefield Visitor Centre,Blair Castle, Glamis Castle, St Andrews, Edinburgh Castle, Titanic Belfast, Dublin Castle, Blarney Castle, Blarney Woollen Mills, Skellig Experience and Cliffs of Moher
Headsets for walking tours
Deluxe carry-on backpack, ticket wallet, luggage tags & strap
All local taxes, hotel service charges & porterage for one suitcase per person
Free Wi-Fi on coaches and in hotel lobbies
Your Superior First Class Hotels:

Radisson Blu or Hilton Hotel Glasgow (1 night)
Isles of Glencoe Hotel Ballachulish (1 night)
Muthu Hotel Nairn (1 night)
Atholl Palace Hotel Pitlochry (2 night)
Macdonald Holyrood Hotel Edinburgh (2 nights)

Clayton Hotel Ballsbridge Dublin (2 nights)
Killarney Towers Hotel Killarney (2 nights)
Bunratty Castle Hotel Bunratty (1 night)
Academy Plaza Hotel Dublin (1 night)

Another hint for you is to learn some differences in Irish English and American English: Articulated lorry--semi truck. And they make the same wide turns in Ireland that they do in the US, just in the opposite direction.
Call +1-800-221-2474 9AM - 6PM Mon-Fri Eastern Time Please Email Us For Information
Save 10% on this tour now. 
Book by 11/30/18 and pay a $500 non-refundable deposit to save 10% on the land portion of 2019 guided vacations.
13 days Glasgow to Shannon

Start
End
Special
GLASGOW
SHANNON
Departure
Sun Mar 24, 2019
Fri Apr 05 2019
US$3239
Guaranteed
Sun Mar 31, 2019
Fri Apr 12, 2019
US$3239
Wed Apr 10, 2019
Mon Apr 22, 2019
US$3279
Sun Apr 14, 2019
Fri Apr 26, 2019
US$3279
Sun Apr 21, 2019
Fri May 03 2019
US$3419
Guaranteed
Fri Apr 26, 2019
Wed May 08 2019
US$3549
Guaranteed
Sun Apr 28, 2019
Fri May 10, 2019
US$3689
Fri May 03 2019
Wed May 15, 2019
US$3689
Guaranteed
Sun May 05 2019
Fri May 17, 2019
US$3729
Wed May 08 2019
Mon May 20, 2019
US$3729
Guaranteed
Fri May 10, 2019
Wed May 22, 2019
US$3729
Sun May 12, 2019
Fri May 24, 2019
US$3779
Wed May 15, 2019
Mon May 27, 2019
US$3779
Fri May 17, 2019
Wed May 29, 2019
US$3779
Guaranteed
Wed May 22, 2019
Mon Jun 03 2019
US$3819
Fri May 24, 2019
Wed Jun 05 2019
US$4179
Guaranteed
Sun May 26, 2019
Fri Jun 07 2019
US$3909
Guaranteed
Fri May 31, 2019
Wed Jun 12, 2019
US$3959
Sun Jun 02 2019
Fri Jun 14, 2019
US$3909
Wed Jun 05 2019
Mon Jun 17, 2019
US$3869
Sold Out
Fri Jun 07 2019
Wed Jun 19, 2019
US$3959
Wed Jun 12, 2019
Mon Jun 24, 2019
US$3959
Guaranteed
Sun Jun 16, 2019
Fri Jun 28, 2019
US$3959
Sold Out
Wed Jun 19, 2019
Mon Jul 01 2019
US$3959
Guaranteed
Fri Jun 21, 2019
Wed Jul 03 2019
US$3909
Guaranteed
Sun Jun 23, 2019
Fri Jul 05 2019
US$3959
Fri Jun 28, 2019
Wed Jul 10, 2019
US$3959
Sun Jun 30, 2019
Fri Jul 12, 2019
US$3909
Sold Out
Sun Jul 07 2019
Fri Jul 19, 2019
US$3959
Fri Jul 12, 2019
Wed Jul 24, 2019
US$3909
Sold Out
Wed Jul 17, 2019
Mon Jul 29, 2019
US$3959
Guaranteed
Sun Jul 21, 2019
Fri Aug 02 2019
US$3959
Wed Jul 24, 2019
Mon Aug 05 2019
US$3959
Sun Jul 28, 2019
Fri Aug 09 2019
US$4359
Tattoo/Tour Guaranteed
Wed Jul 31, 2019
Mon Aug 12, 2019
US$4359
Tattoo/Tour Guaranteed
Sun Aug 04 2019
Fri Aug 16, 2019
US$4319
Tattoo/Tour Guaranteed
Wed Aug 07 2019
Mon Aug 19, 2019
US$4359
Sold Out
Sun Aug 11, 2019
Fri Aug 23, 2019
US$4319
Tattoo/Tour Guaranteed
Wed Aug 14, 2019
Mon Aug 26, 2019
US$4319
Tattoo/Tour Guaranteed
Fri Aug 16, 2019
Wed Aug 28, 2019
US$4319
Sold Out
Sun Aug 18, 2019
Fri Aug 30, 2019
US$4319
Tattoo/Tour Guaranteed
Wed Aug 21, 2019
Mon Sep 02 2019
US$4089
Sun Aug 25, 2019
Fri Sep 06 2019
US$4049
Guaranteed
Wed Aug 28, 2019
Mon Sep 09 2019
US$4049
Sun Sep 01 2019
Fri Sep 13, 2019
US$3959
Guaranteed
Wed Sep 04 2019
Mon Sep 16, 2019
US$3869
Guaranteed
Sun Sep 08 2019
Fri Sep 20, 2019
US$3909
Sold Out
Wed Sep 11, 2019
Mon Sep 23, 2019
US$3909
Fri Sep 13, 2019
Wed Sep 25, 2019
US$3909
Guaranteed
Fri Sep 20, 2019
Wed Oct 02 2019
US$3779
Guaranteed
Wed Sep 25, 2019
Mon Oct 07 2019
US$3599
Fri Oct 04 2019
Wed Oct 16, 2019
US$3459
Sold Out
Sun Oct 06 2019
Fri Oct 18, 2019
US$3419
Sold Out
Fri Oct 11, 2019
Wed Oct 23, 2019
US$3329
Guaranteed
Sun Oct 13, 2019
Fri Oct 25, 2019
US$3329
Sold Out
Single room supplement: $915
14 days Glasgow to Dublin
Start
End
Special
GLASGOW
DUBLIN
Departure
Sun Mar 24, 2019
Sat Apr 06 2019
US$3428
Guaranteed
Sun Mar 31, 2019
Sat Apr 13, 2019
US$3388
Wed Apr 10, 2019
Tue Apr 23, 2019
US$3438
Sun Apr 14, 2019
Sat Apr 27, 2019
US$3438
Sun Apr 21, 2019
Sat May 04 2019
US$3588
Guaranteed
Fri Apr 26, 2019
Thu May 09 2019
US$3738
Guaranteed
Sun Apr 28, 2019
Sat May 11, 2019
US$3888
Fri May 03 2019
Thu May 16, 2019
US$3888
Guaranteed
Sun May 05 2019
Sat May 18, 2019
US$3938
Wed May 08 2019
Tue May 21, 2019
US$3938
Guaranteed
Fri May 10, 2019
Thu May 23, 2019
US$3938
Sun May 12, 2019
Sat May 25, 2019
US$3988
Wed May 15, 2019
Tue May 28, 2019
US$3988
Fri May 17, 2019
Thu May 30, 2019
US$3988
Guaranteed
Wed May 22, 2019
Tue Jun 04 2019
US$4038
Fri May 24, 2019
Thu Jun 06 2019
US$4388
Guaranteed
Sun May 26, 2019
Sat Jun 08 2019
US$4138
Guaranteed
Fri May 31, 2019
Thu Jun 13, 2019
US$4188
Sun Jun 02 2019
Sat Jun 15, 2019
US$4138
Wed Jun 05 2019
Tue Jun 18, 2019
US$4088
Sold Out
Fri Jun 07 2019
Thu Jun 20, 2019
US$4188
Wed Jun 12, 2019
Tue Jun 25, 2019
US$4188
Guaranteed
Sun Jun 16, 2019
Sat Jun 29, 2019
US$4188
Sold Out
Wed Jun 19, 2019
Tue Jul 02 2019
US$4188
Guaranteed
Fri Jun 21, 2019
Thu Jul 04 2019
US$4138
Guaranteed
Sun Jun 23, 2019
Sat Jul 06 2019
US$4188
Fri Jun 28, 2019
Thu Jul 11, 2019
US$4188
Sun Jun 30, 2019
Sat Jul 13, 2019
US$4138
Sold Out
Sun Jul 07 2019
Sat Jul 20, 2019
US$4188
Fri Jul 12, 2019
Thu Jul 25, 2019
US$4138
Sold Out
Wed Jul 17, 2019
Tue Jul 30, 2019
US$4188
Guaranteed
Sun Jul 21, 2019
Sat Aug 03 2019
US$4188
Wed Jul 24, 2019
Tue Aug 06 2019
US$4188
Sun Jul 28, 2019
Sat Aug 10, 2019
US$4638
Tattoo/Tour Guaranteed
Wed Jul 31, 2019
Tue Aug 13, 2019
US$4638
Tattoo/Tour Guaranteed
Sun Aug 04 2019
Sat Aug 17, 2019
US$4588
Tattoo/Tour Guaranteed
Wed Aug 07 2019
Tue Aug 20, 2019
US$4638
Sold Out
Sun Aug 11, 2019
Sat Aug 24, 2019
US$4588
Tattoo/Tour Guaranteed
Wed Aug 14, 2019
Tue Aug 27, 2019
US$4588
Tattoo/Tour Guaranteed
Fri Aug 16, 2019
Thu Aug 29, 2019
US$4588
Sold Out
Sun Aug 18, 2019
Sat Aug 31, 2019
US$4588
Tattoo/Tour Guaranteed
Wed Aug 21, 2019
Tue Sep 03 2019
US$4338
Sun Aug 25, 2019
Sat Sep 07 2019
US$4288
Guaranteed
Wed Aug 28, 2019
Tue Sep 10, 2019
US$4288
Sun Sep 01 2019
Sat Sep 14, 2019
US$4188
Guaranteed
Wed Sep 04 2019
Tue Sep 17, 2019
US$4088
Guaranteed
Sun Sep 08 2019
Sat Sep 21, 2019
US$4138
Sold Out
Wed Sep 11, 2019
Tue Sep 24, 2019
US$4138
Fri Sep 13, 2019
Thu Sep 26, 2019
US$4138
Guaranteed
Fri Sep 20, 2019
Thu Oct 03 2019
US$3988
Guaranteed
Wed Sep 25, 2019
Tue Oct 08 2019
US$3788
Fri Oct 04 2019
Thu Oct 17, 2019
US$3638
Sold Out
Sun Oct 06 2019
Sat Oct 19, 2019
US$3588
Sold Out
Fri Oct 11, 2019
Thu Oct 24, 2019
US$3488
Guaranteed
Sun Oct 13, 2019
Sat Oct 26, 2019
US$3488
Sold Out

Single room supplement: $985
Call +1-800-221-2474 9AM - 6PM Mon-Fri Eastern Time Please Email Us For Information
This program appears only on our website. A printed brochure does not exist for this tour. Price per person sharing a twin or triple room. ONLY ONE TRIPLE ROOM IS AVAILABLE PER DEPARTURE - BOOK EARLY. Save 10% per person on coach land tour prices if you 8 & under 17 and traveling with at least one full fare paying passenger. Airfare is available from many cities. Just ask
Cancellation Penalties: Airfare up to 100%; Land: Penalties per person apply: 70 days or longer: Forfeiture of deposit 69 - 46 days: 35% per person 45 - 8 days: 45% per person 7 - 1 days: 60% per person, On day of departure: 100% per person Travel Insurance from $60