8 or 9 Day Northern Welcome Tour including Derry tour
8 OR 9 DAY NORTHERN WELCOME
Our Northern Ireland motocoach tour starts and ends in Dublin, but takes in all of the highlights of Northern Ireland, including Giant's Causeway, Derry, St. Patrick's Country and more. Visit the best of the north of Ireland including Derry tour. There are opportunities to discover the traditions of Irish agriculture, rural living and music, and to adjust to a slower pace of life. On the Ireland of the Welcomes tour, you will experience old-world Irish charm and elegance. It is all about Irish hospitality and staying in places where you are a house guest rather than a customer. Ireland travel vacation, escorted Ireland travel
Click Here For Map
Day 1: Dublin Arrival & Cabra Castle Hotel
Your first hotel on this tour is 50 miles from Dublin Airport so ensure that you have made appropriate transfer arrangements. Your delightful castle hotel is set in spacious grounds with a 9-hole golf course so that you may relax for the balance of the day. Play a round of golf, explore the castle and grounds or soak up the historic atmosphere. Your tour program starts at 6:00 pm in your hotel when you join your tour guide and fellow travelers for a welcome drink and dine in the hotel restaurant. (D)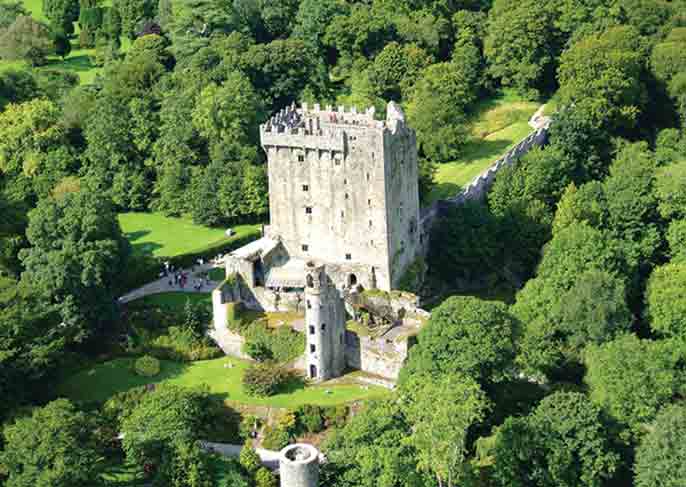 Day 2: St. Patrick's Country & Titanic Belfast
Admire the gentle slopes of the Mourne Mountains and peaceful coastline as you travel north to Down Cathedral, historical burial place of St. Patrick. Visit the St. Patrick Centre to learn about the life and teachings of Ireland's patron saint. Drive to Belfast to join a local guide and tour around central Belfast to see prominent buildings, political murals and the docks where the RMS Titanic was built in 1912. Visit the magnificent Titanic Belfast, a state-of-the-art attraction which will fill you in on information about this iconic liner. (B, D)

Day 3: Turf Cutting & Giant's Causeway
Drive north along the Nine Glens of Antrim, one of Ireland's popular scenic routes to discover lovely views of mountains, valleys and coastline. This area is where many scenes from the "Game of Thrones" series were filmed. Visit The Causeway Coast Discovery Centre for tea with scones and a turf-cutting demonstration. Stop at the Giant's Causeway, hexagonal columns formed by volcanic activity over 60 million years ago. The different rock formations have spawned a number of legends about the mythical giant, Finn McCool. Continue to your hotel in Derry and relax before dinner. (B, D)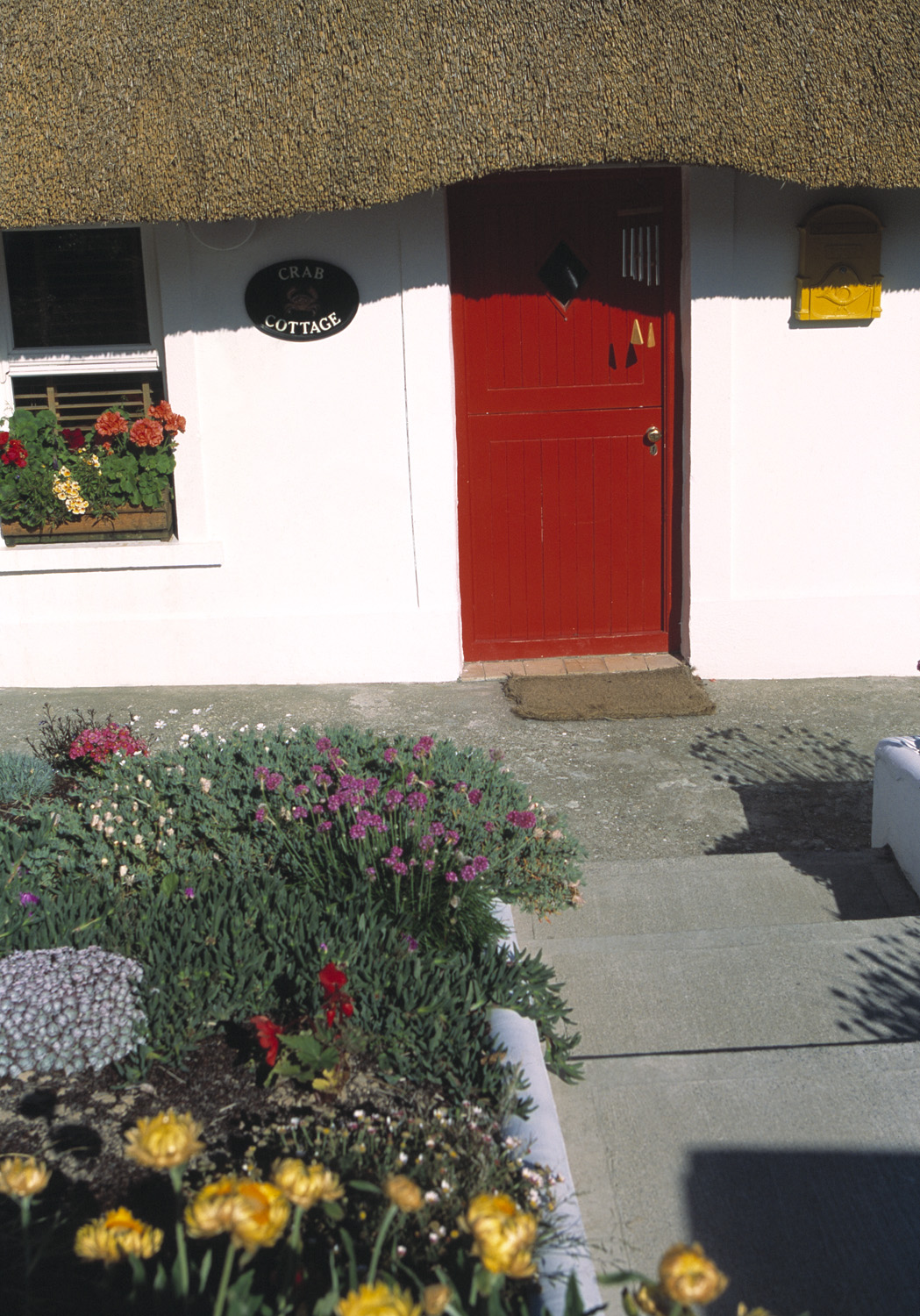 Day 4: Derry's Walls & Inishowen Peninsula
Join a local guide for a short walk around Derry's medieval city walls that completely encircle the old city center. Learn about the development of the settlement throughout the centuries and right up to today. Travel around the Inishowen Peninsula, a 100-mile scenic route. Drive alongside Lough Foyle to reach Shrove Lighthouse for a photo stop. Head to Banba's Crown on Malin Head, the most northerly point of the Irish mainland, to admire stunning seascapes. Stop at one of Ireland's most northerly bars to savor an Irish coffee. Stop in Buncrana and return to Derry in time for dinner. (B, D)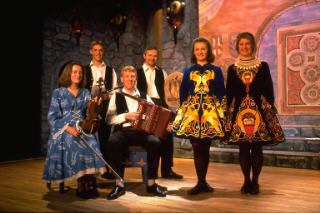 Day 5: Donegal Castle & Belleek China
Travel through rugged countryside with magnificent scenery to Donegal town to tour Donegal Castle, built in the 15th century by an O'Donnell chieftain. Visit the Belleek Pottery Factory, founded in the 19th century to bring employment to the area. Belleek is renowned for its use of fine clay and you will see how the craftspeople shape and decorate the raw material to create the world-famous fine china. Pause at Drumcliffe Churchyard to view the grave of W. B. Yeats, the Nobel Prize-winning poet, who based many poems on the delightful countryside around Sligo. Drive through County Mayo to your hotel in Westport. (B, D)

Day 6: Westport House & Achill Island Tour
Travel around Clew Bay, which is reputed to have 365 islands, to access Achill Island by bridge. Follow the Atlantic Drive to capture wonderful views of steeply-sloped mountains plunging into the shimmering Atlantic Ocean. Near Slievemore see the Deserted Village, the remains of nearly 100 stone cottages abandoned around the time of the 1840's Famine and stop for a casual lunch. Return to Westport for a tour around the stately Westport House, which overlooks the ocean and contains a wealth of interesting portraits, furniture, silver and porcelain. The evening is free so that you may take a stroll around the attractive town and dine independently. (B, L)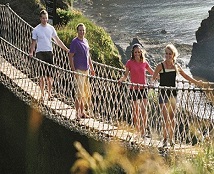 Day 7: Galway, Tullamore Dew& Merry Ploughboy Pub
Drive south for a gentle walking tour around central Galway to see Eyre Square, Galway Cathedral and the Spanish Arch. On Shop Street view the medieval Lynch's Castle that gave the English language a new word. Then browse around on your own through narrow streets that are closed to traffic. Travel through the center of Ireland to visit Tullamore Dew, to see whiskey production and savor a tasting at the end of the tour. Drive to your hotel in Dublin and head to the Merry Ploughboy Pub for dinner and a lively traditional Irish show. B, D)

Day 8: Tour Ends
Your program ends after breakfast. (B)

Tour Includes:
GROUP AIRPORT TRANSFERS
When we book your flights together with a coach tour, we include complimentary group transfers on the starting and ending date of tours at times specified on each itinerary-a $30 per person fee applies to land only bookings.
Sightseeing by luxury coach
Professional driver/guide
7 nights in hotels listed
Full breakfast daily (B) except on day 1
6 dinners (D) including
- Welcome dinner in Cabra Castle
- Merry Ploughboy Pub dinner and traditional show
- 4 table d'hote dinners
1 lunch (L)
Welcome get-together drink
Tour of Belfast with a local guide
Sheans Heritage Farm turf-cutting, tea and scones
Walking tours of Derry and Galway
Irish coffee on Inishowen Peninsula
Day tour to Achill Island
Visits and admissions to Down Cathedral, St. Patrick Centre, Titanic Belfast, Giant's Causeway, Donegal Castle, Belleek Pottery Factory, W. B. Yeats' Grave, Westport House and Kilbeggan Distillery Experience
Headsets for walking tours
Deluxe carry-on backpack, ticket wallet, luggage tags & strap
All local taxes, hotel service charges & porterage for one suitcase per person
Free Wi-Fi on coaches and in hotel lobbies
Your Tour includes these Superior & First Class Hotels:
(or similar)
Cabra Castle Hotel Kingscourt (1 night)
Europa Hotel Belfast (1 night)
Maldron Hotel Derry Derry (2 nights)
Clew Bay Hotel Westport (2 nights)
The Talbot Hotel Stillorgan (formerly Stillorgan Park Hotel) Dublin (1 night)
ONLY ONE TRIPLE ROOM IS AVAILABLE PER DEPARTURE - BOOK EARLY. Save 10% per person on coach tours if you are 8 & under 18 and traveling with at least one full fare paying passenger. Airfare is available from many cities. Just ask.

9 days Dublin to Dublin
Start
End
Special
Dublin
Dublin
Departure
Sat Jul 29, 2017
Sun Aug 06 2017
US$1868
Call to book
Sat Aug 12, 2017
Sun Aug 20, 2017
US$1868
Call to book
Sat Aug 19, 2017
Sun Aug 27, 2017
US$1868
Call to book
Sat Aug 26, 2017
Sun Sep 03 2017
US$1868
Sold Out
Sat Sep 09 2017
Sun Sep 17, 2017
US$1848
Sat Sep 16, 2017
Sun Sep 24, 2017
US$1848
Sold Out
Sat Sep 23, 2017
Sun Oct 01 2017
US$1848
Sat Sep 30, 2017
Sun Oct 08 2017
US$1548
Sold Out
Sat Oct 07 2017
Sun Oct 15, 2017
US$1548
Sold Out
Sat Oct 14, 2017
Sun Oct 22, 2017
US$1548
Guaranteed
Sat Oct 21, 2017
Sun Oct 29, 2017
US$1548
Single room supplement: $414
Save 5% on 2018 prices below on our just-released 2018 vacations! The best prices of the year are available on many 2018 tours including our most popular options and our new smaller group tours! And take our word: they'll sell out fast!
TERMS & CONDITIONS: Use promotion code EARLY2018 and pay a $500 per person deposit.
DUBLIN
DUBLIN
Twin Sharing
Departure
Sat Apr 14, 2018
Sun Apr 22, 2018
US$1970
Guaranteed
Sat Apr 28, 2018
Sun May 06 2018
US$2000
Sat May 26, 2018
Sun Jun 03 2018
US$2040
Guaranteed
Sat Jun 09 2018
Sun Jun 17, 2018
US$2040
Sat Jun 16, 2018
Sun Jun 24, 2018
US$2040
Sold Out
Sat Jun 23, 2018
Sun Jul 01 2018
US$2040
Guaranteed
Sat Jul 14, 2018
Sun Jul 22, 2018
US$2090
Guaranteed
Sat Jul 21, 2018
Sun Jul 29, 2018
US$2090
Sat Aug 11, 2018
Sun Aug 19, 2018
US$2090
Guaranteed
Sat Aug 25, 2018
Sun Sep 02 2018
US$2090
Guaranteed
Sat Sep 08 2018
Sun Sep 16, 2018
US$2070
Guaranteed
Sat Sep 15, 2018
Sun Sep 23, 2018
US$2070
Guaranteed
Sat Sep 22, 2018
Sun Sep 30, 2018
US$2070
Sat Oct 06 2018
Sun Oct 14, 2018
US$1970
Guaranteed
Sat Oct 13, 2018
Sun Oct 21, 2018
US$1850
Single room supplement: $380
Price per person sharing a twin or triple room. ONLY ONE TRIPLE ROOM IS AVAILABLE PER DEPARTURE - BOOK EARLY. Save 10% per person on coach land tour prices if you are 8 & under 18 and traveling with at least one full fare paying passenger. Airfare is available from many cities. Just ask. Guaranteed Price This Tour & Continue Cancellation Penalties: Airfare up to 100%; Land: Penalties per person apply: 70 days or longer: Forfeiture of deposit 69 - 46 days: 35% per person 45 - 8 days: 45% per person 7 - 1 days: 60% per person, On day of departure: 100% per person
Travel Insurance from $60
Please Email Us For Information
Call 1-800-221-2474 9AM - 730PM Mon-Fri Eastern Time

Request a price quote
Please Email Us For Information Call 1-800-221-2474 9AM - 730PM Mon-Fri Eastern Time