Ireland Family Tour - Irish Melody
Nothing brings a family together like travel

BEST OF IRELAND 10 DAY FAMILY VACATION

This very special small group guided tour combines enriching experiences in the heritage towns of Ireland with music and adventure- a perfect Ireland family itinerary. Enjoy the music of magical evenings. Listen to a tale well told, a song well sung, applaud a dance well done. Fun adventures include boat trips, bicycling, horseback riding and traditional music. This is an escorted family vacation with activities for children in Ireland. Join in, take part, you're very welcome.

The Lynott Tours Difference
Stay at local B&B's with opportunities to meet the Irish
Enjoy music at village pubs
Ride an Irish horse in Killarney, bike ride in Dingle
Call 1-800-221-2474 9AM -6PM or Please Email Us For Information

Thursday DEPART FROM HOME
Your vacation begins the moment you board your flight. Destination: DUBLIN.

Friday - DUBLIN/CASTLE STAY
Arrive by 10AM and join our Dublin tour. Tour Trinity College Library containing the famous Book of Kells. See the Bank of Ireland-Ireland's first Parliament, St. Patrick's Cathedral and the Georgian doors of Dublin. Visit the Guinness Brewery, where you will taste the famous stout. We venture to the south Dublin Coast for our elegant stay at the 18th Century Fitzpatrick Castle, overlooking Dublin Bay. It's a stone's throw from Dublin by DART train. Welcome dinner. (D)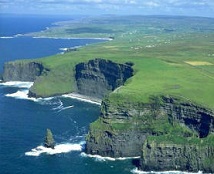 Saturday - KILDARE/KILKENNY - HORSES AND WITCHES
You travel through Kildare, the horse-breeding area of Ireland. Go behind the stable door at the National Stud Farm. Then, you are off to Kilkenny, closely associated with witchcraft and local crafts. Visit impressive Kilkenny Castle, set on the River Nore. Kilkenny is one of the best examples of a medieval town in Ireland. (B)

Sunday - COBH - TITANIC/BLARNEY/KINSALE - SHIPS
This morning, you take the scenic route to Cobh, departure point for many emigrants, and the last port of call for the Titanic. Many of the passengers are buried in the local graveyard. Visit Blarney, with a chance to kiss the Stone. Kinsale, one of the most historic towns in Cork, has quaint cobbled streets, gourmet restaurants and yachts moored in the harbor. (B)

Monday-GAP OF DUNLOE-HORSE RIDING
Travel to Killarney and ride at the local stables. Further along our route, the Dingle Peninsula is one of the natural wonders of Ireland with a wealth of archaeological sites, ancient ogham writing, and some of the finest traditional music, dance and the Irish language. The dramatic mountains sweep down to golden beaches and stark rocks. (B)


Tuesday - DINGLE - DOLPHIN WATCH OR COOKING CLASS
The greens of the hills contrast with the wildness of the scenes to make Dingle an enchanted place, the setting for Ryan's Daughter. Today's adventure is a boat trip to discover Fungie, the bottle-nosed dolphin, or take a lesson in baking brown bread for yourself. Optional bike ride this afternoon. At Dingle's pubs spontaneous music sessions often erupt. The most amazing musicians will treat you to a storm of Irish music. (B)

Wednesday-CLIFFS OF MOHER/DOOLIN
Travel along the majestic Cliffs of Moher, soaring an awe-inspiring 700 feet above the breaking sea. Stop in the fishing village of Doolin. It is said that three of the best musical pubs in Ireland are here. The village is our home for the next two evenings. (B)

Thursday-ARAN ISLANDS EXCURSION -BY BOAT
Travel by steamer to the island of Inisheer, the smallest island with its ancient castles, a shipwreck, a lighthouse, one of Ireland's most beautiful beaches, a modern playground, several fine pubs and cafes. For centuries, Irish speaking fishermen and their families have thrived here, where the famed off-white Aran sweaters originated. These are lands that time has forgotten. (B)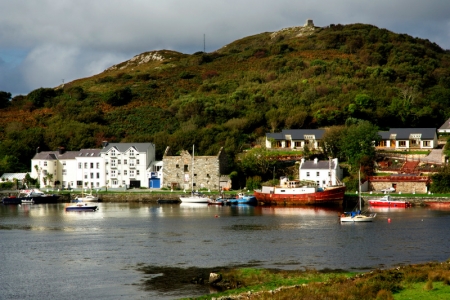 Friday -WESTPORT - THE RUGGED WEST
Travel to Galway, the cultural capital of the West and to Roundstone, known for making traditional Irish musical instruments. Travel through scenes of tin roofed barns and herds of meandering sheep on your way to County Mayo. Westport is by far the most attractive town in Mayo, with a wide expanse of sea dotted with islands and framed by mountain ranges. The local pub is owned by the musicians, the Chieftains. (B)


Saturday-WESTPORT/DUBLIN
Visit the National Museum of Ireland - Country Life to glimpse the daily lives in rural old Ireland. Travel across the heart of Ireland to Dublin. Our last night hotel is located at Dublin Airport, so you are free to catch a flight at any time tomorrow. (B)

Sunday - DUBLIN/HOME
We travel home from Dublin, and it comes all too soon. Return home with great memories of the new friends you've made. (B)

An Irish Melody Includes:
* Round trip airfare at added cost
* Airport transfers according to our schedule
* Luxury minicoach transportation with driver/professional guide throughout
* First class accommodations for 9 nights; room with private bath
* 9 hearty Irish breakfasts (B), 1 castle dinner (D)
* Baggage handling at hotels
* All taxes and service charges
* All sightseeing and entrance fees. Some highlights: Dingle - Bicycle riding, Dolphin watching on Dingle Peninsula
Killarney - horseriding
Cork - Blarney Castle, quaint seaport of Kinsale, Cobh Heritage Center
Dublin area - Trinity College/Book of Kells, Guinness Storehouse
Mayo - Museum of Country Life, explore Croagh Patrick
Galway-Connemara, Steamer to the Aran Islands

Your 3* & 4* guesthouses/hotels/B&B's/castles:
Dublin area-Fitzpatricks Castle 1 night
Kilkenny -B&B 1 night
Kinsale - Actons Hotel 1 night
Dingle - B&B 2 nights
Doolin - Aran View 2 nights
Westport - B&B 1 night
Dublin Airport - Carlton 1 night

You can generally bring a child into a pub at any age. If you are under 14 (18 in Northern Ireland) you cannot normally go into a pub unless the owner applied for a children's certificate that will allow children under 14 to be taken into a pub by an adult. Children would normally have to leave by 9pm. Most pubs have these licenses, and are gathering spots for the local Irish community, not alcohol-fueled. Pubs are great places for a quick meal or for tea or coffee or sodas.

What our clients say
Just a short note to let you know that the family trip to Ireland was a success with everyone. As a first trip for most of the family, Ireland showed off its splendor and beauty to the fullest. Our driver, John was a virtual historian and took us on many of the back roads to see places we had not included in our itinerary. --- Karen and Tom Hancock

Book now for 2019! Airfare can be booked 11 months in advance

Book it and you go. Tours guaranteed when just 4 people book! If you have just 6 persons in your party, we can give you a PRIVATE DEPARTURE JUST FOR YOUR GROUP AT NO ADDED COST, on any day. A group of 8 or more - save 5%.

Children Welcome on our Ireland Escorted Tours except in May and September - adults only
Call 1-800-221-2474 9AM - 6PM or Please Email Us For Information

Not Available - No individual space available, but available for groups of 6 or more Guaranteed=Guaranteed to go, and there are still a few seats available. Book now. Private Departure=Departure booked by a group. No individual space available.
2019
Departs to
Returns from Dublin
Est. Air/Land 
Dublin Thursdays
Sundays
JFK* USD
Land Only
11-Jul
21-Jul
3,249
2,602
Private Departure
25-Jul
4-Aug
3,249
2,602
Private Departure
8-Aug
18-Aug
3,249
2,602
22-Aug
1-Sep
3,249
2,602
5-Sep
15-Sep
3,133
2,602
NO CHILDREN
19-Sep
29-Sep
3,133
2,602
NO CHILDREN
SINGLE SUPPLEMENT
855
CHILD REDUCTION 5-11
342
*Airfares are estimates only, based on limited availability and are subject to change. The air inclusive prices above are for general information only and not a reflection of current seat availability. Prices are inclusive of air tax.

Transfers: We are offering transfers at a set time on our Irish Melody tour. Anyone not arriving in time for this transfer will need a PRIVATE transfer at added cost. Transfer schedule for coach tours: Irish Melody departs Dublin 10AM. Our last night hotel is located at Dublin Airport, so you are free to catch a flight at any time.
Customized Vacations We can also modify the itinerary to suit your family's or group's needs, with or without activities for children in Ireland.

Call 1-800-221-2474 9AM - 6PM or Please Email Us For Information