Irish Crown Jewels
The Jewels Belonging to the Most Illustrious Order of Saint Patrick, commonly called the Irish Crown Jewels or State Jewels of Ireland, were were stolen from Dublin Castle in 1907.
Two Week Tour of Ireland includes Sligo, Northern Ireland and more - Ireland bus travel
Click for Two Week Tour of Ireland map
To appreciate the astonishing diversity of this island, all you really have to do is to look around you. Time may stand still in Ireland, but whatever season you arrive, there's always time for a special moment. Ireland bus travel. This is our longst tour of Ireland. Hidden gems on this tour include the Dark Hedges, famous from Game of Thrones, and meeting the locals at unique farm visits.
Jewels of Ireland Itinerary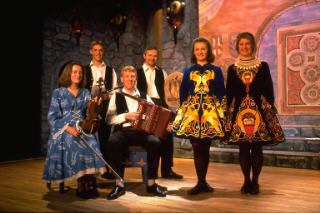 Day 1: Dublin Castle & City Tour
Your Irish trip starts at 2:00 pm when you meet your guide at your Dublin hotel and set out on an introductory tour of central Dublin. Tour Dublin Castle to see the magnificently furnished State Apartments and learn about historic events that have taken place there. Back at your hotel enjoy a welcome drink with your tour director and fellow travelers and dine independently this evening.
Day 2: Russborough House & Taylor's Three Rock
Drive to Blessington for a guided tour around Russborough House, a Palladian mansion filled with interesting treasures, works of art and early photographic collections. Return to Dublin where the afternoon is free for an independent open-top bus tour with a visit to Guinness or General Post Office. Head to Taylor's Three Rock Pub for dinner with traditional music, songs and step-dancing. A strong heart is needed, as both the dancers and musicians involve the entire audience in this electric performance. (B, D)
Day 3: Cashel & Kinsale Walk
Get ready to depart Dublin and travel to Cashel for a great photo-op at the Rock of Cashel. Cashel is one of Ireland's most historic sitesThen it's off to Blarney to visit Blarney Castle, where you can kiss the famous "Stone of Eloquence" or walk through the landscaped grounds. There, you may want to pop into Blarney Woollen Mills for some quality Irish-made goods. After your visit, head south to Kinsale, a delightful old fishing town, which is now renowned for sailing and gourmet food. Join a local guide for a short walk around Kinsale's historic streets. Then check into your hotel and take some time to settle in before dinner with your fellow travelers in the hotel restaurant. (B, D) Call 1-800-221-2474 9AM - 6PM Mon-Fri Eastern Time
Please Email Us For Information
Day 4:Cork & Dingle
Journey along the rugged coastline of County Cork, passing picturesque coves and beaches. Then, travel to Killarney for a horse-drawn jaunting car ride through Killarney National Park to view Ross Castle. Enjoy a drive along the Dingle Peninsula and sip an Irish coffee at the South Pole Inn before continuing to your charming manor-house hotel in Dingle town center. After checking in, you may wish to relax at your hotel or take a short stroll before dinner. (B, D)
The well-known phrase 'by hook or by crook' originated from the place names Hook and Crooke when Cromwell vowed that his armies would take Waterford 'by Hook or by Crooke' (he never did!!!).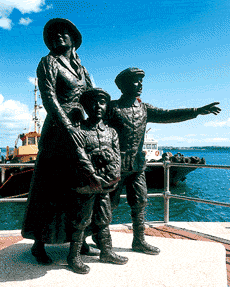 Day 5: Scenic Dingle Peninsula & Blasket Centre
Explore the Dingle Peninsula to enjoy mountain and shoreline views. Dingle is a native Gaelic speaking area and the lilt of this ancient tongue adds an element of mystery to this hauntingly beautiful place.  Visit the Blasket Centre in Dunquin to learn about the offshore Blasket Islands, inhabited until 1953 by hardy farming and fishing families. Return to Dingle and enjoy a light lunch. The rest of the day is free to browse around this charming town. (B, L)
Day 6: Cliffs of Moher & Knappogue Castle Banquet
Visit the Foynes Flying Boat Museum, which recalls air travel in the 1930's and 1940's. Drive to the Cliffs of Moher, a dramatic wall of rock that plunges to the Atlantic Ocean. Check in to your hotel in the marketing town of Ennis. Drive a few miles to 15th century Knappogue Castle for a medieval-style banquet with entertainment. (B, D)
Did you know? The Connemara Pony is considered Ireland's only native breed with origins that stretch back an incredible 2,500 years. You can see the biggest collection of this sturdy breed at the annual Connemara Pony Show in Clifden in August.
Day 7: Sheepdog Trials & Galway
Travel through the rounded limestone hills of the Burren to Caherconnell and watch a farmer work with skilled dogs to round up sheep. Stop in the coastal village of Ballyvaughan and drive into Galway for a guided walking tour around the central attractions. .  It is said that Christopher Columbus stopped here en route to the New World(B, D)
Day 8: Connemara Catamaran Cruise & Farmhouse Visit
Head to Standun of Spiddal for coffee and a talk. Drive through Connemara to Leenane for a short catamaran cruise of Killary Harbour to view great scenery. Near Clifden is a monument shaped like an aircraft's tail fin. It marks the spot where Alcock & Brown crash landed in 1919.  From the air, the ground looks flat and firm, but it's not, and it fooled them. At Dan O'Hara's Homestead, see traditional farming methods as well as Connemara ponies, donkeys and chickens. Savor a farmhouse lunch before returning to Galway. (B, L) Call 1-800-221-2474 9AM - 6PM Mon-Fri Eastern Time
Please Email Us For Information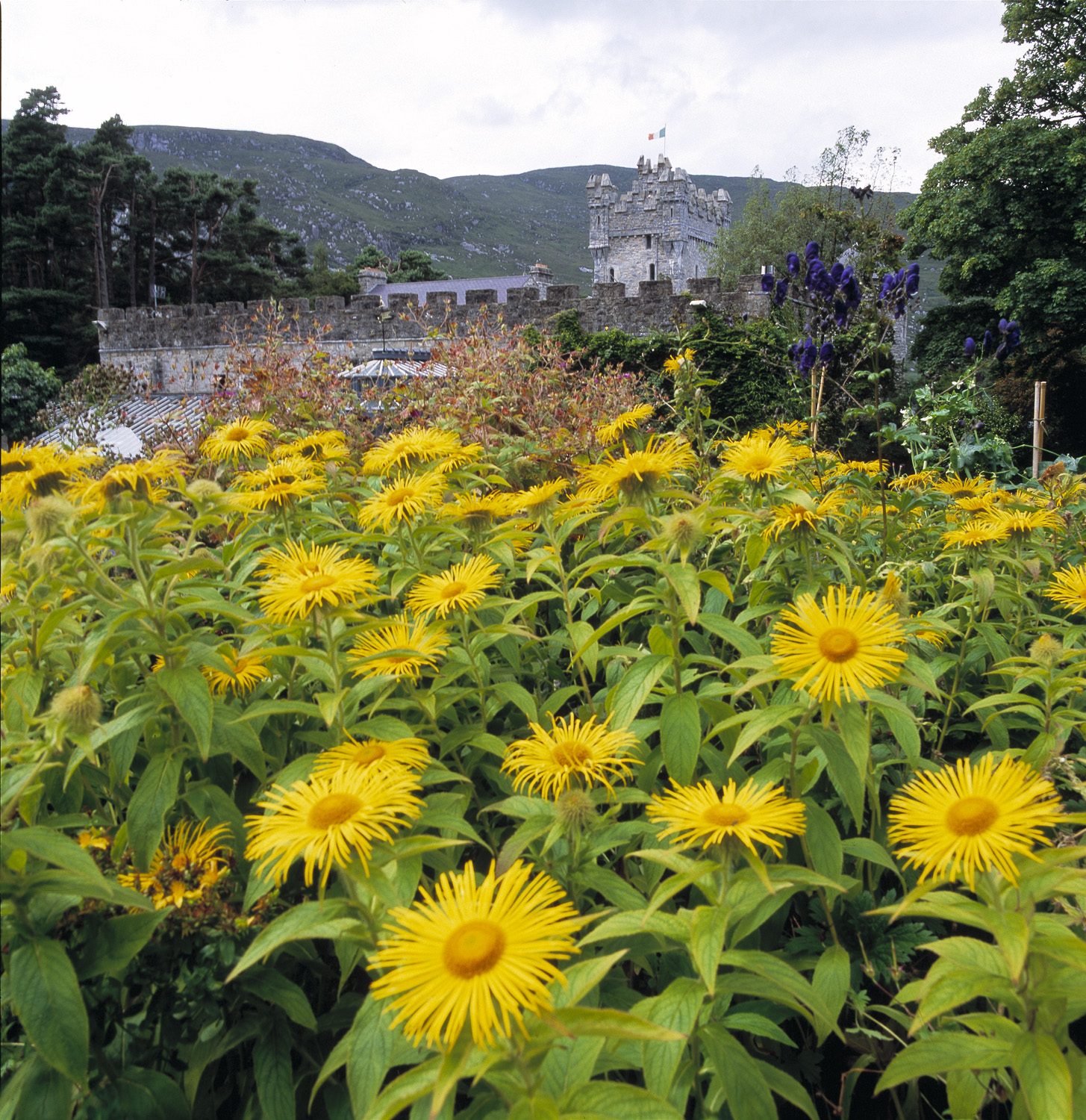 Day 9: Lissadell House & Donegal Bay
Drive north through County Mayo and in County Sligo tour Lissadell House, a magnificent country estate that has strong connections with the 1916 Rising. Tour the Belleek Pottery Factory to see craftspeople create the renowned fine china. Stop in Donegal town for free time before driving to your hotel two miles outside the town. This enchanted corner of Ireland lies off the beaten track and is an unexpected wonder to those who venture here.  (B, D)
Day 10: Slieve League Cliffs & Donegal Castle
Drive along the coast to view Europe's highest sea cliffs at Slieve League, which make a sheer drop to the wild Atlantic waves. Enjoy coffee or tea with home-baked scones. Visit Triona Design in Ardara for demonstrations of spinning and knitting. Stop in Donegal town for a tour of Donegal Castle, built by the O'Donnell chieftain in the 15th century and return to your hotel. (B, D)
Day 11: Derry Walk & Giant's Causeway
Take a walking tour with a local guide to see Derry's medieval walls, the Diamond and St. Columb's Cathedral. Pause for photos at Dunluce Castle before exploring the Giant's Causeway, enormous hexagonal columns formed over 60 million years ago. See where "Game of Thrones" was filmed along the scenic Nine Glens of Antrim route and drive to your hotel in Belfast. (B, D)
Day 12: Titanic Belfast & Cabra Castle
Tour Belfast to see Victorian buildings and the shipyards where RMS Titanic was built in 1912. Visit Titanic Belfast to learn about this famous liner through state-of-the-art displays. Learn about Ireland's patron saint in the St. Patrick Centre before driving to Kingscourt to your lovely castle hotel, built in 1760. After dinner, watch a step-dancing display. (B, D)
This morning kicks off with a trip to Standun of Spiddal for an Irish coffee and a talk on Irish crafts. From Standun, wind through Connemara to Leenane for a catamaran cruise of Killary Harbour. After your cruise, it's off to Dan O'Hara's Homestead to see traditional farming methods as well as Connemara ponies, donkeys and chickens. Savor a farmhouse lunch before returning to Galway for a free evening. * NOTE for July 30 departure: In the morning, drive through Connemara to Leenane for a catamaran cruise of Killary Harbour, followed by Dan O'Hara's Homestead as described above and return to Wesport.
(B, L)
Day 13: Neolithic Tombs & Drogheda
Departing Kingscourt, travel into County Meath to visit the Boyne Valley Visitor Centre to learn about the 5,000-year-old burial tombs of Newgrange and Knowth, complete with the opportunity to walk through one of them. After your visit, continue to Drogheda for a leisurely stroll around the historic town and sample locally-brewed beer in a traditional pub. Check in to your hotel and take some time to relax before tonight's farewell dinner. In the evening, live music is on the menu at Wm Cairnes Gastro Pub where you'll meet members of Comhaltas, an organization that promotes the preservation of traditional Irish instruments, music and dance.(B, D)
or
14 Day tour:
Day 14: Tour Ends in Dublin

Your program ends after breakfast.
Group transfers are provided to Dublin Airport to arrive at 6:00 am, 9:00 am or 12:00 noon to check in for your flight home. (B)
or
15 Day Tour:
Day 14: Dublin Independent Sightseeing
Drive to Dublin to spend an additional day as you wish. If you did not use your independent Dublin open-top bus tour and Guinness or Jameson voucher on the afternoon of day 2, you will have a full day to enjoy these features. (B)
Day 15: Tour Ends Dublin Your program ends after breakfast. (B)
B=Breakfast, CB=Continental Breakfast, L=Lunch, D=Dinner
The Jewels of Ireland - Two Week Ireland Guided Tour Includes
GROUP AIRPORT TRANSFERS
When we book your flights together with a coach tour, we include complimentary group transfers on the starting and ending date of tours at times specified on each itinerary-a $30 per person fee applies to land only bookings.
Sightseeing by luxury coach
Professional tour director
14 nights in hotels listed
Full breakfast daily (B) except on day 1
10 dinners (D) including
- Dinner and traditional show in Dublin
- Knappogue Castle Medieval Banquet
- Wm Cairnes Gastropub farewell dinner
- 7 table d'hote dinners
2 Lunches (L)
Welcome get-together drink
Tours of Dublin & Belfast
Walking tours of Kinsale, Galway, Derry and Drogheda with local guides
Horse-drawn jaunting car ride in Killarney
Irish coffee at the South Pole Inn
Sheepdog trials at Caherconnell
Coffee and talk on Irish life at Standun of Spiddal
Killary Fjord catamaran cruise
Dan O'Hara's Homestead Farm
Slieve League sea cliffs followed by home-baked scones with coffee or tea
Step dancing display in Cabra Castle Hotel
Dublin open-top bus tour with a visit to Guinness Storehouse or General Post Office
Visits and admissions to Blasket Centre Boyne Valley Visitor Centre Dingle Bay Cruise The Dark Hedges Donegal Castle Giant's Causeway Lissadell House Slieve League - Europe's Highest Sea Cliffs Titanic Belfast
Headsets for walking tours
Deluxe carry-on backpack, ticket wallet, luggage tags & strap
All local taxes, hotel service charges & porterage for one suitcase per person
Free Wi-Fi on coaches and in hotel lobbies
Your Hotels Stay at the following (or similar):
Stay at the following (or similar):
Gibson Hotel Dublin (2 nights)
Actons Hotel Kinsale (1 night)
Cathernane Hotel Killarney (2 nights)
Temple Gate Hotel Ennis (1 night)
Galway Bay Hotel Galway (2 nights)
Mill Park Hotel Donegal (2 nights)
Radisson Blu Belfast Hotel Belfast (1 night)
Cabra Castle Hotel Kingscourt (1 night)
Knightsbrook Trim(1 night)
Croake Park Dublin (1 night)
Price per person sharing a twin or triple room. ONLY ONE TRIPLE ROOM IS AVAILABLE PER DEPARTURE - BOOK EARLY. Save 10% per person on coach land tour prices if you are 8 & under 18 and traveling with at least one full fare paying passenger. Airfare is available from many cities
TERMS & CONDITIONS: Pay a $500 per person deposit.

Please Email Us For Information
Travel Insurance from $60 Request a price quote
14 days Dublin to Dublin

Start
End
Special
DUBLIN
Departure
Fri Mar 29, 2019
Thu Apr 11, 2019
US$4049
Guaranteed Small Group
Sun Apr 14, 2019
Sat Apr 27, 2019
US$3399
Guaranteed
Sun Apr 21, 2019
Sat May 04 2019
US$3649
Sun May 05 2019
Sat May 18, 2019
US$3999
Fri May 17, 2019
Thu May 30, 2019
US$4699
Guaranteed Small Group
Sun May 19, 2019
Sat Jun 01 2019
US$4099
Sun May 26, 2019
Sat Jun 08 2019
US$4049
Sun Jun 02 2019
Sat Jun 15, 2019
US$4199
Sun Jun 09 2019
Sat Jun 22, 2019
US$4149
Guaranteed
Fri Jun 14, 2019
Thu Jun 27, 2019
US$4199
Fri Jun 21, 2019
Thu Jul 04 2019
US$4199
Sun Jun 23, 2019
Sat Jul 06 2019
US$4899
Guaranteed Small Group
Sun Jun 30, 2019
Sat Jul 13, 2019
US$4199
Guaranteed
Fri Jul 05 2019
Thu Jul 18, 2019
US$4199
Fri Jul 12, 2019
Thu Jul 25, 2019
US$4199
Sun Jul 14, 2019
Sat Jul 27, 2019
US$4149
Guaranteed
Sun Jul 21, 2019
Sat Aug 03 2019
US$4149
Fri Aug 02 2019
Thu Aug 15, 2019
US$4199
Guaranteed
Sun Aug 04 2019
Sat Aug 17, 2019
US$4199
Fri Aug 09 2019
Thu Aug 22, 2019
US$4199
Sold Out
Sun Aug 11, 2019
Sat Aug 24, 2019
US$4199
Guaranteed
Fri Aug 16, 2019
Thu Aug 29, 2019
US$4149
Sun Aug 18, 2019
Sat Aug 31, 2019
US$4149
Guaranteed
Sun Aug 25, 2019
Sat Sep 07 2019
US$4199
Fri Aug 30, 2019
Thu Sep 12, 2019
US$4899
Guaranteed Small Group
Sun Sep 01 2019
Sat Sep 14, 2019
US$4199
Sun Sep 08 2019
Sat Sep 21, 2019
US$4199
Guaranteed
Fri Sep 13, 2019
Thu Sep 26, 2019
US$4199
Sun Sep 15, 2019
Sat Sep 28, 2019
US$4199
Sold Out
Fri Sep 20, 2019
Thu Oct 03 2019
US$4049
Guaranteed
Fri Sep 27, 2019
Thu Oct 10, 2019
US$3849
Sun Sep 29, 2019
Sat Oct 12, 2019
US$4549
Guaranteed Small Group
Sun Oct 06 2019
Sat Oct 19, 2019
US$3599
Guaranteed
Fri Oct 18, 2019
Thu Oct 31, 2019
US$3599
Fri Oct 25, 2019
Thu Nov 07 2019
US$3349

Single room supplement: $890
15 days Dublin to Dublin
Start
End
Special
DUBLIN
Departure
Fri Mar 29, 2019
Fri Apr 12, 2019
US$4799
Guaranteed Small Group
Sun Apr 14, 2019
Sun Apr 28, 2019
US$3549
Guaranteed
Sun Apr 21, 2019
Sun May 05 2019
US$3799
Sun May 05 2019
Sun May 19, 2019
US$4219
Fri May 17, 2019
Fri May 31, 2019
US$4969
Guaranteed Small Group
Sun May 19, 2019
Sun Jun 02 2019
US$4319
Sun May 26, 2019
Sun Jun 09 2019
US$4269
Sun Jun 02 2019
Sun Jun 16, 2019
US$4419
Sun Jun 09 2019
Sun Jun 23, 2019
US$4369
Guaranteed
Fri Jun 14, 2019
Fri Jun 28, 2019
US$4419
Fri Jun 21, 2019
Fri Jul 05 2019
US$4419
Sun Jun 23, 2019
Sun Jul 07 2019
US$5169
Guaranteed Small Group
Sun Jun 30, 2019
Sun Jul 14, 2019
US$4419
Guaranteed
Fri Jul 05 2019
Fri Jul 19, 2019
US$4419
Fri Jul 12, 2019
Fri Jul 26, 2019
US$4419
Sun Jul 14, 2019
Sun Jul 28, 2019
US$4369
Guaranteed
Sun Jul 21, 2019
Sun Aug 04 2019
US$4369
Fri Aug 02 2019
Fri Aug 16, 2019
US$4419
Guaranteed
Sun Aug 04 2019
Sun Aug 18, 2019
US$4419
Fri Aug 09 2019
Fri Aug 23, 2019
US$4419
Sold Out
Sun Aug 11, 2019
Sun Aug 25, 2019
US$4419
Guaranteed
Fri Aug 16, 2019
Fri Aug 30, 2019
US$4369
Sun Aug 18, 2019
Sun Sep 01 2019
US$4369
Guaranteed
Sun Aug 25, 2019
Sun Sep 08 2019
US$4419
Fri Aug 30, 2019
Fri Sep 13, 2019
US$5169
Guaranteed Small Group
Sun Sep 01 2019
Sun Sep 15, 2019
US$4419
Sun Sep 08 2019
Sun Sep 22, 2019
US$4419
Guaranteed
Fri Sep 13, 2019
Fri Sep 27, 2019
US$4419
Sun Sep 15, 2019
Sun Sep 29, 2019
US$4419
Sold Out
Fri Sep 20, 2019
Fri Oct 04 2019
US$4269
Guaranteed
Fri Sep 27, 2019
Fri Oct 11, 2019
US$4069
Sun Sep 29, 2019
Sun Oct 13, 2019
US$4819
Guaranteed Small Group
Sun Oct 06 2019
Sun Oct 20, 2019
US$3819
Guaranteed
Fri Oct 18, 2019
Fri Nov 01 2019
US$3819
Fri Oct 25, 2019
Fri Nov 08 2019
US$3569

Single room supplement: $985
Cancellation Penalties: Airfare up to 100%; Land: Penalties per person apply: 70 days or longer: Forfeiture of deposit 69 - 46 days: 35% per person 45 - 8 days: 45% per person 7 - 1 days: 60% per person, On day of departure: 100% per person Call 1-800-221-2474 9AM - 6PM Mon-Fri Eastern Time
Please Email Us For Information Call 1-800-221-2474 9AM - 6PM Mon-Fri Eastern Time