Irish Castle Recommendations:Choose from castles Ireland & Northern Ireland

Cabra Castle
Its halls and courtyards once echoed to the footsteps of Oliver Cromwell and James II.Today the former Corney Castle offers a tranquil sanctuary to the busy wayfarers of modern times.Set in 100 acres of parkland, Cabra Castle's rooms offer unique antiques and paintings.Leisure facilities include a 9 hole golf course, enclosed gardens and Lady's Lake and walks through the forest park.Situated in Kingscourt, Co. Cavan, just 1 ½ hours from Dublin.

DROMOLAND CASTLE

Dromoland Castle is spectacular. Before it became a luxury hotel in 1963, Dromoland Castle saw almost 400 years as the ancestral home of the O'Brien clan. Now it is the luxurious sister hotel of the prestigious Ashford Castle. Jacket and tie for gentlemen are required after 7 PM in the elegant, formal dining room and the book lined bar where guest often settle after dinner to join in the singing of popular Irish ballads. The sumptuous, ornate drawing room is an ideal haven for morning coffee and afternoon tea. Up the grand staircase are found the hotel's premier rooms and luxurious suites and a portrait gallery of past incumbents of the estate. Smaller cozy room are located round a courtyard in the castle's oldest part (1736) and have the same lavish amenities: robes, slippers, masses of toiletries, fruit bowl, and a decanter of Irish Mist. Fishing, horse riding, and bird shooting can be arranged nearby, and tennis court and Dromoland's golf course are here for you to use.

Co. Kerry Ballyseede Castle
Ballyseede Castle was the chief garrison of the legendary Fitzgerald, Earls of Desmond. Following the defeat of the Fitzgeralds in 1584, the house and land was deeded for the some of one red rose per year to be presented on mid summers Day. Ballyseede Castle has two curved bows on either side and a battlemented parapet. The relaxed and low-key castle stands at the end of its own winding carriage drive or avenue.

Co. Mayo Ashford Castle
The magnificent five star Ashford Castle is set in 350 acres, on the picturesque shores of Lough Corrib, with its hundreds of islands, bays,. This is a hotel that attracts kings and presidents the billiard room was built for King George V (then the prince of Wales) when he came to stay in 1905; for President Reagan's visit in 1984, a luxurious bed was commissioned. You can enjoy Irish entertainment in the Dungeon Bar, take a stroll through the lakeside gardens, or saunter into the adjacent village of Cong. Ashford was voted the #1 resort in Great Britain and Ireland.

KINNITTY CASTLE
Your fairytale castle awaits at Kinnitty. Kinnitty Castle is a gothic revival castle set in the foothills of the Slieve Bloom Mountains. Kinnitty has had a long a turbulent past. The first castle here dates to the 12th century. Leisure facilities include a health and fitness center with sauna.

WATERFORD CASTLE
Take the private ferry to a secluded island with a luxury castle hotel and golf course on the outskirts of Waterford city. Built by the Fitzgerald family in 1160, around the time of the Norman Invasion, the Castle was also the home of an Italian Princess. The driveway was a rough track carved out a thousand years ago by medieval monks. This is a cloud-grey stonework fantasy place, with granite arches and stout, studded oak doors. Spend your time at the tennis courts, swimming pool, or the par 72 golf course measuring 6,790 yards.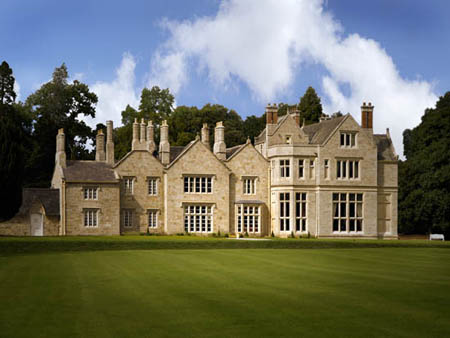 Lough Rynn Castle
One of Leitrim's most luxurious Castle Hotels, the ancestral home of the Clements family and the legendary Lord Leitrim. The entire estate comprises over 300 acres of an Ireland that is idyllic, rich in history and charmed with natural beauty. Our commitment at Lough Rynn Castle is to provide the highest level of comfort and service. You will enjoy old world elegance with modern day comforts. One step inside Lough Rynn Castle and you are at home. With our warm and friendly atmosphere we will see to your every need, everything has been designed with your desires in mind.



Kilronan Castle
One of Ireland's most luxurious deluxe castle Hotels, located in Roscommon Ireland, the ancestral home of the Tennison family and the legendary Colonel King Tennison. It is one of a few Irish castle estates that can trace its history back to royal families. This secluded, luxury, Roscommon Castle hotel is majestically set on the shores of Lough Meelagh, surrounded by over forty acres of breathtaking Irish scenery, lush green pastures, ancient forests and historical points of interest. Approached by a meandering drive that passes acres of magnificent lawns, the luxury Castle hotel will overlook the site for a proposed Nick Faldo Designed 9 Hole Par Three Golf Course and a glistening lake which commands the panoramic beauty of the surrounds.

CLONTARF CASTLE
This 17th century castle (originally built in 1132) was given to a loyal servant of Cromwell's army whose family continued to hold ownership for the next 300 years. Located just a few miles from Dublin city center, Clontarf offers 100 charming guestrooms, entertainment and elegant dining facilities.

BALLYGALLY CASTLE
The Ballygally Castle dates back to 1625 and the hotel is unique in that it is the only 17th Century building still used as a residence in Northern Ireland today! Ideally located on the scenic Antrim coast only 20 miles from Belfast, the hotel faces the soft, sandy beaches of Ballygally Bay and is an ideal base for touring. This enchanting hotel is full of character and charm The many original features and antique furnishings give the hotel a feeling of stylish living in the last century and add to the unique welcoming atmosphere! The famous "Nine Glens of Antrim" and the Giant's Causeway are near at hand and the superb scenery can be enjoyed from many coastal and glen walks.
Ballynahinch Castle Among rugged landscape and forest on a scenic 450-acre estate, this luxe castle hotel dating to 1756 overlooks a salmon fishery on the Owenmore River.
Barberstown Castle Barberstown Castle, built in the 13th Century, is the only Castle which boasts close proximity to Dublin City Centre and Dublin Airport (both 30 minutes away)
Please Email Us For Information

Questions? Call Lynott Tours at 1 (800) 221-2474 USA Canada; 01 01 516 248 2042 ELSEWHERE