IRELAND RIVER CRUISE
The River Shannon is named after a Celtic goddess Sionna and is Irelands longest river at 224 miles, The Shannon rises in Co Cavan and flows gently south to Limerick and into the Atlantic Ocean.  It also divides the West of Ireland from the east and south.  All along the Shannon River, there are charming towns and villages, the most noteworthy being Carrick on Shannon, Athlone and Limerick.   Every town tells its own story.   Barge cruises in Ireland, especially on the Shannon is a great way to get away from the stresses of everyday life.   There are no traffic jams and there is lots of time for fishing, swimming, and all types of watersports.   Three major lakes on the Shannon are Lough Allen, Lough Ree and Lough Derg.   Not forgetting the Grand Canal and the Royal Canal which link the Shannon to Dublin.   With so much included in the price, Irish Barge trips offer value for money.  Travelling from town to village and no need to worry about directions or unpacking.  You will wake up in a different place every day, refreshed and ready for the next adventure.
Cruising Ireland on the River Shannon
SHANNON PRINCESS - CRUISING ON THE LOWER SHANNON- BARGING IN IRELAND

THE 10 PASSENGER SHANNON PRINCESS II is the largest luxury hotel barge cruising the Lower Shannon. Her
thoughtfully designed interior
includes twin or double beds with lough views, a comfortable saloon, dining area and full length sun deck. Her experienced Captain and crew go out of their way to ensure your every need is accommodated. Your
chef was trained at the Ballymaloe School
and distinguishes herself at every meal with signature dishes such as parcels of wild salmon, roast of spring lamb, variations of shellfish stew with fresh herbs and of course, a grand selection of desserts.
FEATURES Panoramic Windows Beautiful Sundeck. YEAR OF CONSTRUCTION: 2003 DIMENSIONS: Length 105 ' (32m), width 20" (6.0m) PERSONNEL CREW: 5. Captain, Tour Guide, Chef, x 3 Host/Hostesses Our crew are Irish and speak English. ACCOMMODATION 5 Suites each with an en-suite bathroom. All Suites have a choice of twin or double bedding. They also have a closet, private bathroom, individually controlled central heating, bottled water and chocolates. The cabins are all well above waterline with large panoramic windows allowing passengers a full, uninhibited view and have ample storage space. HAIRDRYERS: Yes. Internet access: There is wifi facility on board for passengers to connect to the internet if they bring their own laptop or phones. Guests can also have access to the internet at libraries and cyber cafes while visiting towns and villages during their canal cruising in Ireland.
click for picture
SAMPLE ITINERARY
SHANNON PRINCESS II - CLASSIC IRELAND CRUISE
Quigley's Marina to Killaloe
Sunday, Day 1 Quigley's Marina
We meet you at Brooks Hotel, the designated meeting place and transfer you by coach to the Shannon Princess moored at Quigley's Marina. Your Captain and his crew welcome you on board the delightful Shannon Princess with Champagne, Black Velvets or Irish Coffees! Dinner on board.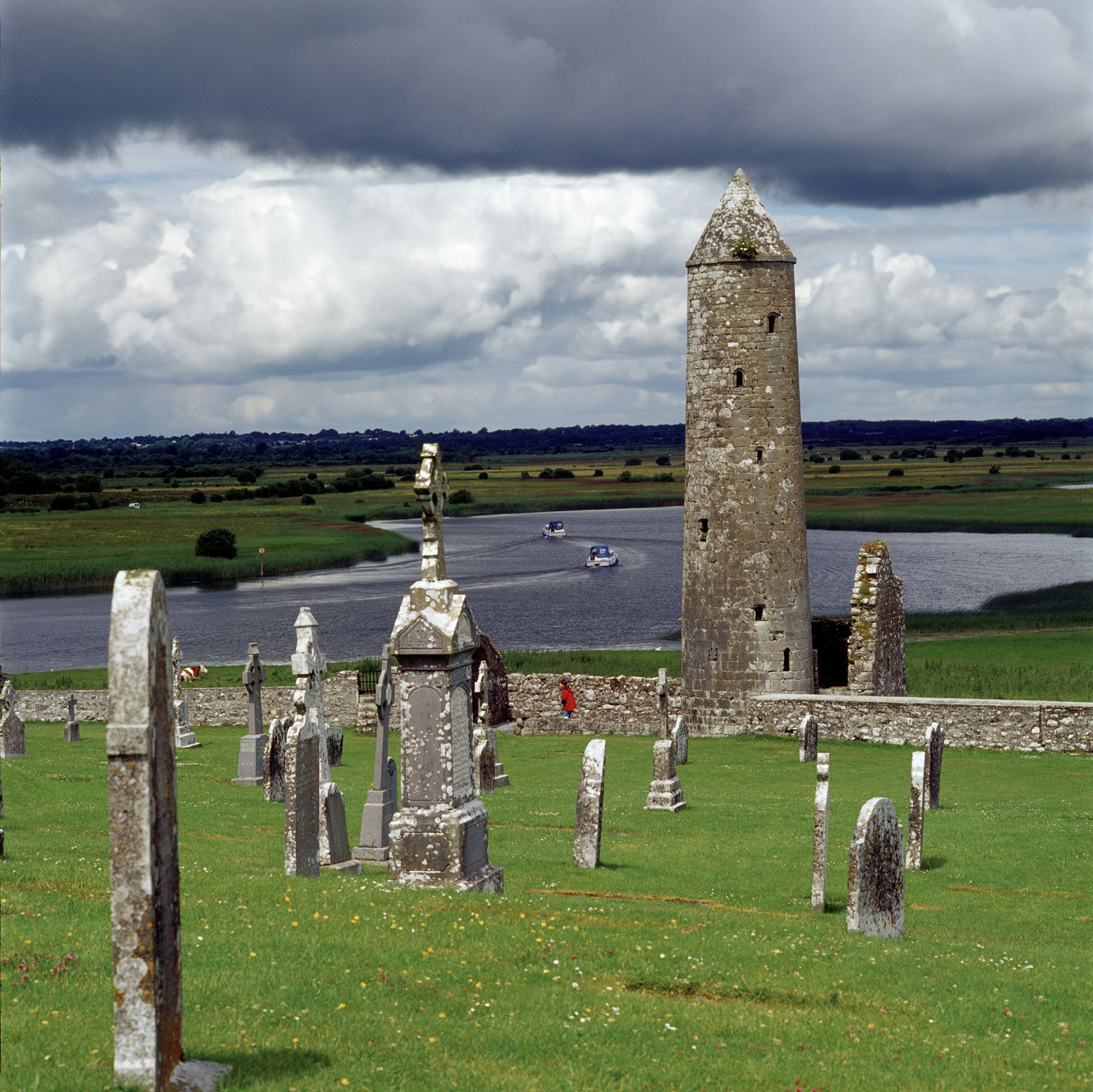 Monday, Day 2 Quigley's Marina to Athlone
This Morning we begin our cruise around the beautiful "Inner Lakes" of Lough Ree and then continue north to Lough Ree as we explore some of the 365 islands on the lake. We then circle back to the River and onto our mooring in Athlone Town. After lunch we depart by bus to the "Corlea Trackway Visitor Centre". The centre interprets an Iron Age bog road which was built in the year 148 BC across the Boglands close to the River Shannon. The oak road is the largest of its kind to have been uncovered in Europe and was excavated over the years by Professor Barry Raferty of University College Dublin. Dinner on board.
Tuesday, Day 3 Athlone to Shannonbridge
The Shannon Princess descends through Athlone Lock and heads south through Europe's richest example of "Callow" landscape. Countryside little changed in over 1000 years. This is one of Ireland's premier Wildfowl Reserves. We moor at Clonmacnoise ruins, a famed 6th.Century University and early Christian settlement. After a visit to the interpretive centre we lunch onboard enroute to Shannon Bridge arriving mid-afternoon to this typical Irish riverside town. After Lunch we depart by bus to "Birr Castle" Irelands Historical Science Centre and home of the Oldest Telescope in the World, with its glorious landscaped gardens dating from 17th. Century and family seat of the Earls of Ross. Dinner on board.

Wednesday, Day 4 Shannonbridge to Terryglass
We travel a very pretty stretch of the Shannon with an ever-changing landscape slipping by. Travelling down through Meelick lock, pausing as Portumna swing bridge is opened to allow passage onto idyllic Lough Derg. We moor at Terryglass Harbour. Lunch at the Derg Inn in the Village. Time to explore this charming Hamlet before an afternoon excursion to "Leap Castle", reputed to be Ireland's most haunted house. You will be greeted by Sean Ryan and his family who will invite you in to their unusual home and Sean, a renowned musician, will tell you the fascinating history of the castle and the part it played in founding the American Constitution. Sean will gladly play a few tunes with possibly the added bonus of being joined by his talented young daughter who will demonstrate her amazing dancing skills. Dinner on board.
Thursday, Day 5 Terryglass to Mountshannon
A full day excursion to Galway City - A lively University City and cultural centre for Irish speaking regions in Western Ireland. Visit Galway crystal and a profusion of craft and linen shops. Lunch at a Traditional Guinness & Oyster pub. Return to Shannon Princess and set sail through the especially beautiful Lough Derg passing Forrest Park and ancient mountains as we set our course for Mountshannon - a lovely lakeside village perched above the Lough. Dinner on board.
Friday, Day 6 Mountshannon to Killaloe
This morning we set sail through south Lough Derg and her many Islands rejoining the River Shannon and entering Killaloe, once home to the court of the greatest High King of Ireland, Brian Boru. We moor on the Tipperary side of this elegant little town, with plenty of time for you to visit the town. After lunch onboard, we set off by bus on our excursion to a unique project set in the grounds of Graggaunowen Castle, designed to bring Bronze Age & Celtic culture to life. Also on display is a reconstructed hide boat used by Irish Monks to sail to North America in the 5th. Century. Dinner on board.
Saturday, Day 7 Killaloe
After breakfast transfer by coach to the designated drop off point. On alternate weeks the cruise will be in the reverse direction. This is a sample itinerary and is subject to change.
Shannon Princess II Ireland
- the lower Shannon River
Rates are for six nights on either: A whole boat charter basis or per person based on double occupancy per cabin.
Ireland - Lower Shannon River - Shannon Princess II Accommodation
Please Email Us For Information
or
Call 1-800-221-2474 9AM - 6PM Mon-Fri Eastern Time
2018
| Accommodation | Value | Regular |
| --- | --- | --- |
| Suite per person | $4,400.00 | $5,050.00 |
| Single Supplement | $1,500.00 | $1,700.00 |
| Charter Max. 6 pax. | $37,100.00 | $41,400.00 |
| Charter Max. 8 pax. | $39,300.00 | $44,200.00 |
| Charter Max. 10 pax. | $41,500.00 | $47,000.00 |
| Departure Dates (Sunday) | Rate |
| --- | --- |
| April 22, 29, | Val |
| May 06, 13, 20, 27, | Reg |
| June 03, 10, 17, 24, | Reg |
| July 01, 08, 15, 22, 29, | Reg |
| August 05, 12, 19, 26, | Reg |
| September 02, 09, 16, 23, | Reg |