Great Britain - Scotland - Ireland - British Isles
Cruise Shore Excursions & Scheduled, small group Guided Tours for Princess, NCl, Royal Caribbean, Crystal , Celebrity and Oceania cruise lines in Ireland - British Isles Day Tours for everyone
Our small group, privately guided tours in Ireland and Britain for all travelers who want to enjoy our own, private tour and for Princess British Isles cruise ships in major ports. Have only a few hours to spend and want to cover the highlights or a special itinerary? Ask about a separate private car tour or shore excursion in Glasgow, Edinburgh, Dublin, Cobh (Cork) , just for your party, too..
We will pick you up at your hotel or cruise ship and return you in time for your sailing. Travel by chauffeured car, limousine or minicoach.
If you don't see exactly what you want here, please ask. We are experts at planning unusual itineraries.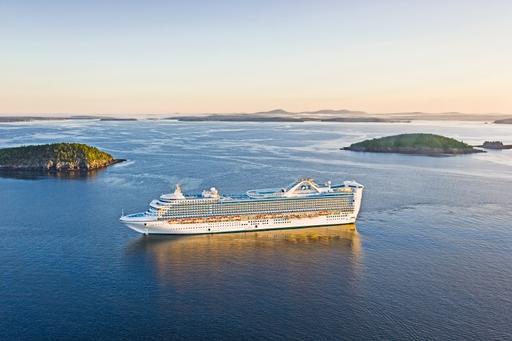 Elite cruise terminal private trips at competitive prices. Lynott Tours' shore excursion prices are considerably lower than those offered at ship's excursion desks for private excursions and even competitive with those for group bus tours. Conducted in English, our shore excursions, operated by sedans and minibuses, enjoy unrestricted access to city centers, carrying passengers directly to monuments and sites. No tiring, uncomfortable walks from and to distant parking places. Advance bookings at museums and sites ensure admission ahead of time consuming ticket lines.
We have both
scheduled small group tours
for most British Isles and Ireland sailings, as well asprivate departures for your group alone, in a separate minicoach for all cruiselines.
.
What's included in our SCHEDULED tours of Ireland and Britain :
UP TO 8 hour tours.
Minicoach tours with driver/guide (1 person). Scheduled tours have up to 16 persons on board.
Our tours include admission fees
Value-Added Tax (V.A.T.) and service charges.
The following are for Princess sailings. PLEASE NOTE: The following are scheduled tours, where you will share the coach with up to 16 persons. We will advise you of departure times when you make your reservations. Meet our driver/guide at the dock, near your cruiseship. Other dates/itineraries are available for private tours. See below.
Questions? Contact Lynott Tours at 1 (800) 221-2474 USA & Canada
Please Email Us For Information

Many cruise lines claim that if you do not book your shore excursions with them, they will leave without you. We have NEVER had a client left behind on one of our shore excursions!


We're the Britain and Ireland Shore Excursion experts. Whether your clients want to see historic sites, pubs, gardens or more - We Have It All !

Our small group shore excursions (limited to 16 persons), are operated by Lynott Tours in smaller minicoaches, mainly Mercedes vehicles which have access to places that the large coaches cannot go.. USD rates per person INCLUDING ADMISSION FEES.
SCHEDULED TOURS Per person in USD- no discount for children - SMALL GROUP EXCURSIONS
| | |
| --- | --- |
| IRELAND SHORE EXCURSIONS | small group |
| USD PER PERSON | |
| DUBLIN PORT | 168 |
| CORK, WATERFORD, FOYNES | 146 |
| BELFAST, DERRY | 164 |
BRITISH SHORE EXCURSIONS
USD PER PERSON
SCHEDULED
SCOTLAND GLASGOW EDINBURGH
               112
ENGLAND, WALES
               193
What's included in our SCHEDULED shore tours and day trips of Ireland and Britain:
UP TO 6-8 hour tours.
Minicoach tours with driver/guide (1 person), limited to 16 persons, total
Admission fees (except where shown)
Value-Added Tax (V.A.T.) and service charges.
ALL TOURS ARE CONDUCTED WITH A DRIVER/GUIDE (1 PERSON). Shore excursions are scheduled for British Isles cruises on Princess.

CLICK HERE FOR PRIVATE TOURS - JUST FOR YOUR GROUP

Transfers: Princess offers group transfers from London Victoria Station, Gatwick and Heathrow Airports ONLY. We have a program, however, that picks you up from your London hotel, and includes a stop at Stonehenge, or goes direct. If you would like private transfers, just for your party, and your schedule, please click here
Scheduled, shared transfers:
| | |
| --- | --- |
| Southampton direct | USD per person |
| To/from London Heathrow | $114 |
| To/from central London | $124 |
Southampton via Stonehenge

Entry to Stonehenge included

USD per person
To/from London Heathrow
$142
To/from central London
$152
| | |
| --- | --- |
| Southampton via Downton Village, Cotswolds & Blenheim Palace | USD per person |
| To/from London Heathrow | $205 |
| To/from central London | $215 |
AVAILABLE DATES: Available all dates Royal Caribbean, Princess, Azamara, Celebrity, NCL & Oceania
PRIVATE TRANSFERS PER CAR:
| | |
| --- | --- |
| Heathrow to/from Southampton | USD |
| Standard car | $288 |
| Standard car with 2 hour sightseeing | $481 |
| Executive Car 1-2 pax | $346 |
| Executive car with 2 hour sightseeing | $539 |
| MPV 1-4 pax | $327 |
| MPV with 2 hour sightseeing | $520 |
| 8 Seater Minivan | $385 |
| 8 seater Minivan & 2 hour sightseeing | $578 |
| | |
| London to/from Southampton | USD |
| Standard car | $346 |
| Standard car with 2 hour sightseeing | $539 |
| Executive Car 1-2 pax | $385 |
| Executive car with 2 hour sightseeing | $578 |
| MPV 1-4 pax | $423 |
| MPV with 2 hour sightseeing | $617 |
| 8 Seater Minivan | $520 |
| 8 seater Minivan & 2 hour sightseeing | $713 |
| | |
| Gatwick to/from Southampton | USD |
| Standard car | $327 |
| Standard car with 2 hour sightseeing | $520 |
| Executive Car 1-2 pax | $385 |
| Executive car with 2 hour sightseeing | $578 |
| MPV 1-4 pax | $404 |
| MPV with 2 hour sightseeing | $597 |
| 8 Seater Minivan | $481 |
| 8 seater Minivan & 2 hour sightseeing | $675 |

Pre or Post Cruise London Hotels: WE HAVE MORE THAN 100 HOTELS AVAILABLE IN LONDON BEFORE OR AFTER THE CRUISE. Here are a few.

Read about our excursions to the ancient castles, picture book villages, museums, and many more exciting places.

Scheduled Shore Excursion: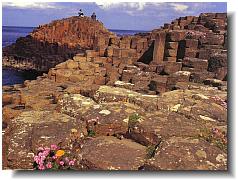 DUBLIN This is fun and activity packed day


DUBLIN GUINNESS & BOOK OF KELLS FULL DAY- AVAILABLE SMALL GROUP SHORE EXCURSIONS You will be taken on a half-day sightseeing tour of Ireland's capital. Dublin has retained its aura of Georgian elegance with many examples of fine architecture. Tour Trinity College, founded in the sixteenth century, where you will certainly want to spend some time in the library viewing the famous Book of Kells. You'll see the curved Bank of Ireland Building which was once the Parliament House. Visit the Guinness Storehouse in the heart of old Dublin at St. James Gate. This your introduction to the world's most famous creamy stout, an exploration of the ingredients, brewing process, cooperage, the time and the passion that goes into brewing Guinness. Here, you sample some of the famous brews in the Gravity Bar. There's no finer way to spend your time in Dublin. Free time for shopping and exploring on your own.
.
Questions? Contact Lynott Tours at 1 (800) 221-2474 USA & Canada
Please Email Us For Information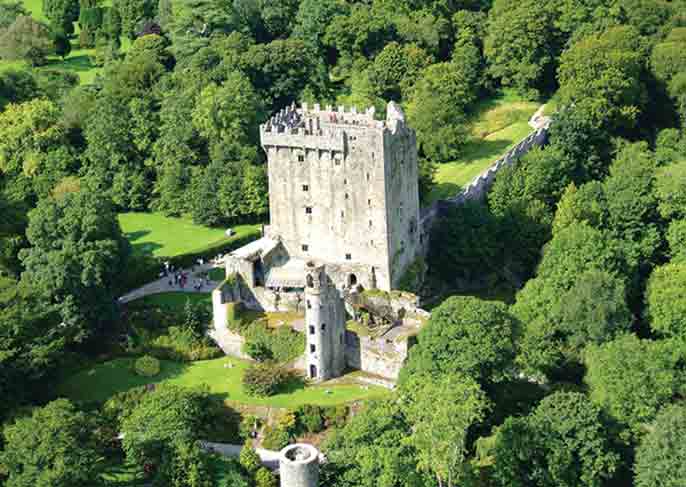 COBH (CORK) - BLARNEY, KINSALE EXCURSION AVAILABLE SMALL GROUP SHORE EXCURSIONS You take the scenic route through Cobh, originally a small fishing village, and then the base for the British Navy. Cobh was the departure point for many Irish immigrants in the 19th century, and is associated with the loss of the Titanic and Lusitania. Titanic victims are buried in the local graveyard. Visit Blarney with time for shopping at the Blarney Woolen Mills and a chance to kiss "The Stone". The Rock Close and its surroundings, is a curious place of ancient trees and far more ancient stones, by legend a garden of druidic origin and a center of worship in pre-Christian days. The place has an aura of magic and mystique with Wishing Steps, Witch's Kitchen, Druids' Cave and many other delights, telling a story of centuries past. Kinsale, one of the most historic and picturesque towns in Cork has quaint cobbled streets, gourmet restaurants and yachts moored in the harbor. Full Day.

Another hint for you is to learn some differences in Irish English and American English: Togs are men's bathing suits (usually Speedo style).
Jumpers are sweaters.
Belfast Full Day: Explores the city centre but also the Titanic Quarter (see the original dock where the grea tcruise liner was built), and Belfast Castle, the Falls Road, the Murals and Crown Liquor Saloon. Visit the Loyalist and Republican wall murals and see street art. With peace and stability now almost normal, the murals are becoming historic markers. The Crown Liquor Saloon is one of the world's most famous surviving Victorian pubs, now owned by the National Trust. 

Shore Excursions in Scotland
Edinburgh & Glasgow
Glasgow By Private Car - Full Day



GLASGOW, LOCH LOMOND, STIRLING, LUSS AND THE TROSSACHS DAY TOUR AVAILABLE SMALL GROUP SHORE EXCURSIONS
On arrival you will be given a warm Scottish welcome by your kilted tour guide and shown to your minibus, then departing for your first destination, Glasgow with its Victorian architecture. You will hear all about the history including its rich shipbuilding past and famous sons and inventors. Visit Glasgow Cathedral, built in the 12th century and recently used for Outlander, Season 2, then to the oldest house in Glasgow built in 1471.


Then head on to Stirling Castle, a magnificent castle which is one of the most important Scottish castles architecturally and historically dating from the 12th Century, to The Wallace Monument which was built in 1869 to commemorate William Wallace's defeat of the English King Edward I's army in the 13th century, made famous by the film Braveheart. 

You will then travel to the beautiful Loch Lomond and The Trossachs and the conservation village of Luss, located on the bonnie banks of the loch overlooking Ben Lomond which stands at over 974 metres high.  Arriving back to your ship between 16.30hrs and 17.00hrs.  Price of tour includes bottled water, light snacks and a wee dram of whisky for the adults and for the kids, Irn Bru, our other national drink. Admission to Stirling Castle is not included.


SPECIAL SHORE EXCURSION FOR AUGUST DEPARTURES: Travel by coach from Glasgow to Edinburgh to enjoy the Edinburgh Tattoo.
The Edinburgh Military Tattoo is Scotland's biggest, best-selling spectacle, the most popular event. Enjoy a panoramic tour of the Royal Mile. Then, attend the Tattoo at Edinburgh Castle. It's a spine-tingling sights and sounds of the world famous Massed Pipes and Drums, the finest bagpipe display anyone can witness anywhere in the world. An 1 ½ hour event not to be missed in Edinburgh in August, with performances: Monday to Friday at 9.00pm. Saturdays at 7.30pm and 10.30pm. There is no performance on Sunday. The Tattoo has never been cancelled due to bad weather. Evening Tour.



Edinburgh from South Queensferry, Rosyth or LeithEDINBURGH SIGHTSEEING

EDINBURGH FULL DAY: The "City of Princes". Take a private tour of the principal sights of this elegant Georgian city. Drive along Princes Street and through the 200-year-old New Town. See the medieval section of the city and visit Edinburgh Castle which dominates the city center and contains many interesting exhibits. Your exploration of the capital of Scotland includes the "Royal Mile", from Edinburgh Castle, high atop Edinburgh Rock, (spending 1 -2 hours soaking up all its rich history on a guided tour) to the Palace of Holyroodhouse. Holyroodhouse is the formal home of the Royal Family in Scotland. Mary, Queen of Scots lived here from 1561 to 1567, and watched as her secretary, David Riccio was murdered. The last Stuart to reside here was Bonnie Prince Charlie. then a drive up to Arthur's Seat where you will enjoy a panoramic view of Edinburgh. Your tour will then move on to Rosslyn Chapel, made famous by Dan Brown's 'The Da Vinci Code' and featured in the film, also visiting the ruins of Rosslyn Castle, of the Clan Sinclair. There will be an opportunity to visit The Rosslyn Inn, for some lunch and then a visit to Glenkinchie Whisky Distillery. This tour can be changed to accommodate other desired destinations. (refreshments, lunch and visitor attraction fees not included in price)

EDINBURGH SIGHTSEEING - OUTLANDER TOUR

Relive some important scenes from Outlander in the Kingdom of Fife. Fife is one of the most important royal historical regions of Scotland, 1700 Culross was mainly used as the fictional Cranesmuir in Outlander with the area around the Mercat cross being the most notable.   The yellow Culross Palace is an interesting place to visit. You will recognize many of the rooms as the settings for various Outlander scenes,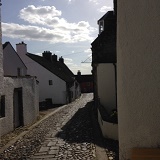 and the lovely garden at the rear was used as Claire's herb garden in the series.  Another Culross location used in the filming is the ruined West Kirk, perhaps better known as the Black Kirk, probably best not to eat anything growing wild here! Enroute, we see some colourful fishing villages, and the modern wonders, the Kelpies sculptures. Time free for shopping in Edinburgh as well.

INVERGORDON (INVERNESS) Loch Ness & Culloden Battlefield You will be taken on a tour of the world famous Loch Ness, visiting the iconic Urquhart Castle where most sightings of the monster Nessie have been reported. We will stop off at the falls of Invermoriston, these stunning falls can be found by a short walk over Thomas Telford's bridge over the River Moriston. Your tour will then head off to Fort Augustus at the bottom of Loch Ness for lunch or refreshments. Afterwards your tour continues on the scenic route of Strath Nairn and on to Culloden Battlefield and visitor centre before heading back to Invergordon. Admission fees are not included.

Questions? Contact Lynott Tours at 1 (800) 221-2474 USA & Canada
Please Email Us For Information

Shore Excursions in Great Britain, London, Dover, Harwich, Southampton

Pre and post tours are available, along with port transfers.



TRANSFER LONDON - SOUTHAMPTON - STONEHENGE TOUR & SALISBURY One of the most beautiful, and one of the most typical of English cathedral towns, its narrow streets are busy and prosperous-looking, seeming to bear witness to important history here. Salisbury dates from the early 13th century. Many of the Cathedral's treasures are due to the restoration in the 18th century by Wyatt. Salisbury is rich in late medieval gabled houses in narrow alleys, and has countless interesting buildings. Stonehenge is the most famous of the great prehistoric monuments of the British Isles. Stonehenge is in the form of a circle of massive stones dating from the Bronze Age, whose axis is aligned with the sunrise on the longest day of the year. Its purpose is thought to be religious, to do with the foretelling of the seasons and perhaps, the worship of a sun-god. You will be transfrred to your ship in Southampton. Available in the reverse direction as well, at the end of your cruise.

If you have more time, Oxford and the sleepy villages in the Cotswolds would be perfect for 2-3 days.

HARWICH- CAMBRIDGE COLLEGES & PUNT RIDE OF THE RIVER CAM


Cambridge features winding streets lined with old houses and shops on the River Cam. The Romans used Cambridge as an inland port. Cambridge has a wealth of historic buildings, and much of its charm lies in winding back streets and passages. You take a walk among the "Backs", the Mathematical Bridge and venerable colleges. There are now 31 colleges, founded mostly by kings, queens, bishops and nobles. The beautiful buildings reflect 700 years of British architectural heritage. One of the highlights of a visit to Cambridge is to take a ride in a punt—a flat-bottom boat propelled by a 16 foot pole which is also used to steer along the River Cam—one of the most beautiful stretches of river in England. Take in the Bridge of Sighs, King's Chapel and the Wren Library at Trinity from a river perspective, then stroll to Kings College Chapel. Henry VI laid the foundation stone of the Chapel in 1446 and the windows were made by Flemish craftsmen—the finest collection of medieval stained glass in the country.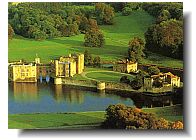 DOVER LEEDS CASTLE & CANTERBURY
Kent has some of the most romantic castles in Britain, including Leeds Castle in Maidstone. With a fairytale setting, standing romantically on three islands encircled by a lake, this gem of a castle has a long and dramatic history. Lovingly restored, it is home to a magnificent collection of medieval furnishings, paintings, tapestries and treasures. Travel to Canterbury, England's cathedral city with historic buildings and narrow streets. Canterbury has an interesting history, and a long one. It has been inhabited since 350AD. This was the cradle of Christianity in Saxon England. The first cathedral was built in 597 by St. Augustine. Thomas Becket was murdered before the high altar in 1170. Timbered and tile-hung villages welcome you on a leisurely afternoon drive through delightful hamlets and along leafy country roads. There will be an opportunity to visit some of the villages' winding streets, small shops and historical atmosphere as you return via County Kent to Dover.

TORQUAY (TORBAY) ENGLAND UK Situated in the picturesque county of Devon, Torbay has been a favorite seaside resort for British society since the early 19th century. Savor a traditional Devon tea – scones piled high with jam and rich Devon cream; explore Kents Cavern, an impressive system of caves dating from the Stone Age; and visit Powderham Castle built in 1391 and enjoy a rare opportunity to meet the current Duke of Devon.


CORNWALL: (FALMOUTH) LAND'S END & ST IVES - Cornwall (Falmouth) or Fowey (pronounced Foy) Experience the beauty of Cornwall on a scenic drive that travels to Land's End, the most westerly point of the English mainland with spectacular views across the Atlantic Ocean. The rugged coastline, colored by the setting sun and seagulls and terns circling overhead will provide one of the most everlasting memories of your visit. We enjoy a delightful day touring this beautiful area and rugged coastline. We will visit the artists' colony of St. Ives, and the amazing island world of St. Michael's Mount near Penzance. Follow the footsteps of pilgrims. St. Ives, an old fishing port, is full of character. Full Day.


Rates on public holidays are 25% higher; on Christmas and New Year's 50% higher.

Customized Itineraries We can modify the itinerary to suit your needs. We can arrange private guided tour designed just for you.

Questions? Contact Lynott Tours, at 1 (800) 221-2474USA & Canada 

Please Email Us For Information