Group Tours - 7 Day Best of Ireland South Tours and Travels (Tour A) 7 Days / 6 Nights
Enjoy a one week Dublin to Shannon group tour of Ireland. Our tours and travel program gives you the best chance to view the must-sees in Ireland in a shorter tour.
map
Day 1: Welcome to Dublin! Experience the sophistication of Dublin and the peaceful ambience of small villages. Have a pint with friendly locals at a lively pub. All that is best about Ireland is yours to enjoy on this memorable journey. Today you may use your independent open-top bus tour voucher with a visit to Guinness Storehouse or General Post Office Museum – these features are valid for 48 hours. Your group tour begins tomorrow.
Day 2: Dublin & Taylor's Three Rock Pub
Enjoy a free morning in Dublin for further sightseeing with the included vouchers. At 2:00 pm meet at your hotel to join a local guide for a tour of ancient and modern Dublin. Drive through the main streets to see historic buildings such as the General Post Office in O'Connell Street where the 1916 Uprising started; Leinster House, the seat of government; and rows of Georgian houses with gaily-painted doorways. Walk through the campus of Trinity College with a student guide to view the illuminated manuscript of the 8th century Book of Kells and learn how monks created this and other masterpieces. Return to your hotel for a get-together with your tour group and a welcome drink. In the evening head to Taylor's Three Rock Pub for a great dinner of Irish specialties and a lively show. (B, D)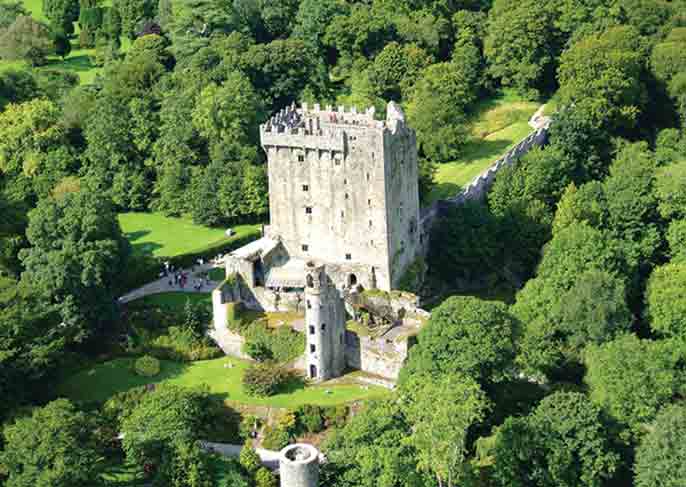 Day 3: Blarney Castle & Killarney
Drive through prime agricultural country and pause for photos at the impressive Rock of Cashel with medieval ruins. Visit a nearby sheep farm for freshly-baked scones with tea and watch trained dogs herd sheep. Continue your drive south and, just a few miles outside Cork, visit Blarney Castle to kiss the famous "Stone of Eloquence." Also visit the Blarney Woollen Mills where you can find quality Irish made goods of all types, conveniently displayed under one roof. Drive through Macroom, built around a fine castle, and into County Kerry where the scenery becomes more mountainous. Arrive in Killarney, picturesquely set beside lakes with Ireland's highest mountains, the Macgillycuddy's Reeks, forming a backdrop. Check in to your hotel and relax before dinner. (B, D)
Day 4: Dingle Peninsula & Dingle Bay Cruise
Today discover the glorious Dingle Peninsula, made famous by two movies, "Ryan's Daughter" and "Far & Away", which showed a lot of the wonderful scenery. Drive to Slea Head at the westernmost tip for awesome views of the Atlantic Ocean. Embark on a short cruise around Dingle Harbour and Bay for great panoramic views all around (Apr 2 - Oct 29 departures) and enjoy a casual lunch in Dingle town. Return to Killarney where the rest of the afternoon and evening are free for independent activities and dining. Killarney has a lot of great pubs where impromptu and planned music sessions take place so you might like to check out some of them. (B, L)

Day 5: Jaunting Car Ride & Bunratty Castle Banquet
Take a traditional horse-drawn jaunting car through the Killarney National Park to scenic Ross Castle, set on the shores of Lough Leane, Killarney's largest lake. Enjoy local stories by your jarvey (driver) and take in the great views of the mountains. Drive north and stop in the village of Adare, famous for its main street lined with thatched cottages and colorful gardens. In Limerick visit the mighty King John's Castle, which has guarded the River Shannon and access to the interior of the country for over 800 years. The stunning exhibition brings dramatic local history to life. Check in to your hotel and spend some time relaxing. In the evening travel to 15th century Bunratty Castle for a medieval-style feast with lots of food, wine and song to carry you off to the Middle Ages in spirit. (B, D)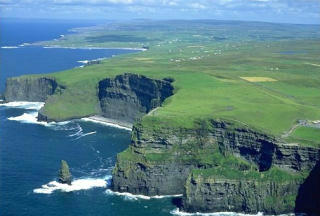 Day 6:Cliffs of Moher & Galway
Travel along the coast of County Clare to view the Cliffs of Moher, which rise to heights of almost 700 feet above the churning Atlantic swells. Walk along the top of the cliffs to O'Brien's Tower for great views of Galway Bay and the Aran Islands, provided that the weather is clear. Drive through the hills of the Burren and around Galway Bay to Galway. Join a local guide for a brief stroll through the twisting streets of the old city and spend time on your own. Return to your hotel in Newmarket-on-Fergus for dinner in your hotel and, afterwards enjoy the tales of a local storyteller. (B, D)

Day 7:Tour Ends
Yourtours and travel program ends at Shannon Airport after breakfast today. (B)
B: Breakfast; D: Dinner
GROUP AIRPORT TRANSFERS
When we book your flights together with a coach tour, we include complimentary group transfers on the starting and ending date of tours at times specified on each itinerary-a $30 per person fee applies to land only bookings.


Tour Includes:
Professional driver/guide
Sightseeing by luxury coach
6 nights in hotels listed
Full breakfast daily (B) except on day 1
4 dinners (D) including
-Taylor's Three Rock Pub dinner and traditional show
-Bunratty Castle Medieval Banquet
-2 table d'hote dinners
1 Lunch (L)
Welcome get-together drink
Cruise around Dingle Bay (Apr 2 - Oct 29 departures)
Horse-drawn jaunting car ride in Killarney
Walking tours of Dublin's Trinity College and Galway
Storytelling session in Newmarket-on-Fergus
Dublin open-top bus tour with a visit and drink at drink at Guinness Storehouse or General Post Office
Visits and admissions to Book of Kells at Trinity College, Blarney Castle, Blarney Woollen Mills, King John's Castle and Cliffs of Moher
Headsets for walking tours
Deluxe carry-on backpack, ticket wallet, luggage tags & strap
All local taxes, hotel service charges & porterage for one suitcase per person
Hotels:

Talbot Hotel Stillorgan Dublin (2 nights) Scotts Hotel Killarney (2 nights)Inn at Dromoland nr.Shannon (2 nights)

We often have sales and discounts available. Please ask before booking!
Price per person sharing a twin or triple room. ONLY ONE TRIPLE ROOM IS AVAILABLE PER DEPARTURE - BOOK EARLY. Save 10% per person on coach land tour prices if you are & under 17 and traveling with at least one full fare paying passenger.

Airfare is available from many cities. Just ask.Cancellation Penalties: Airfare up to 100%; Land: Penalties per person apply: 70 days or longer: Forfeiture of deposit 69 - 46 days: 35% per person 45 - 8 days: 45% per person 7 - 1 days: 60% per person, On day of departure: 100% per person Travel Insurance from $60


7 days Dublin to Shannon
Start
End
Special
DUBLIN
SHANNON
Departure
Sat Mar 09 2019
Fri Mar 15, 2019
US$1690
Sat Mar 16, 2019
Fri Mar 22, 2019
US$1690
St. Patricks Day - Guaranteed
Sat Mar 23, 2019
Fri Mar 29, 2019
US$1650
Guaranteed
Sat Mar 30, 2019
Fri Apr 05 2019
US$1760
Thu Apr 04 2019
Wed Apr 10, 2019
US$1760
Guaranteed
Thu Apr 11, 2019
Wed Apr 17, 2019
US$1760
Guaranteed
Sat Apr 13, 2019
Fri Apr 19, 2019
US$1760
Sat Apr 20, 2019
Fri Apr 26, 2019
US$1810
Sat Apr 27, 2019
Fri May 03 2019
US$1890
Guaranteed
Sat May 04 2019
Fri May 10, 2019
US$2090
Thu May 09 2019
Wed May 15, 2019
US$2040
Guaranteed
Sat May 11, 2019
Fri May 17, 2019
US$2040
Sat May 18, 2019
Fri May 24, 2019
US$2090
Thu May 23, 2019
Wed May 29, 2019
US$2040
Guaranteed
Sat May 25, 2019
Fri May 31, 2019
US$2070
Sat Jun 01 2019
Fri Jun 07 2019
US$2090
Guaranteed
Thu Jun 06 2019
Wed Jun 12, 2019
US$2090
Thu Jun 13, 2019
Wed Jun 19, 2019
US$2150
Guaranteed
Sat Jun 15, 2019
Fri Jun 21, 2019
US$2090
Sat Jun 22, 2019
Fri Jun 28, 2019
US$2150
Guaranteed
Sat Jun 29, 2019
Fri Jul 05 2019
US$2090
Thu Jul 04 2019
Wed Jul 10, 2019
US$2090
Guaranteed
Thu Jul 11, 2019
Wed Jul 17, 2019
US$2150
Thu Jul 18, 2019
Wed Jul 24, 2019
US$2090
Guaranteed
Sat Jul 20, 2019
Fri Jul 26, 2019
US$2150
Thu Aug 01 2019
Wed Aug 07 2019
US$2090
Sat Aug 03 2019
Fri Aug 09 2019
US$2150
Guaranteed
Thu Aug 08 2019
Wed Aug 14, 2019
US$2150
Thu Aug 15, 2019
Wed Aug 21, 2019
US$2090
Sat Aug 17, 2019
Fri Aug 23, 2019
US$2150
Guaranteed
Sat Aug 24, 2019
Fri Aug 30, 2019
US$2150
Thu Aug 29, 2019
Wed Sep 04 2019
US$2090
Guaranteed
Sat Aug 31, 2019
Fri Sep 06 2019
US$2090
Guaranteed
Sat Sep 07 2019
Fri Sep 13, 2019
US$2150
Sat Sep 14, 2019
Fri Sep 20, 2019
US$2150
Guaranteed
Thu Sep 19, 2019
Wed Sep 25, 2019
US$2090
Thu Sep 26, 2019
Wed Oct 02 2019
US$2090
Guaranteed
Thu Oct 03 2019
Wed Oct 09 2019
US$1860
Guaranteed
Thu Oct 10, 2019
Wed Oct 16, 2019
US$1810
Sat Oct 12, 2019
Fri Oct 18, 2019
US$1810
Guaranteed
Sat Oct 19, 2019
Fri Oct 25, 2019
US$1810
Thu Oct 24, 2019
Wed Oct 30, 2019
US$1810
Guaranteed

Single room supplement: $290


Call +1-800-221-2474 9AM - 6PM Mon-Fri Eastern Time Please Email Us For Information

Please Email Us For Information
Questions? Call Lynott Tours at 1 (800) 221-2474 USA Canada; 01 516 248 2042 ELSEWHERE