London to Paris via the Channel Islands 11 Days
DORSET, GUERNSEY, SARK, JERSEY, ST MALO
• UP TO 16 GUESTS
Go from the Channel Islands to France. Hop from one island to another of the Channel Islands'. Learn about wartime Guernsey, the subject of "The Guernsey Literary and Potato Peel Pie Society" book,, enter a bygone world on Sark and explore Jersey's exquisite landscapes.
The Lynott Tours Difference
Spend a day on Sark, the iconic 'dark sky island'
Explore the only part of the British Isles to be occupied during WWII and meet Molly Bihet, who was a child during the Nazi Occupation of Guernsey
Arrive before the hubbub for a morning at Mont St Michel, one of France's most iconic sites
Day 1 London - Winchester - Dorset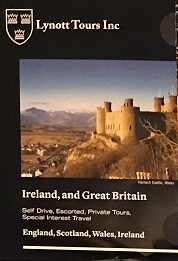 We begin in the 7th century, at Winchester Cathedral. Perhaps you have geard the song,
Oooh, Winchester Cathedral, you're bringin' me down 
You stood and you watched as my baby left town 
You coulda done somethin', hey, you didn't try 
You didn't do nothin', you just let her walk by
Within this spectacular landmark are the final resting places of luminaries from King Cnut to Jane Austen. There's time for a walk around the rest of the market town before we cross into Dorset. Fringed by cliffs interlaced with coastal walks and picture-perfect villages, the sublime Isle of Purbeck is our destination - and welcome haven for tonight. ​Accommodation: (Mortons House Hotel)(D)
Day 2 Dorset - Guernsey
It's off the coach and all aboard the morning ferry to Guernsey. At St. Peter Port we explore the charming marina and cobbled streets. Then, it's to drive on to Sausmarez Manor where we're treated to a private tour of this grand 13th century house. Arriving at our second hotel of the trip, we make ourselves at home for our three-night stay. ​Accommodation: (Duke of Richmond Hotel)(B)
Day 3 Sark Excursion
We sail to Sark, disembarking on the island with no cars or buses. Getting about involves a stroll or the 'toast-rack' - a tractor-drawn bus. You could hire a bicycle or a timeless horse and carriage, asking the driver to spill Sark's secrets. Or simply potter around the quaint shops and independent cafes. The day is all yours until our return ferry back to Guernsey - and an evening at leisure. ​Accommodation: (Duke of Richmond Hotel)(B)
Day 4 Guernsey
Guernsey has a unique chapter in the history books, as part of the only British territory occupied by Germany during World War II. A visit to the German Occupation Museum reveals an extensive collection of rare artefacts from then. But this tour goes further. We meet Molly Bihet who, as a nine-year-old child, witnessed the Nazis arriving on her island home in 1940. Listening to her stories of life on Guernsey is a uniquely unforgettable experience. ​Accommodation: (Duke of Richmond Hotel)(B)
Day 5 Guernsey - Jersey
Our final moning in Guernsey is a relaxed one as we ready ourselves to depart for our next island adventure in Jersey. We get acquainted with today's port of call, St Aubin village - a fishing harbor with buckets and shovels of charm. After all that refreshing sea air, we retire to our hotel.​Accommodation: (Green Hills Hotel)(B, D)
Day 6 Jersey
Jersey isn't just about exquisite sea-and-sand views. Diving a little deeper uncovers an absorbing history. At La Hougue Bie we discover one of Western Europe's best-preserved Neolithic sites, with prehistoric mounds, passage graves and a museum packed with ancient treasures. Then it's onwards to Mont Orgueil Castle, which has stood watch over Jersey for over 600 years. Just below sits the peaceful harbor village of Gorey. ​Accommodation: (Green Hills Hotel)(B, D)
Day 7 Jersey - St Malo
Walter Raleigh's stronghold and Charles II's refuge - Elizabeth Castle has played a huge role in Jersey's history. Today we can see its wartime bunkers, cannons and the causeway that permits entrance at low tide. Afterwards in St Helier there's an afternoon to yourself. But we can point you in the direction of the Maritime Museum or the Jersey Museum. Later, we swap Britain for France and sail to the old walled city of St Malo. ​Accommodation: (Le Grand Hotel de Courtoisville)(B)
Day 8 St Malo
St Malo's labyrinthine streets are best covered on a walking tour - and that's how we begin today. Pirates, slave traders and soldiers have walked here before and at Chateau de St Malo we learn about the marks they made on this town. While the afternoon's yours, we can recommend delicious ways to top it off - from oysters at Ferme Marine in Cancale to the gourmet cuisine at Chateau Richeux. ​Accommodation: (Le Grand Hotel de Courtoisville)(B)
Day 9 Mont St Michel - Dinan Excursion
It's time to wind our way along Normandy's coast to the rocky islet of Mont St Michel, where we're among the very first toarrive for the day. There's plenty of free time to wander its narrow streets or pay a visit to the magnificent Gothic abbey. We then explore Dinan before coming back together for a taste of classic French cuisine at a traditional restaurant. ​Accommodation: (Le Grand Hotel de Courtoisville)(B, D)
Day 10 St Malo - Fougeres - Sainte Suzanne - Laval
As one of Europe's biggest fortresses, Chateau de Fougeres captivates at first sight. The scales of history have tipped from triumph to tragedy - and back again - for this magnificent Breton castle, and we learn about its ups and downs this morning. The afternoon takes us to Sainte Suzanne, one of France's most beautiful villages. Before we rest our heads in Laval, we indulge in a delicious farewell group dinner. Accommodation: (Hotel Perier Du Bignon) (B, D)
Day 11 Laval - Chartres - Paris
We end our tour with a trip to the Cathedral of Chartres - a UNESCO World Heritage site and one of the most beautifully preserved examples of Gothic architecture. We take in its exceptional stonework and exquisite 12th and 13th century stained glass windows. Then there's a chance to explore the town that encircles it, with free time in Chartres. It's a fitting finale to our travels, which cometo a close in Paris. (B)
Tour Inclusions
10 nights' accommodation in boutique hotels
Experienced tour leader
Luxury mini-coach transportation
Ferries to Guernsey, Sark, Jersey and St Malo
Breakfast daily(B)
Five evening meals(D)
Entrance fee included to: Winchester Cathedral, Sausmarez Manor, German Occupation Museum, Elizabeth Castle, La Hougue Bie, Mont Orgueil Castle, Elizabeth Castle, Chateau de St Malo, Mont St Michel, Chateau de Fougeres and Chartres Cathedral.
What kind of hotels will we stay in? Elegant, comfortable hotels, inns and castles which give you always reflect character and charm, A true feeling of the country that you are in. Not purpose built cookie-cutter hotels, each is unique and exudes its own charm.

Mortons House Hotel is a historic sixteenth century Elizabethan Manor House situated in the beautiful village of Corfe Castle in the Isle of Purbeck.  The Manor is one of the earliest in Corfe and without doubt, the finest. Built in 1590 in the shape of an 'E' to honour Queen Elizabeth I, it has in more recent times been sympathetically converted into a 21 bedroom hotel.  The individual character rooms have their own unique charm and appeal with some having views of the Castle and others look towards the Steam Railway and Purbeck Hills. The location of the hotel provides the perfect centre from which to enjoy this Area of Outstanding Natural Beauty in this idyllic corner of England.
Tour departs Arbor Hotel Hyde Park

2019 TOURS ON SALE
This tour is eligible for the 10% Early Bird saving. See details
| | | | | |
| --- | --- | --- | --- | --- |
| Start | End | Nts | 2019 Status | USD |
| 10-Apr-19 | 20-Apr | 10 | | 4689 |
| 24-Apr-19 | 04-May | 10 | | 4689 |
| 1-May-19 | 11-May | 10 | G | 4689 |
| 8-May-19 | 18-May | 10 | | 4689 |
| 15-May-19 | 25-May | 10 | G | 4689 |
| 29-May-19 | 08-Jun | 10 | | 4689 |
| 5-Jun-19 | 15-Jun | 10 | | 4689 |
| 19-Jun-19 | 29-Jun | 10 | | 4689 |
| 3-Jul-19 | 13-Jul | 10 | | 4689 |
| 18-Jul-18 | 28-Jul | 10 | | 4689 |
| 31-Jul-19 | 10-Aug | 10 | | 4689 |
| 14-Aug-19 | 24-Aug | 10 | | 4689 |
| 21-Aug-19 | 31-Aug | 10 | | 4689 |
| 4-Sep-19 | 14-Sep | 10 | G | 4689 |
| 11-Sep-19 | 21-Sep | 10 | | 4689 |
| 18-Sep-19 | 28-Sep | 10 | G | 4689 |
| 25-Sep-19 | 05-Oct | 10 | | 4689 |
| 2-Oct-19 | 12-Oct | 10 | | 4689 |
| Single | | | | 840 |
Not Available - No individual space available.
Guaranteed=Guaranteed to go, and there are still a few seats available. Book now.
Private Departure=Departure booked by a group. No individual space available.
BOOK THIS TODAY! CALL LYNOTT TOURS 9AM-6PM MONDAY-FRIDAY AT 1-800-221-2474 OR Please Email Us For Information