KENT AND SUSSEX: THE GARDEN OF ENGLAND
5 Day Tours of Great Britain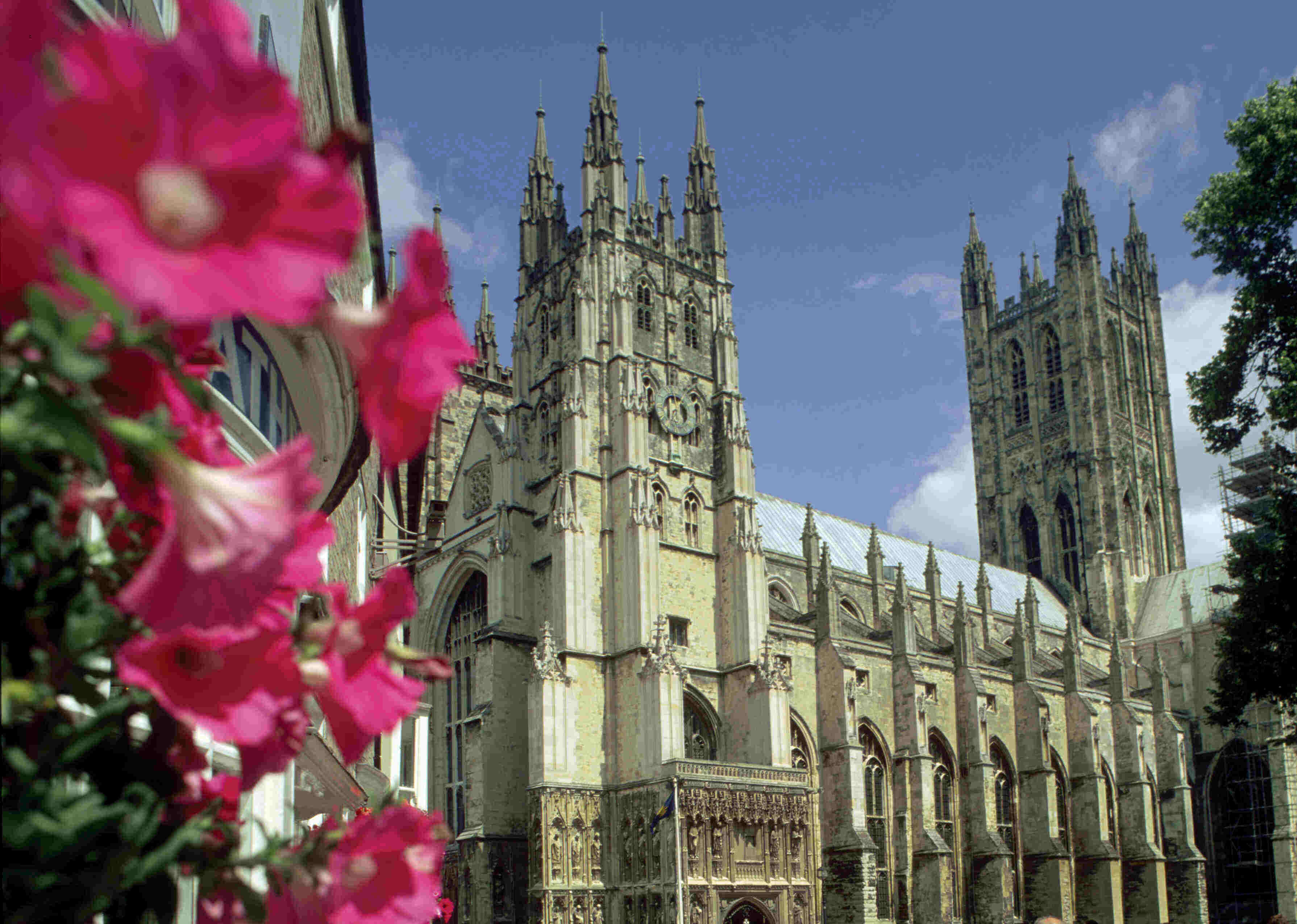 Canterbury, Rye, Dover and Hastings
• UP TO 16 GUESTS
Anne Boelyn's Tudor Hever Castle and Churchill's home are two of the highlights of this tour to Kent and Sussex, two of the counties near London. Open a treasure box of storybook castles, secret wartime tunnels at Dover and enchanting Sissinghurst Gardens as we dedicate five days to England's exquisite Kent and Sussex. Discover the tales that make Canterbury the jewel in the county's crown.
The Lynott Tours Difference
Visit iconic castles – from Anne Boelyn at Hever Castle to Dover Castle
Wind through beautiful countryside aboard a traditional steam train
Sample celebrated beers at Shepherd Neame, Britain's oldest brewer
Day 1 London – Chartwell House – Hever Castle – Canterbury
Today we're on the trail of statesmen and Tudors. Many of us will know the public face of Sir Winston Churchill. But a chance to see inside Chartwell gives us a glimpse into his private home. This rust-red stone manor is a time capsule of 1930s family life, letting you see into the Churchills' library, sitting room and study. Outside, there are over 800 acres of woodland and farmland to explore all-year round, with rose-lined trails, kitchen gardens and picturesque lakes.

Then it's on to Hever Castle, the fairytale childhood home of Anne Boleyn – before she became Henry VIII's ill-fated second wife and her story turned sour. The beautifully preserved rooms will have you feeling like you're in another century, with intricate tapestries, enormous four-poster beds and a collection of Tudor portraits that rivals the country's best galleries. Look out for Anne Boleyn's very own prayer books, complete with her hand-written name. But that's not all. Ornamental English rose gardens and the lake that's ruled by regal swans are superb for strolling around. Tonight's hotel, near Canterbury, is where we'll stay for the next two nights. Accommodation: (Canterbury Lodge)(D)
Day 2 Canterbury – Whitstable – Faversham – Canterbury
We've seen a grand country estate and an enchanting castle, and now our attention is about to be captured by a magnificent cathedral: Canterbury. In this World Heritage Site – the oldest working church in England – we discover medieval ruins, the oak-roofed monks' Chapter House, staggering gothic nave, 11th-century crypt and the grisly site where Thomas Becket became a martyr.
Onwards from Canterbury, we take a circular route to Whitstable. Here, quirkily named alleyways are home to snug pubs and quaint shops, and you can trace the fishermen's catch from the pebble beach to the harbour market where Whitstable's famous oysters are the star attraction. To quench our thirst after all that salty sea air, we head to Shepherd Neame in Faversham where we're treated to a tour and the chance to sample the award-winning beers made at Britain's oldest brewery. It's been a busy day, so this evening in Canterbury is yours to enjoy however you choose. Accommodation: (Canterbury Lodge)(B)
Day 3 Canterbury – Tenterden – Bodiam Castle – Rye
We're back to the golden age of British travel today as we board the Tenterden Steam Railway to Bodiam, chugging through idyllic rural scenery in a classic carriage. When we reach Bodiam, we're deep in storybook territory. With soaring towers, iron-studded wooden portcullis and a surrounding moat, 14th-century Bodiam Castle is every inch the archetypal shut-your-eyes-and-picture-a-castle keep. Climb spiral staircases, step on to the great hall dais and look up to spot the murder holes as you pass through the gatehouse. Then channel your inner knight in shining armour as you walk the battlements and see the slits just big enough for a bow and arrow. Our third and final destination of the day is Rye, a charm-filled market town in 1066 country where we visit the Rye Heritage Centre. Then, the evening is yours to enjoy. (Mermaid Inn Rye)(B)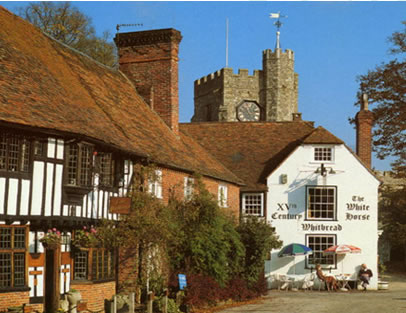 Day 4 Rye – Dover – Rye 
Today we dedicate time to Rye, soaking up stories of smugglers and Norman conquests, strolling its cobbled lanes lined with timber-clad houses, and swooning over the charms that inspired writers and artists from Henry James to Paul Nash. Tracing the shoreline, we arrive at Dover Castle and the gateway to the English coast. This fortress boasts evocative interiors that tell centuries of historical tales, far-reaching views from the Great Tower and dark medieval tunnels with covert cannons every few paces. Down at the legendary white cliffs, 20th-century history comes to life as we look for the secret Second World War passageways that snake in and out of the rocks. The afternoon sees us back in Rye, where free time gives you the chance to see more of the town – or revisit some of the sites from this morning. (Mermaid Inn Rye) (B, D)
Day 5 Rye – Hastings – Sissinghurst – London
We can't leave this part of the country without paying a visit to Hastings – the site of the eponymous battle and our first point of call on our tour's final day. We first meander around Hastings' Old Town before standing at the very spot where King Harold fell – and English history took a new course – in the market town of Battle. It might be a serene landscape now, but we'll soon be able to picture the swords and shields that clashed here. We round up our tour of South East English castles at handsome Sissinghurst, where poet and writer Vita Sackville-West's renowned, romantic gardens are a picture of beauty. Look out for her favourite roses. And peer inside the library, chock-a-block with books and intriguing antiques. It's our last stop before our tour reaches its conclusion back in the capital. (B)
INCLUSIONS
3 nights' accommodation in boutique hotels
Experienced driver and tour leader
Comfortable mini-coach transportation
2 dinners
Beer tasting in Faversham 
Kent & East Sussex Railway ticket
Entrance tickets to: Chartwell, Hever Castle and Gardens, Canterbury Cathedral, Bodiam Castle, Dover Castle, Sissinghurst Castle Garden.
Tour departs from Grange Hotel, Westminster 830AM, returns 530PM
Kent and Sussex - the Garden of England
2018
Starts 
London
Ends
London

Price per person

USD

Monday
9-Apr-18
Friday
13-Apr-18
1849
Monday
7-May-18
Friday
11-May-18
Guaranteed 
1849
Monday
14-May-18
Friday
18-May-18
Fully Booked 
1849
Monday
21-May-18
Friday
25-May-18
Guaranteed 
1849
Monday
28-May-18
Friday
1-Jun-18
1849
Monday
4-Jun-18
Friday
8-Jun-18
Guaranteed 
1849
Monday
11-Jun-18
Friday
15-Jun-18
1849
Monday
18-Jun-18
Friday
22-Jun-18
Guaranteed 
1849
Monday
25-Jun-18
Friday
29-Jun-18
1849
Monday
2-Jul-18
Friday
6-Jul-18
1849
Monday
16-Jul-18
Friday
20-Jul-18
Guaranteed 
1849
Monday
23-Jul-18
Friday
27-Jul-18
Guaranteed 
1849
Monday
30-Jul-18
Friday
3-Aug-18
1849
Monday
20-Aug-18
Friday
24-Aug-18
1849
Monday
27-Aug-18
Friday
31-Aug-18
1849
Monday
3-Sep-18
Friday
7-Sep-18
1849
Monday
10-Sep-18
Friday
14-Sep-18
1849
Monday
17-Sep-18
Friday
21-Sep-18
1849
Single Supplement
250
Fully Booked - No individual space available.
Guaranteed=Guaranteed to go, and there are still a few seats available. Book now.
Private Departure=Departure booked by a group. No individual space available.
BOOK THIS TODAY! CALL LYNOTT TOURS 9AM-6PM MONDAY-FRIDAY AT 1-800-221-2474 OR Please Email Us For Information