Chelsea Flower Show & Garden Tours of Great Britain
This beautiful, garden-filled 8 -day tour is still hugely popular with gardeners and those who just like to look at gardens, alike. What better way to see the lovely gardens of Kent and Sussex than in the comfort of a motorcoach with garden enthusiasts at your side? How often to you get the opportunity to explore the Chelsea Flower Show in London?
GUARANTEED SMALL TOUR - THIS TOUR IS LIMITED TO 6 PERSONS
No departures of this tour are planned for 2020.
The Lynott Tours Difference
All day tickets to the Chelsea Flower Show, London
Visit the magnificently manicured garden of Sissinghurst created by Vita Sackville-West and Harold Nicolson
Explore the Royal Horticultural Society Garden at Wisley. 
CHELSEA GARDEN TOUR WITH VISITS TO KENT AND SUSSEX GARDENS WITH TICKETS TO THE CHELSEA FLOWER SHOW. This small group tour is always a sell-out. 
Chelsea Flower Show Tour 

The Chelsea Flower Show heralds the arrival of summer and the beginning the fashionable 'Summer Season.' This unique event is lovingly prepared by the country's leading horticulturists transforming several acres into an extraordinary vista of gardens. Thousands of trade stands add to the interest making it the biggest garden centre in the world.
Sunday Arrive at Heathrow by 1000AM for your transfer to the Kent countryside. It's no coincidence that Henry VIII praised Kent as the Garden of England after tucking into a bowl of juicy local cherries. Both before and since, the county's rich soils and friendly climate have inspired the creation of the most enchanting escapes, and today you can visit 180-plus gardens: from magical castles to a plantsman's paradise, coastal surprises to a Himalayan adventure, with all-season scents and colours that captivate the senses. Kent boasts glorious gardens - exquisite  sanctuaries where fragrance, colour and delightful design help you recharge and revive. 


Today, we visit the showplace of the Royal Horticultural Society at Wisley. The RHS Bicentenary Glasshouse, a huge cathedral-like glass structure covers an area equal in size to 10 tennis courts and rise to 12m (40ft) in height. It will have three climatic zones, recreating tropical, moist-temperate and dry-temperate habitats. Wisley Garden offers wooded slopes with masses of rhododendrons and azaleas, wild daffodils and an alpine meadow - British gardening at its best in all aspects. This is the 'Mecca' to many gardeners. The garden delights and inspires in any season of the year. It is full of ideas and information. There is always part of the garden at its best. The shop offers as large a collection of books on gardening as anywhere in the world. Here is a wonderful chance to buy gifts to take home.
From the Canal area with one of the UK's largest collections of waterlilies, to Battleston Hill, aglow in spring with rhododendrons, and magnolias, or the Central area, packed with herbaceous plantings, you are sure to find ideas for your own garden.Dinner with fellow tour members at the hotel. (D)
Monday Dover Castle & White Cliffs of Dover/Sissinghurst Gardens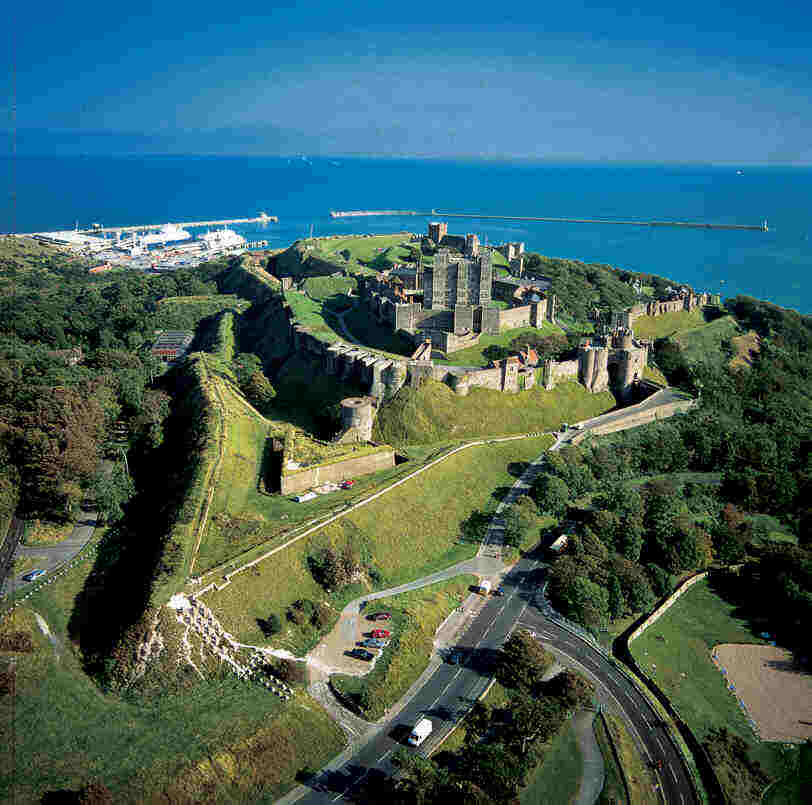 Positioned above the famous 'White Cliffs of Dover', the castle site dates back to Roman times. Included in the castle tour are visits to tunnels within the white cliffs that were used as a command centre by Sir Winston Churchill during World War 2. At Sissinghurst, a National Trust property, you see the most beautiful garden in England, created by Vita Sackville-West and her husband, Harold Nicholson. Next is the aromatic garden around a slender brick-built castle tower - Sissinghurst is surely the best known and most copied garden in the world. Sissinghurst is more than a garden. It is a garden in the ruin of an Elizabethan house, set in the middle of its own woods, streams and farmland and with long views on all sides across the fields and meadows of the Kentish landscape. When Harold Nicolson, the writer and diplomat, and Vita Sackville-West, poet, novelist and gardener, first came here in 1930, Sissinghurst was dripping in its own inheritance; it had been a medieval manor house and was visited by Queen Elizabeth in the 16th century before falling into ruins and being mistreated for nearly 300 years.(B)
Tuesday Leeds Castle & Great Dixter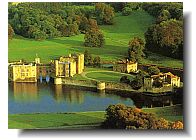 You begin at Leeds Castle, built in the center of a lake described by Lord Conway as the "loveliest in the world". Leeds Castle passed into royal hands in 1278 and became part of the Queen of England's dower - the settlement widowed queens received upon the death of their husbands. In Tudor times Henry VIII visited frequently, notably with his Queen, Catherine of Aragon, and their entire court on the way to the tournament of the Field of the Cloth of Gold, which took place in France in 1520. Henry's son, King Edward VI, granted the castle to one of Henry's courtiers for his services. It was home to Lady Baillie, whose mother was Pauline Whitney, a wealthy American socialite, and her father the British aristocrat Almeric Paget, later Lord Queenborough.

Surrounded by landscaped gardens, it became known as "Lady's Castle", because of the number of Queens of England who occupied it. Swans glide on the moat and waterways, peacocks wander through the grounds and birds of prey soar. The gardens offer continuous color throughout the year. From a mass of spring bulbs and wild flowers in the Wood Garden, through fragrant herbs and roses in the quintessentially English Culpeper Garden.

Visit Great Dixter House and Garden - The Manor of Dixter is first noted in 1220 and structural additions were made again in 1464. In 1910 the English architect Edwin Lutyens restored the house and designed the gardens. Completing the whole picture was an important aspect of Lutyen's designs, and once the residential part of the scheme had taken shape he concentrated on the layout of the gardens, cleverly incorporating the original outbuildings to knit all the elements together. This is a cottage garden on a large scale. An internal tour of Great Dixter takes in the impressive 15th century great hall, one of the largest surviving timber-framed halls in the country, the cozy low-ceilinged parlor, and the spacious first floor solar. There is a surprising and refreshing mix of decorative styles, illustrating that both old and modern can live comfortably together without creating a gaudy mish mash. (B)
Wednesday Scotney Castle & Batemans
Visit the Scotney Castle Garden and Estate. Scotney is not one but two houses. At the top of the hill is the new house, designed in Elizabethan style. At the bottom of the valley are the romantic ruins of a medieval castle and moat. The moated 14th century medieval castle and landscape of Scotney together make this one of England's most romantic places. The view from the Bastion, just below the formal terraces of the "new" Scotney Castle, takes in the glorious colors of Ghent azaleas in late spring. This is the focal point of the celebrated gardens featuring spectacular displays of rhododendrons, azaleas and kalmia in May/June. Brilliant displays of calico bush (Kalmia latifolia),enhance wonderful walks through 770 acre estate.   Visit Batemans, a Jacobean house, home of Rudyard Kipling. (B)
Thursday Nymans Garden We visit Nyman's Gardens, with its 30 acres of plants from all over the world. Nyman's has an extensive collection of rare trees, shrubs and plants. A 'theatrical' garden design full of variety, surprises and delight, Nymans is one of the great gardens of the Sussex Weald, internationally known for its beauty, atmosphere and collection of rare and important plants. There are wonderful views over the Sussex countryside towards the South Downs. Travel to London, your home for the next two nights. (B)
Friday THE CHELSEA FLOWER SHOW You have a full day to explore the show. Getting there early will give you time to see the show and perhaps to leave in mid-afternoon to do some final last minute shopping at nearby Harrods. (CB)
Saturday LONDON  Travel home or extend your stay. We suggest the Heathrow Express for your homeward transfer (not included in the price). (CB) Extra nights in London at the conclusion of the tour are available
Prices shown below are for individuals. Ask for prices for your group of 6 or more.

YOUR COACH TOUR PRICE INCLUDES:
Round trip airfare USA/London, may be added at extra cost.
Arrival group airport transfer from Heathrow, or make your own way to the hotel.
Deluxe privateminicoach transportation for all touring outside of London.
Services of a driver/guide
Hotel accommodation with private bath. 
Your 4 star hotels or similar
Maidstone Hilton Hotel 4 nights 
London Radisson Portman 2 nights
Full breakfast daily (continental in London)
Two dinners 

Admission charges and entrance fees to: London - Chelsea Garden Show, Leeds Castle, and gardens shown
Scenic drives Sussex and Kent villages
Tips to bellmen for one bag per person at all hotels.
All taxes and service charges.
Post nights available in London

BOOK THIS TODAY! CALL LYNOTT TOURS 9AM-6PM MONDAY-FRIDAY AT 1-800-221-2474 OR Please Email Us For Information Triple rooms are available on some tours at the same price per person as a twin room. This may not be comfortable for three adults. 
Cancellation Penalties: For land only bookings: If cancellation is received in writing by Lynott Tours, Inc. more than 95 days before departure, you will lose your deposit. For cancellations closer to departure, the additional penalties are: 94-70 days 35%; 69-46 days-40% of tour price; 45-8 days-45%; 7-1 days-50%; 1 day-100%. If we cancel a tour, we will offer a substitute. If this alternative is not acceptable, our liability is limited to the return of your payments. We cannot assume liability for any fees relating to cancellation of air tickets or other services.