England - Scotland

Cruising Scotland and Barging in England River and Canal Cruising


It would be easy to assume that Great Britain and Ireland have few "hidden corners" left. Just outside big cities like Windsor, Oxford, or Inverness lie beautiful country filled with charming waterside villages, manor homes and castles, gardens, nature parks and friendly local people. Relatively few visitors see England, from a river- or canal-side vantage point, and that's part of its charm.
Cruise in Luxury and Style
An increasingly popular vacation concept among travelers who have "seen" the world through traditional land tours, barge cruising offers more intimate views of the surrounding countryside from the deck of a luxury "hotel" barge – and gives travelers a hands-on opportunity to experience the local lifestyle, culture, and cuisine. Leisurely cruises represent the ultimate in a luxury vacation, pampering guests on every vessel with regional cuisines created by master chefs, a knowledgeable tour guide, and an experienced, multilingual crew. An air-conditioned minivan follows the barge and takes guests in comfort to all sightseeing attractions on the itineraries; bicycles are also available to explore the region. Prices quoted are for cruise only and include all meals, wines with lunch and dinner, an open bar, and admission to daily excursions on the itineraries. Transfers to and from convenient pick-up locations are also included.
Call 1-800-221-2474   9AM - 6PM or Please Email Us For Information
More than 163 million cups of tea are drunk every day in the Britain.
Barging in England Cruises
include:
Cruising and Barging in England River and Canal Cruising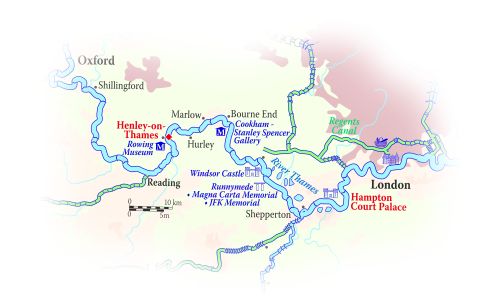 Canal and river cruising is one of the most relaxing and intimate ways to experience the beauty of Europe, without crowds and in great comfort. For those who appreciate fine food and wines, peaceful vistas and an exciting new destination each day without ever leaving "home," this has become a favorite way to celebrate a special birthday, anniversary or time together as a family.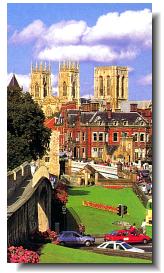 The 8 Passenger Magna Carta is one of the finest, most luxurious vessels cruising the British Isles. The ambience created by combining a traditional barge hull (1936) and fine mahogany, teak and oak woods is outstanding The most sophisticated modern amenities include underfloor heating. Accommodation is comprised of four full width staterooms that offer color tv/dvd and exceptionally spacious private bathroom facilities.
Magna Carta

The upper deck saloon and dining areas sport picture windows and stylish furnishings, and there is a jacuzzi on the upper sun-deck. Her experienced Captain knows the Thames well and your Master Chef will produce a range of mouth watering dishes, while you enjoy the sights of London and the home counties from your luxury floating hotel, navigating England's Royal River. Two housekeepers complete the crew of four.
Call 1-800-221-2474   9AM - 6PM or Please Email Us For Information
Cruise highlights
Accommodations for 6 nights on the luxurious barge.
All-inclusive meals- open bar, free wines, gourmet cuisine, regional specialities s
Entry fees to excursions
Visit London's world famous sites
Moor in beautifully restored St Katharine's dock
Moor beneath Windsor's Royal palace
Visit Tudor Hampton Court Henry VIII's palace
Visit the Stanley Spencer Art gallery
Lunch at a top London hotel
Optional Hot Air Ballooning
Some of our choices: Loch Fyne Bradon roast Salmon, Malt whisky and horseradish sauce, Roast spiced Duck breast accompanied by pink Grapefruit and Calvados wine cellar A good selection of French and New World wines cheese board Red Leicester, Caerphilly, White Cheshire

HAMPTON COURT PALACE TO HENLEY-ON-THAMES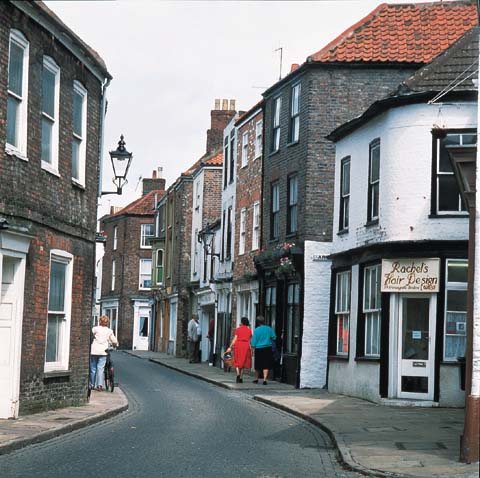 Sunday, Magna Carta Day 1 LONDON – KINGSTON-ON-THAMES - HAMPTON COURT PALACE Meet the Captain at the Stafford Hotel in London at 3pm for afternoon English Cream Tea, before being transferred at 4pm to the Magna Carta. Champagne reception and welcome by the Captain. Early evening cruise to Hampton Court Palace, former Tudor Palace of Henry VIII, where we moor for the night. Dinner aboard.

Monday, Magna Carta Day 2 HAMPTON COURT PALACE - SHEPPERTON Morning excursion to visit the state apartments of Henry VIII, whose 5th wife Catherine Howard is said to haunt the Great Hall and Gallery of Hampton Court, the finest Tudor Palace in existence. Wander through the beautiful Royal gardens and maze. In the afternoon enjoy a meandering cruise upstream following the course of the Thames to Shepperton. Dinner aboard.

Tuesday, Magna Carta Day 3 SHEPPERTON - RUNNYMEDE Morning cruise to Runnymede. We moor at Bell Weir Lock adjacent to a luxury spa hotel. After lunch we have the opportunity to visit the spa and use the facilities including pool, sauna and steam room. Beauty therapies, massages and other treatments are available but are best booked in advance. Our tour for the afternoon takes us a short distance to the Magna Carta memorial. Here in 1215 King John was forced to meet the powerful barons and seal this historic document which took away absolute power from the King and later became the basis for the American Bill of Rights. We also visit the JFK Memorial and the Commonwealth Air Forces Memorial before moving on to Savill Gardens, part of Windsor Great Park and containing a wealth of diverse plants and shrubs. Dinner aboard.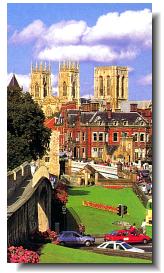 Wednesday, Magna Carta Day 4RUNNYMEDE - WINDSOR This morning we cruise to Windsor before enjoying lunch on board. Afternoon excursion to Windsor Castle. Built by William the Conqueror in 1066 and inhabited for over 900 years by the Royal Family, this is the largest inhabited castle in the world. We explore the State Apartments, Queen Mary's Dolls House and St George's Chapel and enjoy the far-reaching views from its elevated fortress position. Late afternoon cruise to our private moorings. Dinner aboard.

Thursday, Magna Carta Day 5 WINDSOR - COOKHAM Leaving Royal Windsor behind us we cruise past fabulous waterside homes, through the spectacular Cliveden reach and the open English countryside. We moor in Cookham, once described as 'Heaven on Earth' by artist Stanley Spencer. One of England's greatest and most eccentric painters, Spencer would transpose biblical scenes into his surroundings. We visit his gallery and take a walk around the village he loved so much and painted so frequently. Dinner aboard.


Friday, Magna Carta Day 6 COOKHAM – HENLEY ON THAMES A morning cruise to the village of Hurley where we have time to wander Peter Freebody's boatyard where we can watch in wonder at the traditional craftsman at work. We have time to explore the ancient village including Ye Olde Belle, reputed to be the oldest inn in the country, before returning to the barge. After lunch we cruise to Henley on Thames, our final approach being along the famous Henley Regatta Course. Once we arrive in Henley we will visit the award winning River and Rowing museum. Afterwards there is plenty of time to explore the town for shopping opportunities and browse in antique shops before returning to Magna Carta for the Captain's Farewell Dinner aboard.

Saturday, Magna Carta Day 7 HENLEY-ON-THAMES - LONDON Following breakfast, disembark at 10 am and return to London. NOTE: On alternate weeks, cruise will be in reverse direction. This is a sample itinerary and is subject to change.

Magna Carta Meeting point: Sunday 3 pm, The Stafford Hotel, St James's Place, London, England - The Royal River Thames - Hampton Court to Henley-on-Thames - Magna Carta

England Thames Magna Carta
Call 1-800-221-2474   9AM - 6PM or Please Email Us For Information
| accommodation 2018 | Value | Regular |
| --- | --- | --- |
| Suite per person | $4,550.00 | $5,350.00 |
| Single Supplement | $1,450.00 | $1,650.00 |
| Charter Max. 6 pax. | $30,900.00 | $35,900.00 |
| Charter Max. 7 pax. | $32,300.00 | $37,500.00 |
| Charter Max. 8 pax. | $33,700.00 | $39,100.00 |
| Departure Dates (Sunday) | Rate 2018 |
| --- | --- |
| April 29, | Reg |
| May 06, 13, 20, 27, | Reg |
| June 03, 10, 17, 24, | Reg |
| July 01, 08, 15, 22, 29, | Reg |
| August 05, 12, 19, 26, | Reg |
| September 02, 09, 16, 23, 30, | Reg |
| October 07, 14, 21 | Val |

Barge Cruising in Scotland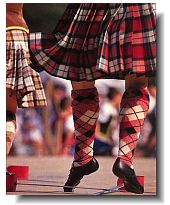 The 8 passenger Scottish Highlander was commissioned in 1999 and is the premier vessel cruising in Scotland's dramatic Great Glen, deep in the Highlands. Whether your choice is our classic Highland Discovery Cruise with fascinating daily minibus excursions or our Premier Golf Cruise featuring Gleneagles, Skibo, Nairn and Royal Dornoch our Highland Cruise selection offers something for everyone. Observation deck, Central Heating, Fish finder, Generous cabins. Choice of Twin or double suites.


The 8 passenger Scottish Highlander was fully refurbished in 2000 and has the atmosphere of a Scottish Country House, with subtle use of tartan furnishings and landscape paintings At 117 feet she is spacious and has every comfort for year-round cruising. Her experienced crew of four ensure attention to your every need while you cruise the Caledonian Canal and Loch Ness, arguably the finest inland cruising scenery in the world. The well planned accommodation offers a choice of one double suite and three twin/double staterooms with full private bath facilities.


Scottish Highlander Caledonian Canal Cruise Itinerary

Cruise highlights

Accommodations for 6 nights on the luxurious barge.
All-inclusive meals- open bar, free wines, gourmet cuisine, regional specialities s
Entry fees to excursions
Click for picture
FURTHER INFORMATION FOR PRE AND POST CRUISE INTERNATIONAL CLIENTS: Many of our international customers fly in to Scotland's Glasgow Airport and then take a train to Inverness. The train journey takes about 3 hours and is 157 miles and travels through the most beautiful countryside and is highly recommended by us. End of cruise: Transfer will be to Fort William train station or a hotel in Fort William by about 10am. Many of our international clients stay in Fort William overnight and then organise onward travel the following day or they take a train to Glasgow for their flight home on the day of departure. Some take a taxi from Fort William to Inverness and we then recommend one of the taxi companies listed below to transfer you the 68 miles to Inverness and the cost is approximately £90 paid by the clients directly to the taxi company for up to 4 people with luggage.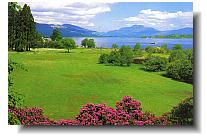 Scottish Highlander Cruise Itinerary
Sunday, Day 1 - Inverness to Dochgarroch
At 4pm we meet at the Glenmoriston Town House Hotel in Inverness and transfer to Scottish Highlander moored at Dochgarroch. Champagne welcome followed by a short evening cruise along the heather-lined canal to the winding hole. Dinner aboard.
Monday, Day 2 - Dochgarroch to Fort Augustus
s This morning we visit the 14th century fairytale Cawdor Castle immortalised by Shakespeare with Macbeth, housing a superb collection of tapestries, pictures and furniture with beautiful landscaped gardens. We also visit Culloden Moor, made famous by the MacDonald and Campbell battle in the 13th century. After lunch we cruise Loch Dochfour to Fort Augustus passing Urquhart Castle and the south shore of Loch Ness, where there is an abundance of wildlife, and moor near Fort Augustus Abbey. Tonight we often invite the local piper on board. Dinner aboard.
Tuesday, Day 3 - Fort Augustus
After breakfast we cruise up the staircase of five locks through the village of Fort Augustus, which gives us plenty of time to shop and look around this pretty Caledonian gem. After lunch we visit Urquhart Castle and Invermoriston Falls (or with family charters explore the Nessie Museum). There is also a picnic opportunity today. Fort Augustus has a charming heather-laced 9 or 18 hole golf course, where the official green keepers are sheep! We dine out tonight at a local restaurant.
Wednesday, Day 4 - Fort Augustus to Cullochy Lock
We leave Fort Augustus this morning and cruise to Cullochy Lock via Kytra. After lunch we drive through Glen Moriston and stunning highland countryside to romantic medieval Eilean Donan Castle, setting for the film Highlander. Eilean Donan Castle has an idyllic island setting with commanding views of three sea lochs and frequent sightings of otters, dolphins and the Isle of Skye. Following the abortive Jacobite rising of 1719, the ruins of the castle were abandoned for 200 years until the 20th century when a complete reconstruction was undertaken. Dinner aboard.
Thursday, Day 5 - Cullochy Lock to Gairlochy
Leave Cullochy Lock for a morning cruise via two locks at Laggan, and through Lochs Oich and Lochy to Gairlochy. In the afternoon there is a chance to see either the World War II Commando memorial, the woollen mill at Spean Bridge, selling traditional knitwear and tweeds, or the Clan Cameron museum. Dinner aboard.
Friday, Day 6 - Gairlochy to Banavie
Morning visit to the mystic battlefields of Glencoe. On the way back visit the Glen Nevis distillery for an insight into the secrets of the various stages of Whisky preparation and taste a wee dram or two. In the afternoon we cruise to Banavie and Neptune's Staircase, a flight of eight locks that is a spectacular feat of engineering. Farewell Captain's Dinner on board. Saturday, Banavie to Inverness Passengers disembark for the transfer to Fort William by minibus after a hearty Scottish breakfast arriving in there by about 10.00am.
On alternative weeks the itinerary is in reverse direction. This itinerary is subject to change.
Seven days/Six nights
Scottish Highlander 117 feet long - 8 passengers - 4 crew 3 TWINS/DOUBLE SUITES , 1 DOUBLE SUITE
Cruises include: Fully air-conditioned suites, twin or double staterooms with private bath , gourmet meals aboard and ashore, fine wines and an open bar, fascinating daily excursions, local transfers. Cuisine is traditional Scottish fare - salmon, game, venison and seafood, prepared by your own Master Chef. The experienced crew of four ensure attention to your every need. A cruise along the Great Glen encounters some of Scotland's finest scenery

CYCLING CHARTERS --supplement of $3,000 per charter, which includes upgrade of bicycles for the week and the services of a professional Cycling Guide --minimum of 6 passengers is the requirement for a Cycling Charter FAMILY CHARTERS --no supplement applies (and baby/child equipment can also be provided at no extra charge, including child bikes, car seats, cots & high chairs) --minimum of 6 passengers total is the requirement for a Family Charter FISHING CHARTERS --supplement (which is dependent upon the number of passengers who fish & the frequency of the excursions) includes the services of a professional Fishing Guide/Ghillie and all fishing equipment --minimum of 6 passengers total is the requirement for a Fishing Charter GOLF CHARTERS --supplement of $800 per golfer applies, which includes (for golfers) four pre-booked/paid tee times and transfers to & from the golf clubs --minimum of 6 passengers total (4 of which must be golfers) is the requirement for a Golf Charter
2 passengers required on all departures to guarantee the cruise except March and November when a minimum of 4 passengers is required.
THEME CRUISES AVAILABLE FOR CHARTER GROUPS Golf Cruise - $800 supplement per golfer - Available for Charter Groups or minimum of 4 passengers.
Scottish Highlands Scottish Highlander
2018
| Accommodation | Value | Regular |
| --- | --- | --- |
| Stateroom per person | $4,190.00 | $4,890.00 |
| Suite per person | $4,850.00 | $5,650.00 |
| Single Supplement | $1,550.00 | $1,800.00 |
| Charter Max. 2 pax. | $26,500.00 | $29,700.00 |
| Charter Max. 6 pax. | $30,500.00 | $34,900.00 |
| Charter Max. 7 pax. | $31,500.00 | $36,200.00 |
| Charter Max. 8 pax. | $32,500.00 | $37,500.00 |
| Departure Dates (Sunday) | Rate |
| --- | --- |
| May 06, | Val |
| May 13, 20, 27, | Reg |
| June 03, 10, 17, 24, | Reg |
| July 01, 08, 15, 22, 29, | Reg |
| August 05, 12, 19, 26, | Reg |
| September 02, 09, 16, | Reg |
| September 23, 30, | Val |
| October 07, 14, 21, | Val |

Call 1-800-221-2474   9AM - 6PM or Please Email Us For Information