Lynott Tours Blog
By Ellen McNulty
2017:
Last month, I traveled to Ireland, for perhaps the 70th time.  There are always new things to see, and old favorites to revisit.  Here's what I did:

The first stop was the quaint town of Adare, the thatched village about 45 minutes south of Shannon Airport.  Always charming, the town didn't disappoint.  However, I was sad to note that some of the quaint cottages had burned down a few years ago, and there is a bit of construction going on in the town.

The destination for a few days, though was County Kerry, one of the most popular areas in Ireland.  I had a light lunch at The Bianconi Inn, Lower  Bridge Street, Killorglin, Co. .  The food was yummy, and I could not resist the offer of an apple pie for dessert.
Sheep Dog Trails a highlight of any visit.  At Caitins, Kells, Ring of Kerry, he sheep-dog is one of the most unusual sights on the Ring of Kerry. Local farmer Brendan Ferris introduced  his sheep dogs. In the distance, a flock of sheep can be seen widely dispersed on the side of the mountain behind him. Brendan  then gave a fascinating demonstration of how sheep dogs are used to bring in the sheep on real farms. Responding to Brendan's whistled commands, the dogs guide the sheep downwards. Miraculously, by the end of the demonstration all the sheep are calmly gathered in a pen beside you. The dogs are the real stars of the show. They obviously love their work and listen in to Brendan, panting happily after another successful demonstration.

I checked into the Butler Arms Hotel, Waterville, Co. Kerry, a family run establishment dating from the 1800's that had fallen off my radar.  I was so happy that I went – an oldy but goody.  Charlie Chaplin, the stars wars crew , and many other notables have stayed here.  The last film's ending was filmed in the area.  The hotel is right on the sea and in the middle of the town – great ofr pub-hopping.

My award for most unusual visit was a seaweed walk/talk/tasting with John at Caherdaniel    I had no idea of the amazing nutritional, horticultural and cosmetic benefits of these abundant super plants.  We waited until the tide was out and clambered over slippery rocks to forage for our own seaweed samples.  Quite the experience!  Later, at the Blindpiper pub, we had a multi course lunch, with each item including a different version of seaweed.  Even the drinks were seaweed-based!

It's difficult to reach the Skellig Islands at times, so Skellig Experience Visitor Centre on Valentia Island was developed to make the islands more easily understood by all.   It looks like the islands are an interesting place to visit, so I will have to come back. It was cloudy that night, so we missed seeing the stunning Skellig Michael (Luke Skywalker's Star Wars Refuge) off in the Kerry Dark Sky.
My favorite hotel on the Ring of Kerry is in Parknasilla – the  Parknasilla Hotel & dating from the mid eighteenth century. Today Parknasilla Resort & Spa is a luxury hotel, with a 12 hole golf course a spa with  13 treatment rooms, a thermal suite and relaxation.  I got to sample some Elemis beauty products as well.

The views along the Ring of Kerry are always stunning.  The picturesque Molls Gap The Gap itself is named after a woman, Moll Kissane, who reputedly ran a shebeen (a hostelry of dubious reputation) in this area in the 1800s. Set high on a rocky ridge, Avoca overlooks mountains and lush countryside, with Carrauntoohill, Ireland's highest mountain to one side & the Gap of Dunloe to the other.
I had not been a tour of Muckross House & Gardens, Killarney in years.  This nineteenth century Victorian mansion is set against the stunning beauty of Killarney National Park.   We took a jaunting car trip around the lakes to the Torc Waterfall.  Just beautiful on a sunny day! 

I stayed at the award winning luxury 4 star Ballygarry House Hotel and Spa in Tralee Co. Kerry , another favorite.  We dined at Finnegans in Tralee, a basement level charming restaurant with stone walls and great food!

The Foynes Flying Boat will be forever connected with the invention of Irish Coffee as Chef Joe Sheridan spent months perfecting one of the world's most famous drinks.  We learned to make our own, too.  The world's only replica Boeing 314 Clipper, a phenomenal walk-in exhibit, allows you to relive what it was like to fly in the 1940s. 

At King Johns Castle, Limerick, costumed medieval characters brings to life over 800 years of dramatic local history.  

Afterwards, in County Kildare, we stayed at Killashee House and visited the Cliff at Lyons, one of my favorites.  The Cliff is a purpose build charming village with buildings incorporating all types of accommodation from hotel rooms to self catering cottages, and a fabulous restaurant.
Kildare is only about an hour from Dublin and can be a great place to stay when you want a bit of the country near the big city.  It's horse country, too.
All in all, it was a great trip.  Great food, and lots of new and old experiences that you should try, too.
Thanks for reading!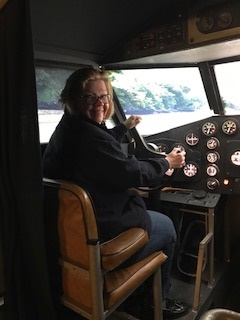 Ellen in the cockpit of a Pan Am clipper
I have just returned from a 1 week trip around England's southeast.  Titled "Gardens and Gourmet" the tour featured some wonderful accommodations with special meals and visits to a few gardens.

The gardens were not at their peak in March, of course, but you could easily see the promise of things to come.  Here is a synopsis of my trip though Kent, Essex, and Hertfordshire.
The part of the trip I was most looking forward to was Dinner and a stay at Anne Boelyn's childhood home, Hever Castle.  I had visited the castle as a day visitor before, but this was special – a chance to sleep where Henry VIII's second wife slept, and have an after hours private tour of the castle.  Dinner in the great hall just added to the magic.  It was my favorite visit of the many exciting places I saw.  It can now be shared with you too, as a special overnight.  We toured the gardens in the morning, before the day visitors arrived.  We had the expansive grounds all to ourselves – quite a treat!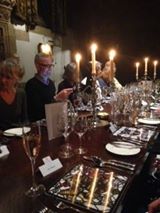 I thought that it could not get any better, but a close second was the visit to tour of gardens at Penshurst Place and Gardens - Described as "the grandest and most perfectly preserved example of a fortified manor house in all England", for more than 650 years Penshurst Place has been the site for poetic inspiration and lavish Royal hospitality – and family home to the Sidney family from 1552 to the present day. Together with a unique medieval Baron's Hall and Staterooms, the jewel in the crown is 11 acres of Elizabethan walled gardens.  We met Lady D'lisle, who was not only charming a relaxed, but a great cook as well.  She treated us to some homemade cake and tea and coffee after a tour of the house with a delightful guide.
Leeds Castle, dubbed  'The Loveliest Castle in the World' looked majestic, riing from its moat when we visited for lunch and then a tour the grounds.  We meet with the local MP (member of Parliament, House of Commons) and then
watched in awe at the demonstration of birds of prey.
No visit to the British isles would be complete without a visit to a brewery, and we went Sheperd Neame, Britain's oldest brewer! The tour ended with a tutored tasting of Shepherd Neame's Kentish ales and speciality lagers – a tasting of 6 of their best!


We had a unique  tour of Audley End House & Gardens through the eyes of some of the maids and cooks – very Downton Abbey-esque. The decadent Jacobean mansion house  is surrounded by gardens created by 'Capability' Brown.  We meet with a groom and a friendly horse, learned something about vegetable gardens.
We had avoided the famous English rainstorms, but our luck ran out when we were leaving
Royal Horticultural Society Hyde Hall.  We made a mad dash for the parking lot when the heavens opened


We had afternoon tea with local Tiptree jams/scones on an oyster sailing barge in Maldon, a quaint fishing port. 
Marygreen Manor Hotel in Brentwood was where we were to stay It has  an AA rosette restaurant and the  original house was once owned by Catherine of Aragon's gentleman servant Henry Roper, has areas dating back to the 16th century with original architecture.  The exterior is all Tudor beams and white plaster.  The interior remains unchanged fro hundreds of years.  The bedrooms are all around a courtyard and have individual entrances from the outside.  The former head of the conservative party – Eric Pickles met us there for dinner.  His wife was charming.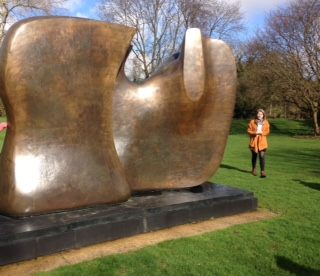 Henry Moore, England's famous sculptor's home is nearby.  We toured Henry Moore Studios and Gardens - Henry Moore's former home in Perry Green, Hertfordshire with the curator- accompanied by the sound of bleating sheep.  It was lambing season.  Nothing is more adorable than the baby lambs following their mothers around the fields!.

We enjoyed a pub Lunch at George & Dragon - Family Pub/Restaurant serving a fine selection of traditional dishes. I could hardly move after lunch!
The son and heir  of Knebworth House and Gardenstook us around his family home. Knebworth House is famous worldwide for its rock concerts and as the home of Victorian novelist Edward Bulwer Lytton. Warner Bros was filming while we were there.  It is rumoured that the movie was Fantastic Beasts sequel, but I really have no idea.
Our last visit - Dinner at Brocket Hall, a quintessentially English Country House overlooking the beautiful 543-acre country estate. Brocket Hall is a grade I listed country house. It can be rented as a whole house with 28 bedrooms.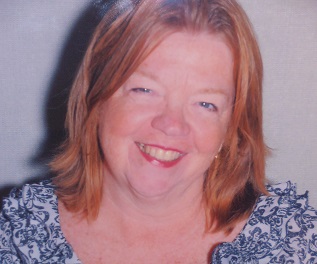 Ellen Mc Nulty
Questions? Contact Lynott Tours, your Scotland travel agents at 1(800)221-2474USA & Canada
Next: A trip to Ireland in March

Please Email Us For Information